"
Here Flynn, take a video so I can use it as a souvenir!
"
Wrestle It Up
Season:
2
Episode:
21
Production code:
222
Broadcast number:
42
Written by:
Jenn Lloyd & Kevin Bonani
Directed by:
Joel Zwick
Broadcast Information
Original airdate:
June 3, 2012
International airdate:
July 13, 2012 (Italy)


August 10, 2012 (Germany)
September 6, 2012 (Israel)
September 7, 2012 (New Zealand)
September 10, 2012 (Czech Republic)
October 7, 2012 (Poland)
October 13, 2012 (Romania)
October 24, 2012 (France)
October 26, 2012 (Catalonia)
October 29, 2012 (Hungary)
November 9, 2012 (Brasil)
November 15, 2012 (Latin America)
November 23, 2012 (Spain)

Wrestle It Up is the 21st episode in Season 2 of Shake It Up and the 42nd of the overall series. It first aired on June 3, 2012.
Plot
When CeCe's mom gets a side job working security on a movie, Rocky, CeCe and Flynn devise a plan to sneak onto the set to see the stars. Meanwhile, Ty helps Deuce win back Dina.
Synopsis
When some girls come down to Crusty's Pizza and get attracted to Deuce, Ty tells him about the "girlfriend phenomenon", which makes guys with girlfriends more attractive to other girls. Deuce gets into a trance and envisions all those girls fawning over him, which leads him to break up with Dina so he can flirt with other girls. All the girls then start to ignore Deuce because he wasn't taken anymore, so he tries to apologize to Dina, who already has a new boyfriend, Kevin. Deuce tries to win her back when he attempts to wrestle Kevin, but Dina forces him not to take that risk. In the end, it turns out that Dina was only dating Kevin to make Deuce jealous, but Kevin wants to finish the match in order to get Dina back. But Dina is the one to finish the match by making Kevin do a 360-flip in the air, and he runs off. Deuce and Dina then get back together. Meanwhile, CeCe's mom gets a side job working as a security guard on a movie set. Rocky, CeCe, and Flynn devise a plan to sneak onto the set; the girls want to see Taylor Lautner, and Flynn fell in love with the food that his mom brought home from the set. While sneaking around, they almost get caught and run into Taylor Launter's trailer. They hide in the shower and get caught -- by Taylor Lautner's cousin, Robert Lautner. Georgia then catches them and denies that she knows them.
Featured Songs
Cast
Main Cast
Recurring
Guest Stars
Markus Silbiger as Kevin
James Kevin Ward as Robert Lautner
Kira Kosarin as Raina Kumar
I.aM.mE as featured dancers
Absent
Gallery
The image gallery for Wrestle It Up may be viewed here.
Videos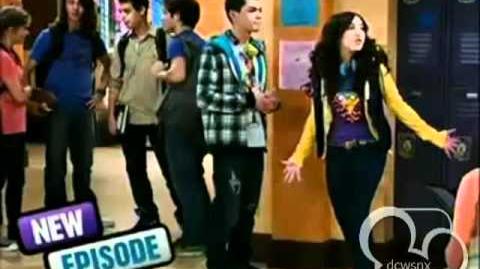 Memorable Quotes
CeCe: Here Flynn, take a video so I can use it as a souvenir!
Rocky: Or evidence to be used against you in a court of law!
Trivia
This is the second episode where Deuce and Dina have temporarily broken up, but got back together.
This is the third time Taylor Lautner is mentioned. First being Shrink It Up and second being Three's a Crowd It Up.
Kira Kosarin, who played Raina Kumar, later starred as Phoebe Thunderman in The Thundermans.
Goofs
In the episode 'Sweat It Up' CeCe fakes a leg injury to avoid participating in gym class but in 'Wrestle It Up' Flynn says CeCe needs to wash her used gym socks, although how would they be used if CeCe skips gym class. It's possible she started taking gym after that episode because Wrestle It Up airs after Sweat It Up.
Community content is available under
CC-BY-SA
unless otherwise noted.