This article is incomplete.


Please help to improve the article, or discuss the issue on the talk page.

"
Interesting I just got a text that says you're lying.
"
Whodunit Up?
Season:
2
Episode:
18
Production code:
221
Broadcast number:
39
Broadcast Information
Original airdate:
April 15, 2012
International airdate:
April 27, 2012 (Canada)

June 3, 2012 (Brazil)
June 8, 2012 (Latin America)
June 22, 2012 (Italy)
August 10, 2012 (Catalonia)
August 13, 2012 (Japan)
August 16, 2012 (Israel)
September 15, 2012 (Poland)
September 15, 2012 (Czech Republic)
September 15, 2012 (Hungary)
September 15, 2012 (Romania)
September 21, 2012 (Germany)
October 3, 2012 (France)
October 30, 2012 (Spain)
October 30, 2012 (Portugal)

"Whodunit Up?" is the 18th episode in Season 2 of Shake It Up and the 39th of the overall series. It first aired on April 15, 2012.
Plot
When a phantom threatens to shut down "Shake It Up, Chicago," CeCe, Rocky, Gunther and Tinka try to unmask the culprit before any more damage is done. It is later shown that Ralph the janitor was the culprit, who is actually Snappy Sammy's disguise, the former host of "Shake It Up, Chicago". Meanwhile, Deuce helps Ty try to identify his secret admirer. The admirer turns out to be a girl named Abigail, a girl who says she's moving. Deuce convinces Ty to take her on one date before she leaves. Abigail then reveals to Ty on their date that she's only moving a few blocks away.
Featured Songs & Dances
Cast
Main Cast
Recurring
Guest Stars
Absent
Gallery
The image gallery for Whodunit Up? may be viewed here.
Videos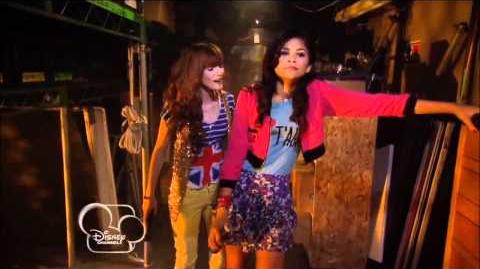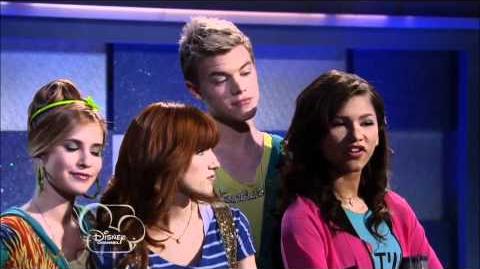 Memorable Quotes
Tinka:
So I take it Gunther and I should go get fitted for our grass skirts and coconut--
Gary: You're not in the hula dance either.
Tinka: Curse you, Gary Wilde.

Gunther:
Well, then I guess it's okay to tell you we used your tanning bed as a giant panini press.
CeCe: What if there's a deranged monster running loose in the studio?
Tinka: There is, CeCe... but we've learned to live with you.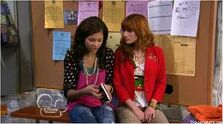 Rocky: See? It isn't so scary.
CeCe: Oh! That's always what they say in the movies right before the crazy killer shows up with a chainsaw!
Deuce: So I've written down the names of all your potential secret admirers.
Ty: Did you also write down my order, because I gave it to you twenty minutes ago!
CeCe: It's the oldest trick in the book: The one who smelt it dealt it.
Tinka: Way to class up the accusation, CeCe.
Ty:
Tinka, Tinka, Tinka. So, I guess the secret's out.
Tinka: The fact that you use way too much body spray? [snickers] Yeah, that secret's been out since 7th grade [gags].
Deuce: No, that you're Ty's secret admirer.
Ty: Yeah.

Tinka:
I am merely a mule in this game of love.
Deuce: Did you hear that? She thinks you're a gift.
Ty: Well I hope she kept a receipt, 'cause I'd like to be returned.
Gary: I got a text that said I had to come down to the studio right away.
Tinka: Interesting I just got a text that says you're lying.
CeCe: Oh sure she can pull someone's face off but I tug on one fake cast and I'm the bad guy.
Ty
: Hey Deuce, great news! Turns out you have a secret admirer, too!
Deuce: Really? Who is it?
Ty
: My fist, and it can't wait to take you out!
Trivia
Allusions
Community content is available under
CC-BY-SA
unless otherwise noted.