"
Wow. This is so not Katy Perry.
"

–CeCe
Vatalihootsit It Up
Season:
1
Episode:
17
Production code:
118
Broadcast number:
17
Written by:
John D. Beck & Ron Hart
Directed by:
Joel Zwick
Broadcast Information
Original airdate:
June 12, 2011
International airdate:
August 23, 2011 (Latin America)


August 23, 2011 (Brazil)
August 30, 2011 (Netherlands / Flanders)
September 9, 2011 (Italy)
September 10, 2011 (Poland)
September 10, 2011 (Czech Republic)
September 10, 2011 (Romania)
September 10, 2011 (Hungary)
October 7, 2011 (Catalonia)
October 7, 2011 (Spain)
October 8, 2011 (Israel)
October 12, 2011 (France)
October 15, 2011 (Germany)
November 20, 2011 (Japan)

Vatalihootsit It Up is the 17th episode of season 1 of Shake It Up and the 17th of the overall series. It first aired on June 12, 2011.
Overview
Gunther and Tinka want Rocky and CeCe to come visit their home and celebrate Vatalihootsit Day, a holiday from their country, with them. CeCe had already made plans for them to go to a Katy Perry concert. In the end, CeCe and Rocky want to stay but Vatalihootsit Day was over and Gunther and Tinka kick them out. Meanwhile, Ty has a juice commercial audition and doesn't feel happy with the result. Instead, Flynn is offered a chance to do a commercial and he doesn't really like the result of it.
Episode Summary
The episode begins with the JabbawockeeZ entering the studio and performing. After the performance, CeCe tries to take off one of their masks, while Gunther and Tinka go up to Rocky and invite the girls to come to their apartment and celebrate Vatalihootsit day, a special holiday from their native country. Rocky agrees, but just because everyone thinks she is a sidekick for CeCe. But then CeCe announces she got the two concert tickets to Katy Perry on Saturday the day of Vatalihootsit day. So they agree that they will go to Gunther and Tinka's house for a bit then go to the concert. When they arrive they find out Vatalihootsit day is a day where you break bread with your enemies. So they are nice to each other for a while. CeCe and Rocky miss the concert because they feel sorry for Gunther and Tinka and think they really want to be friends with them. Then when the bell sounds off, Vatalihootsit is over and they go back to hating each other again.
Featured Songs
Cast
Main Cast
Recurring
Guest stars
Absent
Gallery
The image gallery for Vatalihootsit It Up may be viewed here.
Videos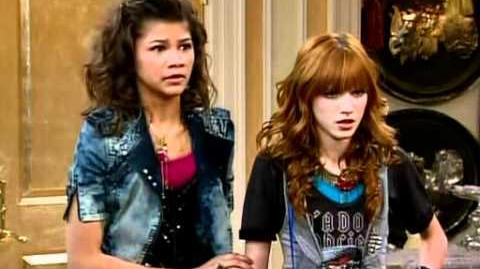 Memorable Quotes
CeCe: Oh come on Rocky be serious, when do I ever think?
Rocky: (after seeing Mr. and Mrs. Hessenheffer) Oh my gosh, Gunther and Tinka are the normal ones!
CeCe: Wow, this is so not Katy Perry.
Flynn: Great. Right after I get out of wet pants they pull me back in.
CeCe: Well stuff me in a llama and call me gulasto.
Trivia
This is the first appearance of Gunther and Tinka's parents.
This episode was aired on May 7, 2011 in the UK, over a month after the US airing
Goof
Allusions
CeCe makes a reference to a Katy Perry song ("California Gurls") when she says the line " And the next thing you know, we'll be at the concert wearing daisy dukes and bikinis on top!"
Community content is available under
CC-BY-SA
unless otherwise noted.