If you haven't heard yet, recently the Nickelodeon show, Victorious, is being cancelled, and even though this has nothing to do with the title or wiki, I'm kinda depressed. The show was one of my favorites and it was very popular, receiving great reviews. However, I see now that a show so great can end at a moment's notice.
Then, I started thinking about the same thing happening to Shake It Up. You know, the show ends, the wiki page is dispersed, and we'll have to move on. Some sad things are happening on the Victorious wiki page, so I just feel glad that Shake It Up, such a great show, still runs thoroughly. Even it's wiki, thank god, is a strong, running community. And, the day that Shake It Up really does end, I really hope that we will have happy faces rather than sad ones. And hopefully, Shake It Up won't be cancelled nor have bad ratings to cause a cancellation.
Thanks for reading; this is my first blog post. I just wanted everyone to look at our work on this wiki and amaze ourselves.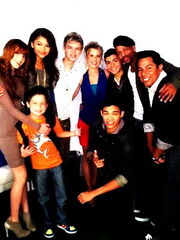 Community content is available under
CC-BY-SA
unless otherwise noted.