"
After I danced, I felt something I haven't felt in a long time...pride. I was proud of myself!
"

–Ty in Ty It Up

Tyler "Ty" Blue is a main character in the TV series, Shake It Up. He is the son of Curtis Blue and Marcie Blue and the older brother of Rocky Blue. He is friends with CeCe Jones, Gunther Hessenheffer and Deuce Martinez. He lives in an apartment in Chicago, Illinois with his family in Apartment 4B right above the Jones family, for whom he often babysits Flynn Jones. His father is a doctor that returned in the second season after being away on business trips and working overseas. Although he is a very good dancer, he does not want to audition for Shake It Up, Chicago!, claiming he doesn't 'dance for the man'. Instead, he aspires to be a rapper. Later, he changes his mind and reveals to his sister Rocky that he does want to be a dancer on Shake It Up, Chicago! and attends the auditions for the revamped version of the show, with Tinka Hessenheffer as his dance partner. He is eventually made the show's new host and is now working alongside Gary Wilde and formerly Phil. He attends John Hughes High School in Chicago. Ty is portrayed by Roshon Fegan.
Personality
Ty is Rocky's hip, smooth, and sarcastic older brother who is popular at school loves to dance, and knows how to charm the girls. He is seen as a very cheerful, sociable guy and always seems to have a date. Being raised with his sister, he is also logical and smart, especially when it comes to him and his money. He has been known to be saving up for a car and he gets a job at Crusty's. His personality shone through most in "Split It Up" when he rapped about things like cheap haircuts and had to consult Deuce and Flynn to up his bad boy image. By the end of the episode, he had helped an elderly woman retrieve her purse from a robber and delivered a baby panda at the zoo, calling the process "beautiful". Although Ty hasn't claimed to have any girlfriends, he went on a date with Tinka, but nothing further has been shown about their relationship. It is revealed in "Weird It Up" that his relationships don't last, because he blows girls off when the relationship gets too clingy.
Change Of Personality Over Time
In Season 1- Ty is a hip sarcastic ladies' man who has no interest in being on Shake It Up Chicago. He still uses his dance moves to charm girls, though.
In Season 2- Ty decides to become a rapper and dances a lot less. Though he is still the same hip sarcastic ladies' man he was in season 1, he doesn't dance for girls anymore.
In Season 3- Ty realizes that he does want to be a dancer on Shake It Up Chicago and reveals that, when he dances, he feels proud of himself. He becomes the new host instead, but he still gets to show off his moves on the show.
In Season 1, Ty Blue stated that he "doesn't dance for the man", but in Season 3, Ty Blue auditions to be on Shake It Up, Chicago!. Ty learns to be proud of his dancing skills again and wants to be hired as a dancer on the show.
Initially the executive producer and the host are unsure which whether to pick Rocky or Ty. Eventually though, Ty is chosen over his sister to be a dancer on Shake It Up, Chicago!.
When Shake It Up, Chicago! is in need of a new host, Phil, the executive producer, hires Ty as the new host. Ty currently works on Shake It Up, Chicago! as the host and a featured dancer.
Relationships With Other Characters
Rocky
Ty
's younger sister.
Rocky
knows a few embarrassing things about him and at times, she threatens to tell the world about them. They are both talented dancers. Their dad, >
Curtis Blue
, hopes that they will become doctors, even though Rocky wants to become a dancer and Ty wants to be a rapper. They work together (along with
CeCe
) to showcase their talent and dedication to their dad by setting up a surprise performance for him in "
Doctor It Up
", as well as Ty trying to keep their dad from turning on the television to avoid seeing
Rocky
on Shake It Up. There are instances where Ty looks out for his little sister, such as collecting signatures at school to sponsor her in the dance marathon in "
Give It Up
" and supporting her in "
Model It Up
". He also worked with CeCe and Tinka to get Rocky back on Shake It Up, Chicago!. He however can be very protective of Rocky when it comes to dating like when she kissed Logan during their wedding dance rehearsal
(See: Ry)
CeCe Jones (All Seasons: Close Friend)
Model It Up
", where they also hugged (with Deuce and Flynn) when they thought Rocky was actually leaving. In "
Show It Up
", CeCe grabs Ty's leg when she's begging for him to help her and Rocky in the talent show against Candy Cho and the Bulldogs cheerleading squad. CeCe, along with Rocky, takes Ty and Deuce to the
Olive Pit
in "
Meatball It Up
". Although Ty doesn't pay much attention to CeCe or Rocky when they need his help, he's still there for them when they need it (as seen in "
Match It Up
", "
Show It Up
", and "
Vatalihootsit It Up
"). Ty and CeCe also teamed up with Tinka to try to get Rocky back on Shake It Up, Chicago!. In
My Bitter Sweet 16 It Up
, Ty said Cece was like another sister to him. 
(See: Cy)
Deuce is Ty's best friend. They're always together, whether it be babysitting Flynn, at school, at
Crusty's
where they both work, or different situations that they get themselves into. They met in the 3rd grade and became friends after Deuce bought Ty's favorite video game and invited him over to play ("
Twist It Up
"). The two have similar personalities. Deuce seems to admire Ty a lot, once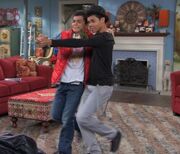 calling him his "hero", saying that he always felt safe when he was around ("
Reunion It Up
"). While Deuce is currently dating Dina, Ty goes out with different girls and seems to keep Deuce posted on his love life. Deuce knew that Ty really liked Gina so he asked Dina to please try to get along with her during their double date in "
Parent Trap It Up
". They both got tired of the girls fighting and Ty ran after Deuce after he embarrassed himself. Deuce agreed to be the translator for Ty's date with the foreign exchange student Gloria and didn't want Ty to know that she really likes
him
so he lies about Gloria wanting a long term relationship to spare his feelings ("
Weird It Up
").
(See: Tyece)
Flynn Jones (All Seasons: Close Friend)
Flynn and Ty are close friends and neighbours. Ty babysits Flynn almost all the time. He is like a big brother to Flynn and he has taught him many things like how to whistle, dance, and flirt throughout the series. Flynn was jealous when Ty was paying a girl more attention than him in "Egg It Up", going as far as firing him and hiring Gunther instead. Flynn has also helped Ty, especially when it comes to his aspiring rap career "Split It Up".They get into interesting situations and adventures together, such as working for a toy company as toy testers ("Shrink It Up") and auditioning for a commercial ("Vatalihootsit It Up"). Ty is usually heard calling Flynn "Little Man". Ty oftens feels threatened by others earning Flynn's respect, such as Logan and Gunther. (See: Tynn)
Tinka Hessenheffer (All Seasons: Close Friend; Future: Wife)
Tinka and Ty went on a date in "Add It Up", where he described her as "a whackjob with good hair." Gunther paid a hesitant Ty $50 to ask Tinka out because she felt bad about never going on a date. They danced together and got to know each other during the date. By the end of it, Tinka admitted she enjoyed the date, and so did Ty, but that being a couple wouldn't work because they're so different. They played ping pong against each other in "Camp It Up", where Ty was again hesitant to play against her because she's a girl. Tinka demanded that he not go easy on her just because she's a girl. In Whodunit Up?, when Ty saw Tinka putting the note in his locker he thought she was the one sending him the secret admirer notes. In Ty It Up, Ty dances with Tinka for their audition for Shake It Up, Chicago!. They have been talking and interacting with each other in a friendly way since then. In Loyal It Up, Ty seems to like the idea of Tinka liking him, and flirts with her, though she is annoyed by it. It is shown in Future It Up that Ty and Tinka realize they miss out on a relationship in high school, and Ty proposes to her, which she happily accepts.  (See: Tynka)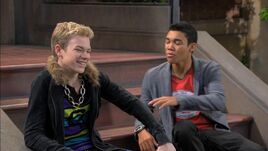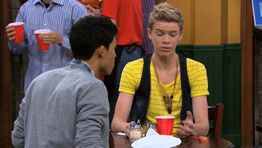 Gunther is a schoolmate and friend/frenemy of Ty's. Sometimes they don't get along, due to Ty thinking Gunther is unusual. For the most part, they are friends and Ty gets along with Gunther more than anyone else on the show besides Tinka. In "
Age It Up
", they were involved in a subplot similar to "
My Fair Lady
", where Ty tried to make Gunther more "hip" after seeing him get rejected by Gunther's crush,
Danielle
. He succeeded, turning Gunther into a "cool" guy called "G" by making over his appearance and attitude. When Danielle accepted Gunther's offer for a date, Ty offered to get a pizza with him to celebrate, which Gunther rejected because he thought he was too good for Ty. They made up by the end of the episode. They also played a few friendly games of ping pong in "
Camp It Up
" and got back at Flynn together in "
Egg It Up
".
(See: Tynther)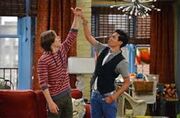 In their first episode together, Ty at first didn't like Logan, thinking that Flynn thought that Logan was cooler than him. By the end of the episode, they made up and became friends, also complimenting each other for their good work and everything but after seeing Logan kiss his little sister, Ty didn't like Logan because he is protective of Rocky. Ty hates it when Logan does the "call me" signal to Rocky. (See: Tygan)
Episode Appearances
Future It Up
Ty is portrayed as Vice President at Flynn's video game company, although it appears that Flynn just uses his position to boss him around. Ty realizes that he needs to take authority in his life and stands up to Flynn by the end of the episode. He also realizes that he might have missed out at his chance at love with Tinka and asks her to marry him.
Trivia
As a kid, he dressed up as Princess Leia from Star Wars ("Show It Up").

His dream is to become a rapper. Roshon Fegan, the actor who plays Ty, is a singer/rapper in real life.
Ty is shown to be good like his little sister Rocky.
Ty raps to his pillow ("Copy Kat It Up ").
Ty likes playing ping pong. ("Camp It Up ").
Ty helped a panda give birth ("Split It Up").
Ty probably knows how to play the keyboard.
He tries his hardest to get every girl in Chicago.
He wears way too much body spray ("Whodunit Up").
He tried to make Gunther a cool guy, it was a success, but Gunther thought he is too cool to hang out with him.
He once went on a date with Tinka ("Add It Up").
He often wears ties, a reference to his name, "Ty".
He only dances for ladies ("Start It Up").
He babysits Flynn in most episodes.
He is the fifth older brother character in a DCOS (Disney Channel Original Series) after Phil Diffy (Phil of the Future), Jackson Stewart (Hannah Montana) , Justin Russo (WIzards of Waverly Place) , and PJ Duncan (Good Luck Charlie).
Roshon Fegan, who plays Ty has starred in Camp Rock and Camp Rock 2: The Final Jam before Shake It Up.
Once cried at a greeting card commercial ("Parent Trap It Up").
He may or may not have feelings for Tin

ka after he showed interest in wanting a second date with her ("Add It Up").
He dances better while wearing skinny jeans ("Protest It Up").
He has swag.
He may become Tinka's dance partner for Shake It Up, Chicago!. ("Ty It Up")
He became the new host of Shake It Up, Chicago! when Phil fired Lance for disagreement over the Blues. ("Ty It Up")
He once wore Rocky's skinny jeans, saying that they're all skinny in all the wrong places. ("Forward & Back It Up")
He has a diary. ("Clean It Up")
He acts very similar to the That's So Raven character Eddie Thomas, as they both like to rap and they speak similar to eachother.
In Future It Up, it is revealed that Ty is the only character that didn't go after his dream (becoming a rapper).
Even though he's Rocky's brother, he isn't that smart when it comes to school. ("Stress It Up")
He was happy to think Tinka liked him. ("Loyal It Up")
He doesn't get scared easily. ("Haunt It Up)
He likes humus. ("Ty It Up")
In Future It Up, Ty and Tinka are engaged. If Tinka is a princess, this means that Ty will become either the prince or king of Tinka's home country. Since Rocky is Ty's sister, she will be added into monarchy.
Quotes
"I got so many girls around me my nickname is shoe sale."
"That's because she can't do this."
"Yeah... I believe the psychological term for that is 'being a guy'."
Flynn: "I owe you." Ty: "No, we're even."
Ty: "Deuce, Truth or Dare?" Deuce: "Truth." Ty: "If you had to kiss any girl here, which one would you kiss?" Deuce: "Dare." Ty: "I dare you to answer that question."
Deuce: "Are you kidding me? I just got bitten by a ladybug!"
Ty: "Hey! That's the most attention you've gotten from a lady all year!"
"What kind? A dilweed?"
"I don't know! For a girl who isn't on the show... she's on the show a lot."
"Man, I'm some kind of freaky genius!"
"You are a dingle who can't get a girl."
"That's not the circle of life... that's the circle of stupid!"
"Ping pong? MAN, THAT'S MY GAME!"
"Clothes don't make the man, Attitude makes the man, alright- Hey, careful with that, this is a new shirt!"
Gunther: "I don't understand.. why isn't Danielle digging on me?" Ty: "Dude I'm gonna put it in the nicest way possible...You're a freak!!"
Rocky:"I did not want to go this far but...I do want you to remember that I have the picture" Ty:"Mom said she burned that picture" Rocky: "Is that what she told you because the truth was she gave it to me because she knew that there would come a day when I would need it, and uh, today's that day." Ty: "You're bluffing." Rocky: Oh, really? Well, I guess this is the picture of a 7-year-old boy trick-or-treating as Princess Leia." Ty: "She lead the Rebellion. She was COOL!"
Gunther:"You're right, clearly we have been bamboozled" Ty: "Well maybe it's time for the bamboozled to do a little bamboozling back to the bamboozler to see if the bamboozler likes getting bamboozled,"
"No thanks, I don't dance for the man...but I do dance for the wo-man, hey!"
"You two-just-ugh, Deuce I got your pants buddy!"
"What do I need a secret admirer for? I have enough admirers that don't keep it a secret,"
"No Dad! No T.V!"
"Man, these pleted pants are my kryptonite,"
(In reply to Flynn) "Because I'm young, good looking, and I can dance,"
"You heard him red cards get outta here you didn't make the cut!-you weren't buying that performance either huh?"
You know what "Ty" stands for? "Told Ya!"
"I've realized, I really do wanna be on Shake It Up Chicago."
Deuce: "She thinks your a gift."  Ty: "Well I hope she kept the receipt, cause I'd like to be returned"
Ty: "Turns out you have a secret admirer too." Deuce: "Really? Who is it?" Ty: "My fist, and it can't wait to take you out!"
"What a coincidence! That phoney psychic has all YOUR money!"
"I can still do all that. I'm not to old. I'm still in my prime! (Does quick spin) Oh! Ow! Alright. I'm not in my prime. But I can still settle down!"
Curtis: "That's right! That's right!" Ty: "That's wrong! That's wrong!"
"I'm a bit surprised… that it took her so long to recognize my GAME!"
"Whoa! Do not go in there! If it wasn't haunted before, it sure is now!"
Rocky: "I need you to dance with Tinka at the Shake It Up Chicago audition." Ty: "And I want a swim suit model as my date for my senior prom. But I don't see that happening either!"
"If I had a tv that small, I'd go cuckoo, too!"
Gallery
The image gallery for Ty Blue may be viewed here.
Userboxes
Userboxes for Ty Blue may be viewed here.
Community content is available under
CC-BY-SA
unless otherwise noted.