"
You have my attention, but I reserve the right to take it back at any moment.
"
Tunnel It Up
Season:
2
Episode:
19
Production code:
216
Broadcast number:
40
Broadcast Information
Original airdate:
May 13, 2012
International airdate:
June 22, 2012 (Catalonia)


June 22, 2012 (Spain)
June 22, 2012 (Portugal)
June 29, 2012 (Italy)
July 21, 2012 (Poland)
July 27, 2012 (Germany)
July 28, 2012 (Czech Republic)
July 28, 2012 (Hungary)
August 19, 2012 (Brazil)
August 19, 2012 (Latin America)
August 20, 2012 (Japan)
August 23, 2012 (Israel)
September 14, 2012 (Romania)
October 10, 2012 (France)

Tunnel It Up is the 19th episode in Season 2 of Shake It Up and the 40th of the overall series. It first aired on May 13, 2012.
Plot
Rocky hatches a plan that will allow her, CeCe, and Tinka to tape a "Shake It Up, Chicago!" national special and be at a school dance on the same night. Meanwhile, Deuce ends up having to bring Flynn to the dance.
Featured songs
A Space in the Stars: space-themed dance number by Rocky, CeCe, Tinka, and the Shake It Up dancers.
Edge of the Mirror: dance number that Rocky, CeCe, and Tinka entered into by the end of the performance
Cast
Main cast
Recurring
Guest Stars
Troy Harding as Matt Tucker
Absent
Gallery
The image gallery for Tunnel It Up may be viewed here.
Videos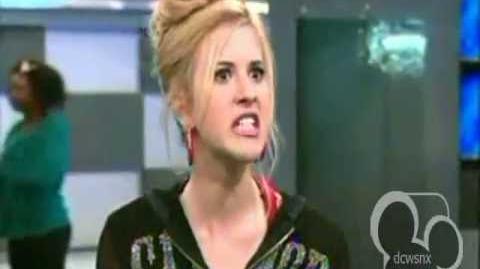 Memorable Quotes
Flynn (to Deuce): "Hey, what's black and white and has one giant eyebrow? You!"
Rocky: I am wearing a space helmet, what is Matt Tucker going to say?
Tinka: What an improvement?
Tinka: You have my attention, but I reserve the right to take it back at any moment.
Trivia
This is the first prom Shake It Up episode.
This is the second episode in the season where Tinka appears without Gunther.
This is the second episode featuring a dance in the school, the first being Hot Mess It Up.
This is the first time Shake It Up! Chicago had an hour special.
Community content is available under
CC-BY-SA
unless otherwise noted.