"
Model Down, Model Down!
"

–Tinka Hessenheffer in Remember Me

Tinka Hessenheffer is a main character in the TV series, Shake It Up. Tinka dances on the local popular teen dance show, Shake It Up, Chicago!. She is the daughter of Kashlack Hessenheffer and Squitza Hessenheffer and the fraternal twin sister of Gunther Hessenheffer. She lives in an apartment with her family in Chicago, Illinois and attends John Hughes High School with fellow Shake It Up, Chicago! dancers, Rocky Blue and CeCe Jones. There rarely is a time when Tinka isn't making a remark to CeCe and Rocky with her brother, Gunther. She has been an exchange student since the first grade, which is weird because she remembers a lot from home, and was born in a small mountain country in Europe that has never been addressed by name, but referred to many times. She was a recurring character in Season 1, although being one of the core characters in the show, likely due to Disney Channel's strict rule of having only 6 starring cast members on all their programs, but was upgraded to a main cast member in Season 2. Once frenemies, she became friends with Rocky Blue and CeCe Jones in Fire It Up.
Tinka is portrayed by Caroline Sunshine. In the original pilot, she was portrayed by actress, Stefanie Scott from the fellow Disney Channel series A.N.T. Farm.
History
Tinka was born in a small mountain country in Eastern Europe with her fraternal twin brother, Gunther. Her mother, Squitza Hessenheffer, was a princess in their country until her father dethroned her for marrying a commoner, Kashlack. Tinka came to America with her family when she was a child. In "Add It Up", she revealed that they flew to Chicago on a business class flight. She and her twin brother were enrolled as exchange students since the 1st grade in elementary school, where she met CeCe Jones and Rocky Blue. She moved on with her brother and classmates to John Hughes High School. When she was 13-years-old in the 8th grade, she auditioned for the local teen dance show, Shake It Up, Chicago! and passed, becoming one of the newest teenage background dancers with her brother, Rocky and CeCe.
Physical Appearance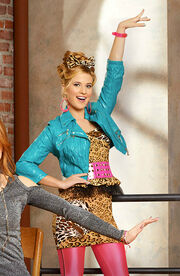 Tinka Hessenheffer can be described as a tall, physically fit, pretty girl who has a tendancy to constantly wear bright, colorful and sparkly clothing.
Personality
Tinka is originally from a foreign country. She is Rocky and CeCe's "frenemy" and dances with them on Shake It Up, Chicago. Tinka is described as a flamboyant, fashionable, unique, weird, theatrical, and ambitious dancer on "Shake It Up, Chicago!." She is from a fictional country that has not been mentioned by name, but is often referred to by the twins as they differentiate American traditions from their own. Her taste in attire is loud and catchy and celebrates her love of performing. It is revealed in "Show It Up" that she and her brother have musical abilities as they performed two popular songs from their country. It is shown that she and Gunther both have sock puppets they make outfits for and call "Little Gunther" and "Little Tinka", first introduced in "Hot Mess It Up". She is known to insult CeCe and Rocky any chance she gets but can be nice when she wants to be. In "Shrink It Up", Gary Wilde calls them out for always being mean. They attempt to be nice and pick Deuce to try it out. In "Vatalihootsit It Up", Gunther and Tinka invite Rocky and CeCe to come to their home to celebrate Vatalihootsit Day, a holiday where you celebrate your enemies. There are many strange rituals they perform. Their parents turn out to be even more strange than Gunther and Tinka and they are revealed to be royalty; their mother was a princess until she was dethroned for marrying a commoner. Their parents tell Rocky and CeCe that they know Tinka and Gunther are not "well liked at school" and that their coming "meant the world" to the twins. She seems to be much nicer in Season 3
Relationships With Other Characters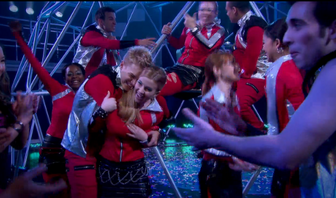 Gunther and Tinka are fraternal twins and best friends, who spend most of their time with each other. They are also dance partners on Shake It Up, Chicago. In "Add It Up", Tinka feels lonely, wanting a boy to like her after always seeing couples act affectionately towards each other. Gunther offers to take her out on a date, but Tinka states that she wants a "real date". Gunther looks shocked and horrified when Tinka points out that "it's not like we're going to grow up and get married!" The first time they are not seen together is in "Heat It Up". They often wear flashy matching clothes, and they are shown to have musical abilites, singing two songs (A Goat for Christmas and Your Uncle is a Werewolf) together for the school talent show in "Show It Up". It is revealed that they take care of their little cousin Klaus Hessenheffer in "Auction It Up" and "Judge It Up". In "Made in Japan" their closeness is formally revealed when Tinka is arrested and almost deported. Gunther is extremely upset over it and seems like he was having anxiety at the thought of being seperated from his sister for even a couple of days. In Fire It Up Tinka is very upset because her brother went back to the old country.(See: Gunka)
CeCe Jones (Season 1 & 2: Frenemy; Season 3: Good Friend)
Tinka is a frenemy (friends in Season 3) of CeCe's, fellow dancer on Shake It Up! Chicago, and schoolmate at JHHS. Tinka, along with Gunther, often argue with CeCe and Rocky backstage on Shake It Up, Chicago. Tinka takes every opportunity to make fun of or insult CeCe, such as mocking CeCe about her freezing on the Shake It Up, Chicago stage in "Start It Up"; they can be civil and friendly towards each other, as seen in "Kick It Up", where CeCe invites Tinka to the movies. In "Break It Up", the two were seen sitting together and Tinka asked CeCe not to leave her alone with Deuce. They shared other friendly moments in "Auction It Up" and "Judge It Up" when Tinka gave money to CeCe (and Rocky) after the twins realized they were wrong. Even though these two rarely bond, let alone have a civil conversation with each other, they still maintain a decent 'frenemy' relationship. In Slumber It Up Cece insists on inviting Tinka. In Fire It Up Cece claims that Tinka has gained their friendship, meaning they are friends. Later, in the middle of season 3, they are shown to be good friends. (See: Cinka)
Rocky Blue (Season 1 & 2: Frenemy; Season 3: Close Friend)
Tinka is Rocky's frenemy (friend in Season 3). They don't often get along an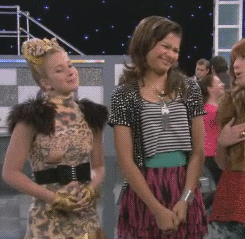 d Tinka takes every opportunity to insult Rocky, but not as much as CeCe. They were friendly in the episode "Vatalihootsit It Up" when Rocky accepted her invitation to their home. Rocky approaches her and Gunther in "Show It Up" to suggest that they join as one team to beat Candy Cho in the talent show. In "Split It Up", Tinka seeks help from Rocky after the two of them were left out of being featured to dance on Good Morning Chicago. She tries to make her feel jealous about CeCe and Gunther dancing on the morning show together. In Slumber It Up, Tinka and Rocky fight a lot at first but then they make up and hug. In Fire It Up Rocky says Tinka gained their friendship, meaning they are friends. In Stress It Up, Tinka wants Rocky's help with her support hotline. (See: Ronka)
Ty Blue (All Seasons: Close Friend; Future: Husband)
Tinka and Ty went on a date in "Add It Up", where he describe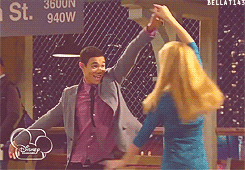 d her as "a whackjob with good hair." Gunther paid a hesitant Ty $50 to ask Tinka out because she felt bad about never going on a date. They danced together and got to know each other during the date. By the end of it, Tinka admitted she enjoyed the date, and so did Ty, but that being a couple won't work because they're so different. They played ping pong against each other in "Camp It Up", where Ty was again hesitant to play against her, because she's a girl. Tinka demanded that he not go easy on her just because she's a girl. In Whodunit Up? Ty was happy when he thought Tinka left him the secret admirer note and upset when he found out she didn't. In Ty It Up, Tinka dances with Ty for her audition to get back on Shake It Up, Chicago! Tinka also seemed jealous in "Oui Oui It Up when Ty had a girlfriend from Paris, but then she realizes that she's annoying and tells Ty but Ty didn't believe her. By the end of the episode Ty admits that she was and was going to break up with her but instead she broke up with him and Tinka seemed pretty happy about that. In Loyal It Up, Ty is told that Tinka has a crush on him, and flirts with her throughout the episode, annoying her in the process. Caroline Sunshine, who plays Tinka, has acknowledged this couple on her Twitter, saying that her favorite episode is when Ty and Tinka went on a date; she also hashtagged "tynka". (See: Tynka)
Deuce and Tinka have only interacted with each other a few times in the series. Tinka told Deuce that he could use a little help with his hair ("Give It Up"), and they have a conversation with each other in "Three's a Crowd It Up" when he tries to sell her a Betwinkler X-96 Turbo he also said she looked good. In "Break It Up", Deuce said he'd kiss Tinka out of all the other girls on the trip during a game of Truth or Dare. Rocky admits to being disgusted, relieved, and offended that he chose her. When CeCe said she wanted to check on Rocky in the lake, Tinka told her "No. Don't leave me here with... Deuce." In Tunnel It Up, when Deuce took Tinka's picture he said she was beautiful, this could indicates that he thinks that she's a babe. In Spirit It Up Deuce got mad at his girl friend for being mean to Tinka. (See: Dinka)
Flynn Jones (All Seasons: Frenemy)
Flynn and Tinka have only interacted a few tim
es. She and Gunther babysit him for the first time in "Meatball It Up", where Flynn calls her "Tinkle". They then babysit him again in "Break It Up" where they play a few games while the rest of the group is at the hospital following Rocky's foot injury. Tinka made a "Little Flynn" sock puppet, much to his delight, but Gunther scared him away with the Lake Monster sock puppet and when he ran away she laughed. In Oh Brother It Up, Tinka helped Flynn make a cake for Jeremy's birthday.  (see: Flynka )
Dina Garcia (Season 3: Good Friend)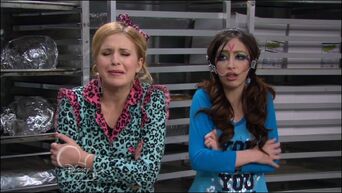 Dina and Tinka first interacted with each other in Slumber It Up They seemed to get along well and not fight nearly as much as Tinka fights with Rocky Blue and CeCe Jones. In Spirit It Up, Tinka and Dina became "best friends" and Dina almost gave up her boyfriend to maintain Tinka's friendship. The only reason Dina went back to Deuce was because Tinka found a boy of her own and Dina realized how it felt to be a third wheel. (See: Tinna)
Episode Appearances
Future It Up
Tinka is portrayed as a successful fashion designer. She realizes, while at the reunion, that she may have missed out on a relationship with Ty and agrees to marry him, after a trial date.
Trivia
Tinka and Gunther both have an accent that sounds German. Their home country is anonymous. However, the TV novels states that they are from Germany.
Compared to Gunther, her English grammar is not very good. However, she becomes more fluent in English during the later episodes.
Between her and Gunther, she often dresses normal.
She knits goats for Gunther a lot.
She carries a large rock in her purse. ("Three's A Crowd It Up")
Tinka may or may not have feelings for Ty. ("Add It Up")
She knows how to play Ping Pong. ("Camp It Up")
Ty thought she was his secret admirer. ("Whodunit Up?")
Tinka's favorite color is pink, like Rocky.
Tinka's star sign is an Aries.
In the original pilot, Tinka was played by Stefanie Scott.
Tinka knows how to deliver kittens. ("Add It Up")
She is shown to be a feminist and believes in women's rights. ("Camp It Up")
She flew to America in Business Class with her brother, Gunther and their parents. ("Give It Up")
She wears her hair in a bun in most episodes.
She is the second DCOS (Disney Channel Original Series) character to start off as a recurring character in the first season then become a main character in the second season after Rico. (Hannah Montana)
Has a green card which means she can stay in America as long as she doesn't get arrested. ("Made in Japan")
Tinka probably is rich.
She is officially a princess.
She carries a betwinkled drill. ("Slumber It Up")
She was the first character to have a "Spotlight Dance". (Throw It Up)
She knows how to make dresses and other pieces of clothing. ("Quit It Up")
She is a specialty cake baker. ("Oh Brother It Up")
She knows how to do her hair perfectly, as well as other people's hair. (All appearances & "I Do It Up")
Tinka has a fashion nemesis. ("In The Bag It Up")
She starts being friends with Rocky and CeCe. ("Season 3")
She started her own support hotline. ("Stress It Up")
She hasn't been in any holiday episodes.
In season 3 she was nicer to Rocky and Cece and they became close friends.
When Gunther left back to the Old Country, she became friends with lots of people.
If she's from a kingdom, and from Europe, she could be from Scandinavia (Sweden, Denmark or Norway), but again her accent is very close to a German one. However, Germany is not a kingdom. We can be sure that she is not from Spain since she's not Hispanic/Latina, as her surname explains it. She is not from the United Kingdom either. There's a chance that she might be from the Netherlands or Belgium (she could be from Flanders, the Dutch-speaking region of the country, since she's not French. French is spoken in the region of Wallonia and the capital of Brussels).
If Gunther and Tinka are offically monarchy, this means that they are the prince and princess of either Sweden, Denmark, Norway, Belgium or the Netherlands in the fictional universe of Shake It Up/Jessie/Good Luck Charlie/Austin & Ally/Girl Meets World/Best Friends Whenever/KC Undercover/Liv & Maddie/I Didn't Do It/The Suite Life Series/Hannah Montana/That's So Raven/Wizards of Waverly Place.
In Future It Up, Ty and Tinka are engaged. If Tinka is a princess, this means that Ty will become either the prince or king of Tinka's home country. Since Rocky is Ty's sister, she will be added into monarchy.
She and Gunther are similar to the Crumb Cousins from Ever After High, since they also wear over-the-top outfits, speak in German accents, and act alike.
Quotes
"You're welcome, Principal Rabinoff!"
Gunther: "I am Gunther." Tinka: "And I am Tinka." Both: "And we're the Hessenheffers!"
"Which one of your sisters is a mister?"
"By The Way I Was Speaking With The Manager Of The Top Rated Transatlantic Dance Crew Sensation Named For The Fluorescent Markers That Help People Study".
Rocky: "Everybody likes me." Tinka: "Not everybody."
"We always knew CeCe was dirty, dirty girl."
Tinka: "Gunther, I knitted you a goat." Gunther: "I love it, I'll put it with the others."
"Gunther's right. It is the great Bieber!"
Gunther: "But G calls everybody 'bro'." Tinka: "When did I become 'everybody'?"
"I see you have a flyer for the local, popular, television, dance, program."
CeCe: "You brought Gunther?" Tinka: "Of course." CeCe: "Let me ask you a question, do you ever feel like you aren't individuals?" Tinka: "We are individuals. We're just individuals together."
Tinka: "This killer is crazy." Gunther: "I know! Why would he throw away a perfectly good kidney, and not making a cobbler?" Tinka: "Hollywood writers know nothing of real life. We should write a screenplay." Gunther: "Yes, the..." Both: "Hessenheffers...in 3D!"
"Puberty is never pretty."
Tinka: "We would like to invite you to our Vatalihootsit day." Rocky: "Thanks, but let me ask CeCe." Gunther: "I told you she was a sidekick." Tinka: "You're right! We should have gone right to CeCe." Rocky: "Ok, but what do we wear?" Tinka (referring to Rocky's outfit): "Anything but that."
Gunther (puppet voice): "I am Little Gunther." Tinka (puppet voice): "And I am Little Tinka." Both: "And we are the Little Hessenheffers!"
CeCe: "We're frenemies, The first part of frenemies is friend." Tinka: "And the second part is enemies."
"Good luck! I mean, have fun. No, I mean good luck."
CeCe: "Rock, Paper, Scissors!?" Tinka: "Perfect! I have a large rock in my purse! Oh, you meant the version with fingers... yawn, but alright!"
"You two, get out!"
Gunther: "I am Gunther." Tinka: "and I am Tinka." Gunther: "And we are here to sit your baby!"
"Save it, Gary. We are not crawling in your chimney to collect dead pigeons again."
"So not cool. I say off with Gary's head! (Rocky and CeCe look at her in shock) Relax, it's just an expression...(Rocky and CeCe are relieved)...in this country."
"I see you have a flyer to the Shake It Up, Chicago, local popular television dance program."
"Sorry Deuce, been there betwinkled that,"
Julio: "Wow you're a little mean huh?" Tinka: "You have no idea,"
Tinka: "I'm looking forward to this Saturday too, I'm going to get my picture taken in the most beautiful dress in the world, it's nothing like I usually wear." Rocky: "Oh, good," Tinka: "It's much more exstravagant" Rocky: How? Does it shoot fireworks?" Tinka: Fingers crossed I get the permits in time,"
"You were late-though that's not unusual, poorly dressed-though that's not unusual and your dancing was terrible, even more so than usual."
"Point, Tinka!"
"Oh look Gunther, someone had a big bowl of smarty pants this morning,"
(To Gary) "Interesting, I just got a text that says you're lying,"
Tinka: "I'm Tinka!" Dina: "And I'm Dina!" Both: "And we are sisters from different misters!"
Ty: Hey Tinka. Got a second? I need some advice about... kind of a delicate matter. Tinka: If this involves a rash you should really see a doctor.
Ty: "Wow! You look... not ridiculous!" Tinka: "Back atcha!" Ty: "So, where do you want to go?" Tinka: I've always wanted to see Pickle Museum in the moonlight!" Ty: "And we're back to the ridiculous. Let's go."
(To Ty) "My Granny-mama used to play it all the time on the farm. It would relax the chickens before we cut off their heads."
"Tinka made a joke!"
Tinka: "Gary, I made you a get-better smoothie! One sip of this, and you'll be back on your feet in no time! Drink!" Gary: "Pancakes?" Tinka: "Yes, Gary, this tastes just like pancakes--if they were made from goat pancreas, rotten fruit, and gerbil spit."
"Half of Chicago already has the flu, Do you really want to make the rest sick to their stomachs?"
"If we knew this was liars court, we would have started by telling CeCe how cute her bangs are."
(To Ty) "Are you taking it easy on me because I'm a girl? Bring your A-game or don't bother showing up!"
(To Gunther and Flynn) "I put a curse on your children and your children's children's children, may they be born with six eyes and the tail of a disease ridden musk rat, so it is said, so shall be."
"You milk my goat, I'll shear your sheep,"
"Wait a minute...This is not dark chocolate sauce...This is milk chocolate sauce..."
"We are back and better than ever, baybee!"
Rocky: "Tinka, do you think you can put one of your old country curses on him?" Phil: (starts choking) Rocky: "Tinka I was joking!" Tinka: "Don't be ridiculous. I can't actually put a curse on him- not quickly without a lock of his hair!"
"My new line of 'Tinkawear' is everywhere!"'
"You thought I was pretty in high school? I mean I thought I was pretty, but I didn't know you did!"
"And I'm not getting up. So grab a chair, French fry!"
"Trouble in paradise? Or should I say, in France?" (Evil Laugh)
(To Ty) "And may I just say, your body spray really brings out the breakfast from my stomach."
"My insults are never a waste of time!"
You know what they call people who insist on staying loyal in the old country? Prisoners of the revolution!"
"Model Down!, Model Down!"
Gallery
The image gallery for Tinka Hessenheffer may be viewed here.
Userboxes
Userboxes for Tinka Hessenheffer may be viewed here.