"
I'm fine. I just have the chills, my nose is stuffed, my throat is sore, my stomach's a mess and I'm sweating and freezing at the same time.
"

–Gary
Throw It Up
Season:
1
Episode:
21
Production code:
120
Broadcast number:
21
Broadcast Information
Original airdate:
August 21, 2011
International airdate:
September 27, 2011 (Netherlands / Flanders)


October 7, 2011 (Italy)
October 8, 2011 (Hungary)
October 22, 2011 (Germany)
November 5, 2011 (Israel)
November 12, 2011 (Romania)
December 14, 2011 (France)
December 24, 2011 (Czech Republic)
January 7, 2012 (Latin America)
January 7, 2012 (Brazil)
January 13, 2012 (Catalonia)
January 13, 2012 (Spain)
January 14, 2012 (Poland)
January 28, 2012 (Japan)

Throw It Up is the 21st episode of season 1 of Shake It Up and the 21st of the overall series. It is the season one finale and first aired in the United States on August 21, 2011.
Plot
CeCe and Rocky get the opportunity to perform a big spotlight dance number along with a famous British dance crew, "The Highlighters". Right before the performance, Gary becomes ill, leaving CeCe and Rocky in charge of both the show and making sure they never get sick themselves. CeCe then accidentally insults "The Highlighters" and makes them quit the show. Rocky then has an idea of getting some kids from the recreational center she dances at to take "The Highlighter's" place. However, right when Rocky and CeCe need to perform their spotlight dance, they both realize that they caught the flu from Gary and Tinka takes their place and performs. Meanwhile, Deuce is left in charge of Flynn and his errands when Georgia gets sick. However, Flynn is unhappy about this and complains. Deuce tries to prove that he is fun by letting Flynn blow off the errands and go to a Cubs baseball game.
Featured Songs
Cast
Main cast
Recurring
Guest Stars
Yolanda Snowball as Stage Manager
Cameron Boyce as Little Highlighter
Jake Elliott as Little Highlighter
Absent
Gallery
The image gallery for Throw It Up may be viewed here.
Videos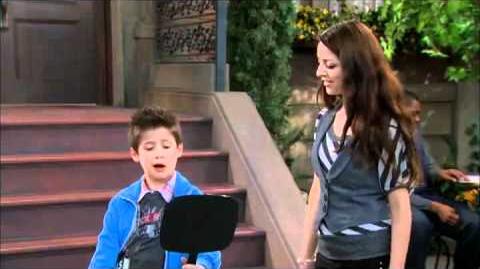 Memorable Quotes
Rocky
: Gary, are you okay?
Gary: I'm fine. I just have the chills, my nose is stuffed, throat is sore, my stomach's a mess and I'm sweating and freezing at the same time.
CeCe
: Oh, good 'cause I was afraid you were sick.
Deuce
: Whoa, your mom said no sugar before lunch.
Flynn: Before lunch? This is lunch.
Deuce: Look, she gave me a list of errands to run with you today. Uh, we gotta get you a haircut.
Flynn: Boo.
Deuce: Go to the library for a book report.
Flynn: Boo!
Deuce: Buy new slacks.
Flynn: Wait, what are slacks?
Deuce: Dress pants.
Flynn: Boo!!
Deuce: Would you stop it? Your mom is paying me. I'm just trying to do what your mom wants.
Flynn: You know what? You're all talk. You're always like, "Ooh, I'm Deuce. I'm a bad boy. I got connections. I've got a canned ham in my jacket. I'm a big man." But it's all bunk! That's right! Bunk!
Deuce: Oh, yeah? Yeah? Bam! Canned ham!
Flynn: Nice, but can you pull a good time out of that jacket?
Deuce: You want a good time? Ha. Okay, fine. What do you say we blow off this whole list of errands and go to a Cubs' game instead? Bam!
Flynn: I say boo... yah!
Deuce
: Come on. Leave the doughnut.
Georgia: Hold it! That's fight's been grounded. And so have you.
CeCe
: Watch this. Look at me I'm an 'ighlighter from England, ello mate, have you seen my kangaroo? Put another shrimp on the barbie!
Rocky: CeCe, meet the highlighters.
CeCe: Hi, big fan big fan. Whoa guys, come on guys, whoa no-Rocky where are they going?
Rocky
: I don't know, maybe they just quit, or they went to go put another shrimp on the barbie!
Goofs
During the Little Highlighters' dance, the most heavy-set dancer's jacket was randomly going from zipped to unzipped during camera changes.
Trivia
This is the last episode of season 1 of Shake It Up.
This episode was leaked onto the internet on August 16, 2011.
Though this is the last episode of Season 1 to air, it was the second-to-last episode produced.
By the way the worker sounded when he sneezed, it seemed like he purposely sneezed on Gary's bagel to get him sick.
This is the second episode where Tinka appears without Gunther. The first was Heat It Up. Coincidentally, both these instances were due to Gunther having a medical mishap.
This is the last episode that Caroline appears in as a guest star/recurring character. She will be a main cast member in Season 2.
In this episode, Dance For Life was mixed with Twist My Hips, Just Wanna Dance, School's Out.
This is Rocky's & CeCe's second time throwing up.

Community content is available under
CC-BY-SA
unless otherwise noted.