"
Oh no do you think he thinks we're the same person too?
"
Three's a Crowd It Up
Season:
2
Episode:
2
Production code:
206
Broadcast number:
23
Broadcast Information
Original airdate:
September 25, 2011
International airdate:
December 9, 2011 (Italy)


January 19, 2012 (Latin America)
January 19, 2012 (Brazil)
January 25, 2012 (France)
January 27, 2012 (Spain)
January 27, 2012 (New Zealand)
February 3, 2012 (Catalonia)
February 16, 2012 (Germany)
February 25, 2012 (Hungary)
February 25, 2012 (Czech Republic)
February 25, 2012 (Romania)
March 3, 2012 (Poland)
March 18, 2012 (Japan)
March 30, 2012 (Netherlands / Flanders)
April 26, 2012 (Israel)

Three's a Crowd It Up is the 2nd episode of season 2 of Shake It Up and the 23rd of the overall series. It first aired on September 25, 2011.
Episode Summary
A cute dancer named Julio comes to perform on Shake It Up, Chicago!, and Rocky, CeCe and Tinka all fall for him. He asks each girl individually to hang out, so they all show up at Crusty's Pizza Parlor the next day, believing they each have a date with him. Meanwhile, Henry becomes the substitute teacher in Flynn's class. Flynn has to decide to either give him a hard time as a sub or be nice because they are friends. Also, Dina starts taking Deuce's customers away and offering them better deals.
Featured Songs
Cast
Main cast
Recurring
Guest stars
Absent
Gallery
The image gallery for Three's a Crowd It Up may be viewed here.
Videos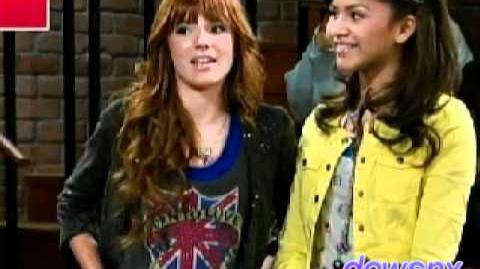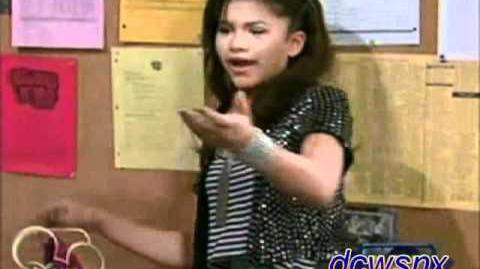 Memorable Quotes
Dina: Oh, I get it. You want me to stop selling and instead be the cute supportive girlfriend who does her hair all nice and bakes you cakes and stuff.
Deuce: Wow, it's like you read my mind! And added cake!
Rocky: So, Tinka, do you understand the plan?
Tinka: If this one came up with it (Reffering to CeCe), I think a garden mouse could follow along.
Henry: Sorry to turn up uninvited this way Flynn, but I really am under great duress over my current predicament.
Flynn: English, Henry! English!
Rocky: So, Julio, this is great, just you and me-and CeCe. I don't know how this could get any better. Tinka: Sorry to be late for pizza Julio-What the heck are these two yutzes doing here?
Rocky
: That's my guy, Julio.
CeCe: No that's my guy, and his name is me Llamo.
Rocky: Okay, CeCe, first of all, no one's name is me Llamo!
CeCe: He lied to me about his name?
Rocky: I don't think we're on a double date, I think we're on the same date, with the same guy.
CeCe
: Oh, no, do you think he thinks we're the same person, too?
Trivia
This is the first time the episode title has a show reference: Three's a Crowd.
Julio says he is only 12, but he gave Rocky a kiss. That is because in Latino countries, people greet each other with air kisses.
This is the first episode of Season 2 where Tinka appears without Gunther.
Netflix mistakingly added this episode with the name "Three's A Crowd Up".
Community content is available under
CC-BY-SA
unless otherwise noted.