Stress It Up
Season:
3
Episode:
23
Production code:
322
Broadcast number:
72
Written by:
Darin Henry
Directed by:
Joel Zwick
Broadcast Information
Original airdate:
September 15, 2013
International airdate:
October 19, 2013 (Poland)
October 23, 2013 (France)
November 1, 2013 (Canada)
December 17, 2013 (Denmark)
January 17, 2014 (UK)
February 23, 2014 (Japan)
December 18, 2014 (Russia)

Stress It Up is the 23rd episode in Season 3 of Shake It Up and the 72nd of the overall series. It first aired on September 15, 2013.
Plot
When CeCe gets picked to perform a song she wrote on "Shake It Up Chicago," she decides to stop talking all week in order to preserve her voice. Meanwhile, Rocky finally stretches herself too thin at school when she decides she should also add a sport to look good for college applications. Flynn thinks CeCe is ignoring him, so he gets gifts for her.
Episode Summary
Ty walks over to Tinka, Rocky and CeCe on the see of Shake It Up Chicago! to ask CeCe if she remembered a song she once wrote called Ring Ring, Tinka keeps mocking her about it. Ty tells CeCe that Phil loves the song and want her to sing it on the upcoming episode of Shake It Up, Tinka tries to act like she always believed she could do it. CeCe wants to scream because it was a dream that came true, but Rocky tell CeCe to spare her voice, and CeCe says she won't talk all week, to which Tinka says her dream have come true too
In school Rocky discovers that another girl, Stacy Paruso, didn't get into Harvard University, and freak out on Tinka asking her what chance she had to get in. Tinka suggest for Rocky to join her Support Hotline to help other people with their problems, which Rocky believed was just made up by Tinka.
At CeCe's apartment CeCe is still being quiet to spare her voice, which Flynn is not aware of and think she is ignoring him and giving him the cold shoulder because Flynn insulted her. When Flynn leaves to write an "apology poem" Rocky come in to ask CeCe for some advice about what to do to get into college, and CeCe mimick her way into helping Rocky, and Rocky finds out that she misses out on the sports, and dance is not considered part of it.
In school Tinka comes over to CeCe who uses an old-fashioned "Spell-A-Lot" toy because she is sparing her voice, and Tinka insulting suggest that CeCe go back to talk and let the toy do the singing on Shake It Up Chicago! and makes CeCe walk away. Tinka then tries to get Rocky to accept her offer to the Support Hotline but Rocky tries to get out of it by heading to basketball but Tinka insist they talk about it the day after.
Rocky goes joining the basketball led by Coach Gordon Lesseur who welcomes her to the team and gives her a schedule list to memorize. When Rocky gets hit by a ball she sits down, but seeing Stacy replacing her she quickly comes back in.
Next day Rocky helps with peoples schoolwork at Crusty's while also talking with Tinka about the Support Hotline, and gets stressed out when both Margie, Ty and Tinka calls for her that she walks to the wrong table. Coach Lesseur then comes to pick her up for basketball practise.
In CeCe's apartment Flynn still tries to say sorry to CeCe for insulting her and reads his "apology poem" out loud, but as CeCe still doesn't talk to him he can't handle it and says he's gonna buy her a gift.
At school Rocky finally join Tinka's Support Hotline and tries it for the first time, but when Ty calls in to complain about her, Rocky yell at Ty he hang up the phone, and Tinka complain about how she treat those who call in. When another person call in to complain about her homework when her favourite TV-show is on, but Rocky yells at the girl, telling her that she is just whining because, in Rocky's opinion, stress is having to tutor a complaining brother, competing in a Academic Decathlon and having stinky socks because she doesn't have time to shower, all at once. When Tinka comes back she get two others to carry Rocky away, while Rocky screams that she can handle it.
Back in CeCe's apartment Rocky visits and finally admits that she can not handle it, and CeCe begins talking again, saying that Rocky is more important than her own song. CeCe then says that Rocky do not need sport on her papers as she is the most awesome person CeCe has ever met and that missing sport wasn't the reason Stacy didn't get into Harvard, but that she failed her interview and that Rocky can do it because she is the most warm, kind and accomplished person CeCe know.
Flynn delivers his gift to CeCe as a way to make her talk to him again, but when she doesn't he breaks down and Rocky tells him that she's just saving her voice to sing the next day, and then Flynn takes his gift back and says he never wants to speak to her again.
Next day CeCe and Rocky are watching Shake It Up Chicago! where Ty present CeCe with her new song Ring Ring. Ring Ring is about how much fun you can have with your best friends by your side. They used movie-magic and created five CeCes for the airing of the episode.
After watching the episode Rocky reveal that they watched it ten times before and CeCe makes her watch it a twelfth time, to which Rocky get back the stress and say she can handle it.
The following evening CeCe talk to Flynn, and just talk, and talk, and talk, and talk and doesn't let Flynn say a word. Finally Flynn say to CeCe that Shake It Up Chicago! wants CeCe to sing again the next year and suggest she keep saving her voice a year, because he got enough of her talking.
Songs
Cast
Main Cast
Recurring
Guest Stars
Ashlee Fuss as Stacy Paruso
Absent
Trivia
The clip for this episode was released before the promo and before the episode Oui Oui It Up even aired.
Bella Thorne revealed on Twitter that this is her favorite episode.
This is the first time that Bella has sung a solo song on the show.
Transcript
The full episode transcript for Stress It Up may be viewed here.
Gallery
The image gallery for Stress It Up may be viewed here.
Clips and Promos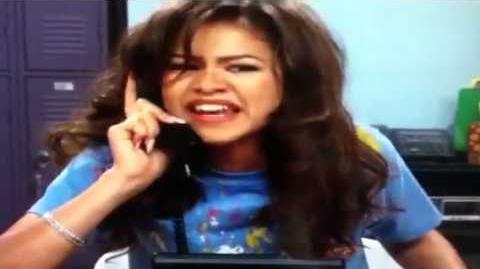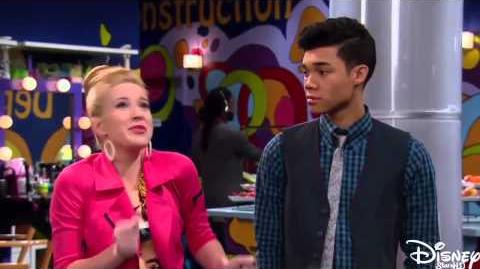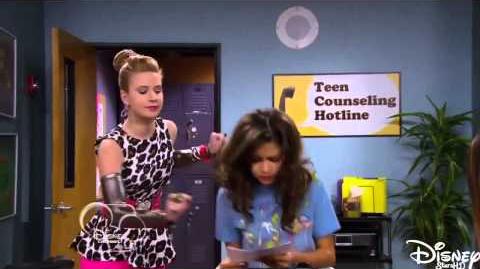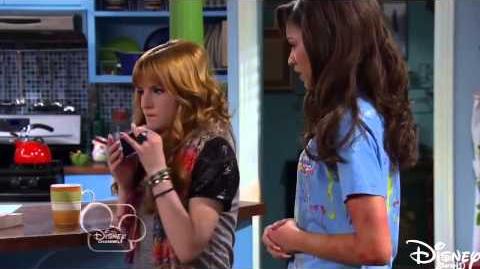 Community content is available under
CC-BY-SA
unless otherwise noted.