"
Really? Do penguins seem scary to you? Because there is a reason the movie's called Happy Feet and not Scary Feet!
"
Split It Up
Season:
2
Episode:
12
Production code:
208
Broadcast number:
33
Written by:
Jenn Lloyd & Kevin Bonani
Directed by:
Joel Zwick
Broadcast Information
Original airdate:
January 22, 2012
International airdate:
February 23, 2012 (Germany)


Febuary 29, 2012 (France)
April 13, 2012 (Italy)
May 4, 2012 (Catalonia)
May 4, 2012 (Spain)
May 14, 2012 (Latin America)
May 15, 2012 (Brazil)
May 19, 2012 (Romania)
May 26, 2012 (Japan)
June 1, 2012 (Netherlands / Flanders)
June 2, 2012 (Hungary)
June 16, 2012 (Czech Republic)
July 5, 2012 (Israel)
August 12, 2012 (Poland)
March 16, 2013 (Africa)

Split It Up is the 12th episode in season 2 of Shake It Up and the 33rd of the overall series. It first aired on January 22, 2012.
Plot
When Gunther and CeCe are selected to be guest dancers on "Good Morning Chicago," Rocky tries to control her jealousy, while Tinka plots to replace CeCe on the show. Meanwhile, Deuce and Flynn try to help Ty improve his rap skills.
Episode Summary
Gary Wilde announced that two dancers will be on Good Morning, Chicago. Gunther and Tinka assume that they will be the dancers. Gary tells them that CeCe and Gunther are the selected dancers. Tinka stomp's off. CeCe expresses her concern to Rocky that she can't do something this important without her. Rocky assures her that they are not joined at the hip and that there will be things that they can't do with each other. CeCe goes to talk over the dance with Gary and Gunther. Tinka teases Rocky about being jealous. Later on, Gunther and CeCe practice their dance for Good Morning, Chicago, while Rocky looks on. After their practice session, Gary Wilde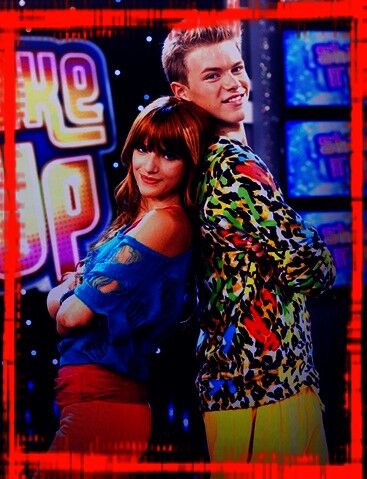 tells Gunther and CeCe that they are so good together that they get the Spotlight Dance, too. CeCe hurries over to Rocky to ask her if that's okay with her. Rocky encourages CeCe that everything is fine. Tinka helps Rocky to vent her jealousy and offers to let her help with her plan to get CeCe sick so that she is not able to dance. Rocky is excited at first, then turns Tinka down, saying that she will talk about this with CeCe instead. Later that night, Rocky helps CeCe with her hair highlights and confesses to CeCe that she is jealous of her. As Rocky takes the towel off CeCe's hair, it is revealed that CeCe's highlights are green. Rocky spots Tinka on the fire escape and tries to convince CeCe that Tinka is the culprit. CeCe doesn't believe her and tries to get her to apologize or admit that she doesn't want CeCe on the show. At Good Morning, Chicago, Rocky brings some balloons to CeCe and the two share a hug. Rocky helps CeCe out in her dressing room, only to find that they've been locked in by the Hessenheffers. CeCe then realizes that Rocky wasn't the one who turned her hair green, it was Tinka. Meanwhile, Ty is having trouble with his rapping, so Flynn and Deuce lend him a hand. They try to give Ty a 'bad boy' image by having him steal a pizza from Crusty's, but instead, Ty ends upintercepting a thief and returning a stolen purse to its owner. Flynn and Deuce decide the only way for Ty to be a 'bad boy' is to release the lions at the zoo. They go to the zoo, but Ty is scared of the lions. Back at Good Morning, Chicago, Gunther and Tinka are just about to dance on the show, when breaking news caused their dance segment to be pushed aside. CeCe and Rocky, who are watching Good Morning, Chicago in CeCe's dressing room, see Ty on television. Ty helped deliver a baby panda at the zoo and is now the big news. This takes up the rest of the time on Good Morning, Chicago and Gunther and Tinka do not get to dance.
Featured Songs & Dances
Cast
Main cast
Recurring
Guest stars
Gallery
The image gallery for Split It Up may be viewed here.
Videos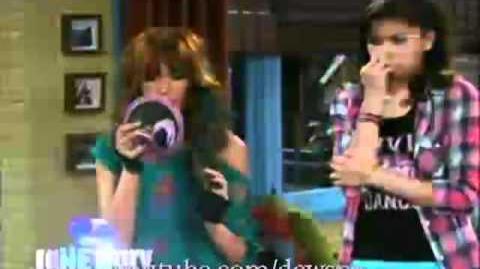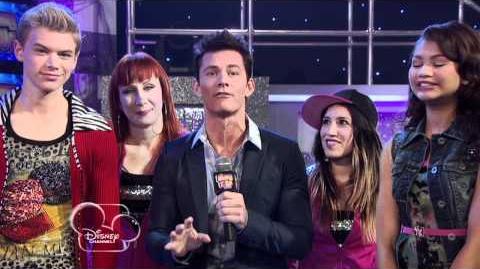 Memorable Quotes
Gary
: It's not Gunther and Tinka.
Rocky: Ha in your face!
Gary: The winners are CeCe-
CeCe: I knew it!
Gary: And Gunther.
CeCe
: Didn't know that.
Rocky
: I think it looks cute. Knowing you you'll start a trend and every girl in school will wanna wear their hair that way.
CeCe
: Yeah they'll all wish they were me, CeCe, the sea monster.
Deuce: Okay if you can't actually commit a crime how 'bout this, we read the newspaper and find an unsolved crime, you confess, nothing to violent, maybe a bank robbery, you'll go to prison for twenty-five years to life and knowing you, you'll be out at eighteen for good behaviour, but people will still know what a bad dude you are because it will tatooed on your face! Then you just gotta spit some rymes and you'll be on your way. Or we could keep spit balling.
Flynn
: You could release the lions.
Ty: I like where you're going with this, but do you know what also could work? Penguins!
Flynn
: Really? Do penguins seem scary to you? Because there is a reason the movie's called Happy Feet and not Scary Feet!
Rocky
: Oh your highlights are done.
CeCe: Thanks again for doing them for me.
Rocky: Your welcome I want you to look extra special for Good Morning Chicago.
CeCe: Careful.
[Rocky throws towel over CeCe's head]
CeCe
: What's wrong? *gasp* It's red it's green it's red it's green, it's horrible-I look like Christmas threw up on my head!
Trivia
"Good Morning Chicago" is a parody of morning shows such as "Good Morning America" and "Good Day L.A."
Disney Channel premiere planned for December 18, 2011, but eventually was aired January 22, 2012.
This is the second episode with GeCe moments in it.
CeCe and Gunther dance together for the first time on the show (excluding the dance in Hot Mess It Up)
Flynn makes a refference to the movie "Happy Feet".
First episode since Shake It Up, Up & Away to have no offical absence
Goofs
CeCe could have called her mom to get Gunther and Tinka arrested for locking her but it doesn't seem like she did that. Plus her mom is a cop.
When Rocky tries to prove that she saw Tinka out the window, she sits down. But in the next scene, she is kneeling on the couch.

Community content is available under
CC-BY-SA
unless otherwise noted.