"
Oh am I? Well then I guess this isn't a picture of an eight year old boy trick or treating as Princess Leia.
"
Show It Up
Season:
1
Episode:
11
Production code:
112
Broadcast number:
11
Broadcast Information
Original airdate:
February 20, 2011
International airdate:
April 15, 2011 (Latin America)


April 15, 2011 (Brazil)
May 17, 2011 (Netherlands / Flanders)
June 5, 2011 (Poland)
June 17, 2011 (Czech Republic)
June 18, 2011 (Romania)
June 18, 2011 (Catalonia)
June 18, 2011 (Spain)
June 18, 2011 (Hungary)
June 24, 2011 (Germany)
July 15, 2011 (Italy)
August 24, 2011 (France)
August 27, 2011 (Israel)

Show It Up is the 11th episode of Season 1 of Shake It Up and the 11th of the overall series. It first aired on February 20, 2011.
Overview
Rocky is tired of coming in second to Candy. So when the school Talent Show is coming up, she enters CeCe and herself and plans to win first place. Along with Ty.
Episode Summary
Rocky is determined to beat perennial champions Randy and Candy at the talent show after Candy wins every single award Rocky was supposed to win. Upon realizing that they will lose against Candy and her fellow cheerleaders, they enlist Gunther and Tinka to dance with them in the show but Candy and Randy recruit them for their team soon after. CeCe does not give up and brings in her secret weapon, Ty. Meanwhile, Flynn helps Deuce prepare to MC the show.
Featured Songs
Cast
Main Cast
Recurring
Guest Stars
Gallery
The image gallery for Show It Up may be viewed here.
Videos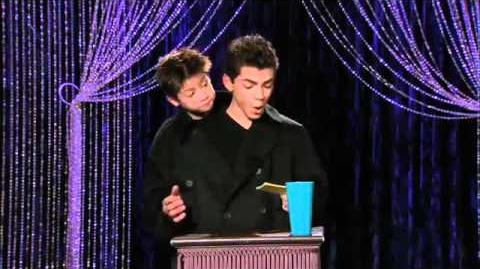 Memorable Quotes
Rocky: "It's Candy stinkin' Cho! Great! I agree! Everyone's a winner! Go bulldogs!
Rocky: Do you know why these ribbons are red? Because red means stop. You're never gonna be as good as Candy Stinkin Cho!
Rocky: Seriously? Second place? On Thanksgiving I personally cooked three hundred turkeys, my hands, still smell like giblets. I helped build four houses for Habitat For Humanity-they only needed two. Michelle Obama hugged me on the local news!
Rocky
: I didn't want it to have to go this far but I do want you to remember, I do have
the picture.
Ty: Mom said she burned that picture.
Rocky: That's what she told you but the truth was, she gave it to me because she knew that there would come a day when I would need it.
Ty: You're bluffing.
Rocky: Oh am I? Well then I guess this isn't a picture of an eight year old boy trick or treating as Princess Leia.
Ty: She lead the Rebellion! She was cool!
Rocky: I wonder how cool the kids at school will think it is when it's taped to everybody's lockers.
Ty: So what are you thinking? Old school? Hip hop? Salsa? I'm in.
CeCe: May the force be with us.
Ty
: You need a mint.
Rocky
: You're right, I'm not gonna compete against them.
CeCe: Good for you.
Rocky: We're gonna compete against them.
CeCe
: Well, at least I'll finally have a shot at getting second place at something.
Trivia
This episode was presented in widescreen format on the SD feed of Disney Channel similar to how it is aired on the HD feed
In this episode, the cheerleader uniforms are blue and white, but in the episode "Age It Up", the cheerleader uniforms are red and white.
Community content is available under
CC-BY-SA
unless otherwise noted.