"
Thank you. Oh no, the only reason you're apologizing is because you think we're about to die!
"
Shake It Up, Up & Away
Season:
2
Episode:
3
Production code:
201-202
Broadcast number:
24
Broadcast Information
Original airdate:
October 2, 2011
International airdate:
October 10, 2011 (Canada)

January 13, 2012 (New Zealand)
January 20, 2012 (Catalonia)
January 20, 2012 (Portugal)
January 20 and February 1, 2012 (Spain)
January 24 and January 26, 2012 (Latin America)
January 24 and January 26, 2012 (Brazil)
January 25 and January 26, 2012 (Italy)
February 11, 2012 (Germany)
March 9 and March 16, 2012 (Netherlands / Flanders)
March 10, 2012 (Japan)
March 11 and March 24, 2012 (Romania)
March 14, 2012 (France)
March 24, 2012 (Poland)
March 25, 2012 (Czech Republic)
March 25, 2012 (Hungary)
May 3, 2012 (Israel)

Shake It Up, Up & Away is the 3rd episode in Season 2 of Shake It Up. It was originally scheduled to air as an hour-long season 2 premiere on September 18, 2011 but was postponed due to the Reno Air Race Disaster (which occurred two days earlier in Reno, Nevada) because of the storyline involving an airshow with Rocky and CeCe having to dance on the wing of a World War II-era plane (similar to the one that crashed in the September 16th accident). The episode "Shrink It Up" aired in its place. This episode was later shown on October 2, 2011, two weeks later. In some other countries, it was the first of season 2.
Plot
CeCe and Rocky plan to go to Alabama with the rest of the Shake It Up, Chicago! cast, but CeCe tricks Rocky into getting on a bus to Los Angeles in order to audition for a reality show so Rocky and CeCe can take their dance career to the next level but during one of the stops Rocky is pretty mad at CeCe for tricky her and not doing charity work for Shake it Up Cares. Rocky tries calling her mom while she was doing that CeCe tries telling her that she had no right to drag her into it along with apologizing and explaining her reasons but Rocky was so busy trying to get the phone working that she didn't even listen to a word CeCe said at all. They get stuck at a bus station in a small Texas town when the bus leave. After the mayor sees the girls dance at a Town Hall party, he asks if they want to dance for the town's air-show. However, they find out they will be dancing on the wing of a World War II plane while in the air. Flynn stows away in CeCe's suitcase on the trip and Deuce and Ty compete for a job at Deuce's uncle's pizza place, which is not all that easy for Ty since Deuce's uncle is helping his nephew every step of the way.
Featured Songs & Dances
Cast
Main Cast
Recurring
Guest stars
Gallery
The image gallery for Shake It Up, Up & Away may be viewed here.
Videos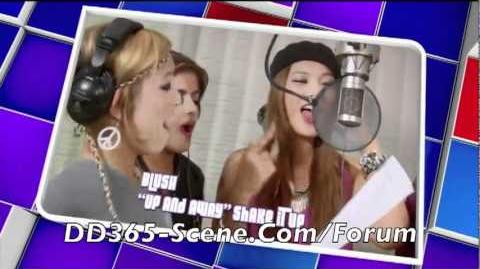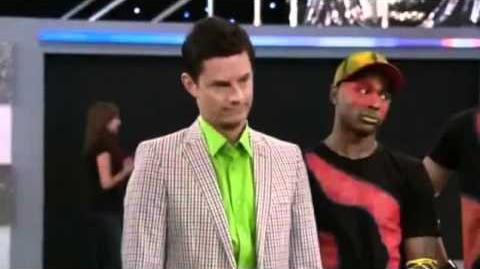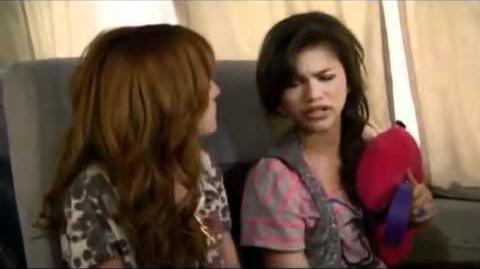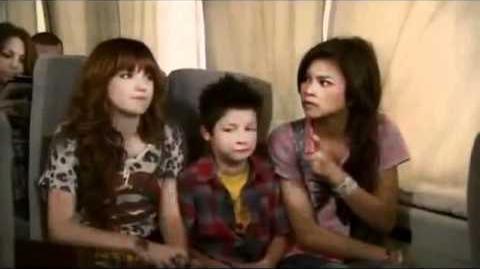 Memorable Quotes
CeCe: We'll be fine, just follow my lead. So do you think the rain will hurt the crops this year? (Guy walks away) Me neither.
CeCe
: Rocky!
Rocky: Yeah?
CeCe: I'm so sorry I switched buses on us, we should've just gone to Alabama with Shake It Up Cares, you were right!
Rocky
: Thank you. Oh no, the only reason you're apologising is because you think we're about to die!
Rocky: CeCe, just relax okay, we'll just pretend we're on stage and it'll be over before we know it.
CeCe: That's what I'm afraid of!
CeCe: Flynn? What do you think you're doing?
Flynn: Having an adventure!
Flynn
: Who said video games are a waste of time?!
Georgia: Texas! whats she doing in  texas?
Flynn: Wow Texas is an adventure!
Rocky
: We're lucky to be here. Population 68
Trivia
This episode is held the record for longest title until My Bitter Sweet 16 It Up.
This is the first Shake It Up episode title not to end in "It Up."
This is the first and only episode to feature a blacklight dance.
This was the first episode that was rated "Y7" instead of being rated "G".
In some countries, the episode was titled Air It Up.
This Episode was originally supposed to air in September but was replaced by "Shrink It Up"
Up Up, & Away aired two weeks later than originally planned due to the Reno Air Show Disaster happening two days before its original air date.
This is the first ever Shake It Up special.
This episode introduces Crusty's.
Goofs
Georgia says, she has a tracking device on CeCe's phone because when she was eleven, CeCe was too old to be on a leash. But CeCe didn't have a phone when she was eleven.
It is very unlikely that's Flynn could've fit in Cece's suitcase and be able to be completely quiet for hours in the suitcase.
At the air show kick-off dance, Rocky says that they won't blend in because of the population being 68, however at the bus station, Flynn changed the sign to say 71.
Theres no way that Gunther and Tinka could've gotten back to Chicago so fast.
When Flynn sees Bow's hat, he wants to mess with it, however, it never shows him actually putting gravy in her hat, it just shows him hiding under the table.
They say there's 1000 people attending the show, but Flynn changes the population count to 71.
Deuce tells Ty that's it's required to wear a hair net, however Deuce wasn't wearing one.