Season 3

Season 3 title card
Country of Origin:
United States
No. of episodes:
26
Broadcast Information
Original channel:
Disney Channel
Original run:
October 14, 2012 - November 10, 2013
Season Chronology
Previous
Season 2
Current
3
Next
None
The third season of Shake It Up was confirmed February 21, 2012 by Bella Thorne[1]and  was officially announced on June 4, 2012 by Adam Bonnett, the Senior Vice President of Original Programming for Disney Channels Worldwide.[2]According to Kenton Duty, the cast will be returning to film the season on July 8, 2012.[3]  It has been confirmed that Kenton Duty will not return at all. The season premiere episode "Fire It Up" aired on October 14, 2012. The season/series finale episode "Remember Me" aired on November 10, 2013. Season 3 ended filming productions on August 31, 2013.
The full season consist of 26 episodes which brings the whole series to a total of 75 episodes.
Cast
Main Cast
Recurring Cast
Special Guest
Episodes
No.
Ep.
Title
Original air date
Prod.
code
U.S. viewers
(millions)
50
1
"Fire It Up"
October 14, 2012
301
3.9
CeCe and Rocky are horrified when they discover that a fire burned down the Shake It Up! Chicago set. For the meantime, the show is on hiatus. Since CeCe was the last one on the set and left her curling iron plugged in before left for Japan, she believes she is the culprit. Meanwhile, Gary is depressed because he is jobless, so Ty convinces Deuce to hire him at Crusty's Pizza. In the end, it is revealed that the real source of the fire is a faulty tanning bed.
51
2
"Funk It Up"
October 28, 2012
302
3.2
CeCe is in a funk without Shake It Up! Chicago. She gets inspired by a speech performed at a bar mitzvah where Rocky booked them a gig. Meanwhile, Howie, a boy Rocky met at the bar mitzvah, develops a huge crush on her and will not leave her alone. Plus, Ty gets incredibly mad at Deuce because he drew a mustache on his face with permanent marker. Also, Flynn asks Jeremy to speak at Career Day instead of Georgia, which makes her upset.
52
3
"Spirit It Up"
November 4, 2012
303
3.2
Rocky is in a funk so she and CeCe join the struggling Spirit Squad. Meanwhile, Dina and Tinka become friends and Flynn meets the new neighbor who tells him he has a bad friend reputation.
53
4
"Lock It Up"
November 11, 2012
304
3.1
After CeCe and Rocky perform at a local hospital, it inspires Rocky to volunteer to work in the hospital. While cleaning a hospital room, she is locked under quarantine alongside Flynn. Dr. Curtis Blue tells Rocky that the hospital is not sure if the disease is infectious, the test results will arrive within sixty hours. Meanwhile, CeCe asks out Louis for pizza, unbeknownst he is blind. When CeCe finds out, Louis believes she is self-absorbed. Elsewhere, Deuce gets annoyed because Dina is invading his locker.
54
5
"Merry Merry It Up "
December 2, 2012
306

3.9

CeCe picks a fight with Jeremy after she accuses him of changing their Christmas traditions, leading Georgia to break up with him. To fix everything, Rocky returns as the ghost of Christmas dance and escorts CeCe on a dream journey to the past, present, and future. Meanwhile, Flynn wins a hot tub after being the tenth caller on a radio station. Elsewhere, Deuce gets left behind by his family, and instead of going on a vacation to Cabo, he ends up spending Christmas with the Blue family much to Ty's dismay. Zendaya performs the new song "Shake Santa Shake" in the episode.
55
6
"Home Alone It Up"
December 9, 2012
305
3.2
CeCe convinces Georgia to leave her watching Flynn so she can meet Jeremy's parents after she convinces her that she is "responsible", but when a last minute shoe sale comes up, she puts Rocky in charge even though she is incredibly ill. After CeCe returns from her shopping spree, the house is a complete disaster and Flynn is nowhere to be found. Now, CeCe and Rocky set out to find him before Georgia finds out.
56
7
"Oh Brother It Up"
January 13, 2013
307
3.3

Rocky and CeCe get hired at Bob's Kabob's, where CeCe loses her job after she butts heads with the strict manager, Logan. Meanwhile, Georgia plans Jeremy's birthday dinner and he is bringing over his son "Little Scooter" for the first time.

57
8
"Quit It Up"
January 27, 2013
308
3.4
CeCe gets an embarrassing job as a dancing zit at the mall, but is determined to keep the gig to prove to Rocky and Logan that she doesn't always quit what she starts. Also, the girls get breaking news about the fate of Shake It Up Chicago that threatens to change everything.
58
9
"Ty It Up"
February 17, 2013
309
4.5
CeCe, Rocky and Tinka Re-Audition for Shake It Up Chicago. Ty also auditions as well. When the producer announces the list of dancers, CeCe and Tinka both got in, but there was some confusion about whether Rocky or Ty got in. Ty announces that he actually wants to be in Shake it Up, Chicago. Now it is between Rocky and Ty for the last spot on Shake it Up, Chicago. Later on, Ty becomes the new host, but Rocky does not get the last spot on Shake it up Chicago because the producer wanted new faces and had already chosen CeCe and Tinka.
59
10
"My Fair Librarian It Up"
February 24, 2013
310
3.7

CeCe and Rocky help Miss Burke win over the heart of her crush, Mr. Zigfeld, while Logan, Ty and Deuce help Flynn build a soapbox car.

60
11
"Clean It Up"
March 10, 2013
311
3.2

CeCe accidentally stains Georgia's wedding dress with self-tanning lotion. Meanwhile, Rocky tries to get Logan to get along with CeCe by making a deal that if he keeps an open mind about CeCe, she will teach him how to slow dance for Georgia's wedding.

61
12
"I Do It Up"
March 17, 2013
312
4.5

The night before Georgia's wedding, her ex-husband, J.J., comes to visit to have some quality family time, but things take an unexpected twist when Flynn witnesses Georgia and J.J. kissing. Flynn has no idea if he should speak up or stay quiet. Meanwhile, Logan tries to discuss his relationship with Rocky, but Ty keeps interfering. In the end, Georgia and Jeremy cancel their wedding and Jeremy admitted he had second thoughts about Georgia.

62
13
"Forward & Back It Up"
March 24, 2013
313
2.7
When Rocky saves Phil's life, he happily offers her a job dancing on Shake It Up Chicago again. Wanting to earn her way, Rocky declines, but CeCe is determined to make her accept. Meanwhile, Deuce gets an influx of tourists to Crusty's, who have been mislead by a misprint in a tour guide that says Crusty's is the location where the Great Chicago Fire began.
63
14
"Switch It Up"
April 7, 2013
317
3.3
CeCe and Flynn accidentally switch bodies through an old curse of Tinka's grandma. When they learn they're stuck that way for 24 hours, or until they learn a lesson, they realize Flynn will have to dance for CeCe on "Shake It Up Chicago!" and CeCe will have to learn tuba and nail Flynn's audition for the marching band. Meanwhile, Ty thinks Rocky is trying to kill him since he didn't put her in that week's dance.
64
15
"Love & War It Up"
April 28, 2013
316
3.3
Now that they're no longer going to be related, Rocky tries to convince CeCe and Logan to get along so that she and Logan can date. CeCe finally agrees to try, but Logan just can't do it. Meanwhile, Flynn and Deuce invite Tinka to be the lead singer in their air guitar band.
65
16
"In The Bag It Up"
May 12, 2013
314
2.6
Rocky, CeCe and Tinka split the cost of renting a designer purse, each thinking it will help them achieve separate goals, but the bag soon proves to be worth more trouble than its price tag. Meanwhile, Deuce and his dad (George Lopez) are all set to win the father-son bowling tournament again this year, until they find out that a mother-daughter team has joined the league — Dina and her mom.
66
17
"Brain It Up"
June 2, 2013
315
3.0
After getting dropped from her honors classes for failing an assessment test, Rocky begins to embrace an easier academic lifestyle, while CeCe tries to adapt to her new academic status in the honors classes after acing the same test – accidentally. Meanwhile, Deuce tries to help Flynn give up his safety blanket for good.
67
18
"Opposites Attract It Up"
June 23, 2013
318
3.4
CeCe and James discover they actually like each other, but are so insecure they each secretly enlist their friends' help to make them more appealing to their new crush. Meanwhile, Rocky joins the Young Teacher's Association, but when she's assigned to Flynn's class, she realizes she may not have what it takes to be a teacher. Also, Deuce tries to get facial hair, but Dina doesn't like it.
68
19
"Psych It Up"
July 14, 2013
319
3.4
Rocky pretends to be psychic to prove a point to CeCe, but she winds up accidentally convincing all the kids at school that she can actually see the future.
69
20
"Future It Up"
July 28, 2013
320
3.6
Its 22 years in the future and the groups' 20th high school reunion is just a day away. Dina and Deuce are happily married and expecting another baby, and while Rocky and CeCe have successful careers, they fell out of touch years ago. Dina wants them to dance together at the party for old times' sake, but they can't seem to agree on anything. Meanwhile, Ty and Tinka realize they may have missed out on something special in high school – each other.
70
21
"Oui Oui It Up"
August 4, 2013
323
3.3
CeCe's plans for a posh family vacation in Paris takes a wrong turn when she arranges a house swap with a French family and lands herself, Rocky, Flynn and Georgia on a pig farm 500 miles outside Paris. Back in Chicago, Ty has fallen for the Parisian girl staying in CeCe's apartment despite Tinka's warnings that the girl is a bit annoying.
71
22
"My Bitter Sweet 16 It Up"
August 25, 2013
325
3.2
Rocky and CeCe decide to throw a joint sweet 16 extravaganza, but they can't get their moms to agree on any of their party plans. Marcie's ideas are a bit outdated and Georgia thinks her daughter's ideas are too outrageous and expensive. But when CeCe discovers an old video of her mom at her own sweet 16 party, she sees gains an entirely new perspective on her mom.
72
23
"Stress It Up"
September 15, 2013
322
3.3
When CeCe gets picked to perform a song she wrote on "Shake It Up Chicago," she decides to stop talking all week in order to preserve her voice. Meanwhile, Rocky finally stretches herself too thin at school when she decides she should also add a sport to look good for college applications.
73
24
"Loyal It Up"
September 29, 2013
324
3.0
Gary Wilde returns to announce he is hosting a new dance show – "Dance Factor" – and he wants CeCe, Rocky and Tinka to join the program. Meanwhile, Deuce and Flynn panic after learning their favorite snack has been discontinued.
74
25
"Haunt It Up"
October 6, 2013
321
3.1
Rocky and CeCe decide they're too old to trick-or-treat and elect to have a "Mature-o'ween" with more adult activities, such as knitting and watching tear-jerking movies. They soon realize they're just missing out on fun and candy, and scramble to salvage what's left of their Halloween. Meanwhile, tired of being treated like a little kid, Flynn challenges Ty and Deuce to a scare off in an old abandoned house believed to be haunted by a young spirit.
75
26
"Remember Me"
November 10, 2013
326
3.4
In the series finale, Shake it Up Chicago" hosts a charity fashion show with Rocky, Tinka and CeCe as its star models, however the girls' runway dreams are cut short when a fashion mishap leaves CeCe with amnesia. While Georgia and Flynn try to follow the doctor's orders and give CeCe time to heal, a devastated Rocky tries everything she can to get her best friend to remember her and the special moments they shared together.  

Note: This is the last episode of season 3 and the entire series.
Trivia
Kenton Duty did not appear in one of the episodes as Gunther Hessenheffer as he said to BOP and Tiger Magazine that he would before the Season 3 even aired and the only time we hear about Gunther is by Tinka's mentions in Fire It Up and the quick mention by Deuce in Spirit It Up. He was even cropped out of the flashbacks in order to put the emphasis on Tinka's horribleness towards CeCe and Rocky so only his shoulder is visible.
This is the first season not to feature Kenton Duty who plays Gunther and Buddy Handleson who plays Henry.
This is the last season of Shake It Up but fans fought for a season 4.
Due to unknown reasons, Shake It Up was intended to have a fourth season.
Disney Channel declared the series was ending, not cancelled, which points to the fact that Shake It Up was intended to have a fourth season.
Season Opening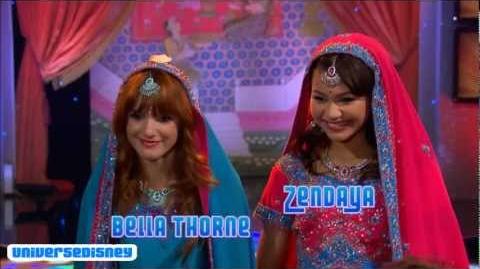 References