Season 2

Season 2 title card
Country of Origin:
United States
No. of episodes:
27
Broadcast Information
Original channel:
Disney Channel
Original run:
September 18, 2011 — August 19, 2012
The second season of Shake It Up was announced on March 16, 2011. It consisted of 28 episodes (including the Made In Japan special), which brings the series total to 49 episodes. It first aired on September 18, 2011 and ended its run on August 17, 2012. Caroline Sunshine as Tinka Hessenheffer joins the main cast. Filming for season 2 concluded on March 18, 2012, and wrapped up on June 22, 2012.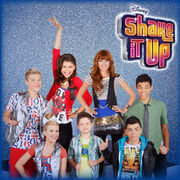 Main Cast
Recurring cast
Trivia
This season has 28 episodes, which makes it the season with the most episodes in it.
Series #
Season #
Title
Original air date
Prod.
code
U.S. viewers
(millions)
22
1
"Shrink It Up"
September 18, 2011
203
3.6

CeCe and Rocky go to a therapist to get advice on their friendship after Rocky says that Cece is bossy and they have an argument. Things quickly spiral out of control which leads to a flash back. Flynn and Ty agree to take a Toy testing job. Also Gunther and Tinka try their hand at being nice, starting with Deuce.

23
2
"Three's a Crowd It Up"
September 25, 2011
206
2.9

Rocky, CeCe and Tinka are asked out by the same guy who they find out in the end is just 12½ years old. Meanwhile, Henry becomes Flynn's substitute teacher. Elsewhere, Deuce and Dina have a business competition.

24
3
"Shake It Up, Up & Away"
October 2, 2011
201-202
3.8

CeCe and Rocky risk being booted from "Shake It Up, Chicago!" -- and learn a lesson about friendship and judgment -- when on a group bus trip, they make a detour to a reality show audition. Meanwhile, Deuce and Ty vie for a job at Crusty's Pizza Parlor.

25
4
"Beam It Up"
October 9, 2011
204
4.5

At a Halloween party at the Shake It Up, Chicago! studio, Rocky meets a cute guy and tells Cece to go say hi to his brother who is wearing a hunchback costume. Meanwhile, Flynn suspects that his new neighbor, Zane, is an alien from Jupiter after he and Henry observe strange lights from his room and more of Zane's strange mannerisms.

26
5
"Doctor It Up"
October 23, 2011
205
3.5

Rocky's dad, Dr. Curtis Blue, returns from his trip overseas and is unhappy to find out that Rocky is dancing on "Shake It Up, Chicago!" CeCe and Rocky must figure out a way to convince him that she should remain on the show. Meanwhile, Ty reveals that he'd like to pursue a profession in rapping, and Deuce and Flynn get caught up in a fortune-telling machine.

27
6
"Review It Up"
November 6, 2011
210
3.9

When entertainment blogger Andy Burns (played by Ben Savage) gives "Shake It Up, Chicago!" a bad review, the girls have to convince him that their dancing deserves a glowing review. Meanwhile, Deuce and Dina get bad advice on how to celebrate their one-year anniversary.

28
7
"Double Pegasus It Up"
November 13, 2011
207
3.2

CeCe finds out Deuce has been delivering pizza to her idol, a choreographer who came up with an amazing dance move, the "double Pegasus." When she and Rocky step in on the pizza delivery to meet him, they find out he's living a less than glamorous life. Meanwhile, Uncle Frank entrusts Deuce with the keys to the cash register at Crusty's, and the added responsibility becomes too much pressure.

29
8
"Auction It Up"
November 20, 2011
211
3.6

CeCe and Rocky set up a fundraiser through "Shake It Up, Chicago!" to help save their former dance teacher, Ms. Nancy's (played by Marissa Jaret Winokur), dance studio. Meanwhile, Deuce and Ty enter a competition to win a new phone.

30
9
"Camp It Up"
November 27, 2011
213
3.8

CeCe and Rocky decide to host their own dance camp for kids in order to raise money to attend a week-long dance camp. Meanwhile, Ty and Tinka go head-to-head in a ping-pong tournament at Crusty's Pizza Parlor.

31
10
"Jingle It Up"
December 11, 2011
212
3.5

CeCe buys herself a purse for Christmas and has no money left for her mom's scarf. She gets herself a couple of jobs at the mall to earn money. Meanwhile, Rocky tries to make a young boy's Christmas wish come true and Deuce reluctantly invites Dina to join his family for some Christmas caroling.

32
11
"Apply It Up"
January 8, 2012
215
3.2
When Cece and Rocky both get into the prestigious Chicago Fine Arts Academy, only Cece is offered a scholarship, forcing the girls to figure out a way so they can both attend. Meanwhile, Flynn and Henry believe that an asteroid is headed towards Earth.
33
12
"Split It Up"
January 22, 2012
208
2.8

When Gunther and CeCe are selected to be guest dancers on "Good Morning, Chicago", Rocky tries to control her jealousy, while Tinka plots to replace CeCe on the show. Meanwhile, Deuce and Flynn try to help Ty improve his rap skills.

34
13
"Copy Kat It Up"
February 19, 2012
219
3.5

When an uber fan named Kat starts to copy Cece's appearance and secretly plots to take her place on "Shake It Up, Chicago!," Cece and Rocky must find a way to show Kat's true colors. Meanwhile, Flynn acts as Ty's recording agent when dealing with a big time record producer.

35
14
"Egg It Up"
February 26, 2012
209
2.6

When Rocky and Cece are paired up in a school science project, Rocky gets nervous that Cece's lack of enthusiasm will drag down her grade, so she goes behind her back to find a new partner. Meanwhile, Gunther takes over for Ty as Flynn's babysitter.

36
15
"Judge It Up"
March 11, 2012
225
3.3

After Gunther and Tinka refuse to pay Rocky and CeCe for a performance at their cousin's birthday party, the girls take them to "Teen Court," a TV show where Judge Marsha decides the outcome. Meanwhile, Flynn learns to ride a bike.

37
16
"Parent Trap It Up"
March 25, 2012
218
3.0

Rocky and CeCe find a ring in CeCe's dad's coat and are convinced he's about to re-propose to CeCe's mom. With the help of school librarian Miss Burke, they come up with a plan to create the perfect proposal moment. Meanwhile, Ty and Deuce go on a double date.

38
17
"Weird It Up"
April 1, 2012
217
2.5

Rocky and CeCe hire a manager who books them a gig on a Japanese game show where Flynn ends up being the contestant. Meanwhile, Ty takes an interest in a girl who only speaks Spanish and asks Deuce to accompany them on their first date.

39
18
"Whodunit Up?"
April 15, 2012
221
3.7

When a phantom threatens to shut down "Shake It Up, Chicago," CeCe, Rocky, Gunther and Tinka try to unmask the culprit before any damage is done. Meanwhile, Deuce helps Ty try to identify his secret admirer.

40
19
"Tunnel It Up"
May 13, 2012
216
3.3

CeCe hatches a plan that will allow her and Rocky to tape a "Shake It Up, Chicago" national special and be at a school dance on the same night. Meanwhile, Deuce ends up having to bring Flynn to the dance.

41
20
"Protest It Up"
May 20, 2012
220
3.1

When the school board institutes uniforms for all students, Rocky and CeCe do their best to overturn the ruling. Meanwhile, Gunther and Tinka have time for new hobbies now that they aren't worrying about their clothes.

42
21
"Wrestle It Up"
June 3, 2012
222
3.17

When CeCe's mom gets a side job working security on a movie, Rocky, CeCe and Flynn devise a plan to sneak onto the set to see the stars. Meanwhile, Ty helps Deuce win back Dina.

43
22
"Reality Check It Up"
June 10, 2012
226
2.8
CeCe and Rocky throw a viewing party to watch "Shake It Up, Chicago's" feature story on a national TV show, but are shocked when the show makes ridiculous claims that CeCe has a crush on Gunther and Rocky is a major diva.
44
23
"Rock and Roll It Up"
July 1, 2012
214
3.7

Gary's grandmother, Edie, dances on "Shake It Up, Chicago" as part of a special performance and afterwards, Rocky, CeCe, Gunther and Tinka flash back to the days when Edie and her best friend were on one of the first teen dance shows in the 1950's.

45
24
"Boot It Up"
July 15, 2012
227
3.9
Rocky and CeCe are so excited to go to Major Dance Boot Camp for their summer vacation, but after they get there, they realize it's not exactly what they signed up for. Meanwhile, Flynn is bummed he can't go to summer camp because of a hurt arm, so Deuce and Dina find a way to bring camp to him.
46
25
"Slumber It Up"
July 29, 2012
223
3.1
CeCe hosts a slumber party and all the girls are invited, including Tinka, who ends up bringing a lot more fun to the party than anticipated. Meanwhile, Flynn and Deuce discover a map to Al Capone's secret vault and enlist Ty and Gunther to help find it.
47
26
"Surprise It Up"
August 5, 2012
224
2.9

Cece tries to find out what Rocky has planned for her birthday but when Gunther asks her to go with him to his mailman's funeral, she thinks this is the surprise she has been waiting for. Meanwhile, the gang meets Deuce's identical cousin, Harrison.

48
27
"Embarrass It Up"
August 12, 2012
228
3.8
Rocky tries to console CeCe after she experiences an embarrassing public moment caught on camera during "Shake It Up, Chicago." Soon after, the roles are reversed when Rocky has her own equally embarrassing moment during a news interview.
Soundtracks
Main articles: Shake It Up: Live 2 Dance and Shake It Up: Made in Japan
Film
Main article: Made in Japan