Season 1

Season 1 title card
Country of Origin:
United States
No. of episodes:
21
Broadcast Information
Original channel:
Disney Channel
Original run:
November 7, 2010 - August 21, 2011
Season Chronology
Previous
—
Current
Season 1
Next
Season 2
The first season of Shake It Up aired from November 7, 2010 to August 21, 2011. It consisted of 21 episodes. Zendaya and Bella Thorne appear in all episodes. Adam Irigoyen is absent for three episodes, Davis Cleveland is absent for two, Roshon Fegan is absent for four episodes, and Kenton Duty is absent for nine episodes. Caroline Sunshine is not a main character in this season.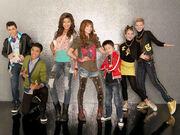 Cast
Main cast
Recurring Cast
Series #
Season #
Episode title
Directed by
Written by
Original air date
Prod.
code
U.S. viewers
(millions)
1
1
"Start It Up"
Shelley Jensen
Chris Thompson
November 7, 2010
101
6.2
When best friends CeCe Jones and Rocky Blue audition for television's most popular teen dance show, "Shake It Up, Chicago!," CeCe gets a bad case of stage fright and ruins the audition. When Rocky thinks of a way to get both of them back on the show, the girls wind up landing their dream jobs as background dancers. Meanwhile, their rivals, Gunther and Tinka, also land a spot on the show.
2
2
"Meatball It Up"
Shelley Jensen
John D. Beck & Ron Hart
November 14, 2010
104
4.1
CeCe and Rocky get their first paycheck from "Shake It Up, Chicago!" and open up a checking account. When they treat Ty and Deuce to a lavish lunch, they aren't able to pay because their checking account is overdrawn. In order to get their meals for free, the girls participate in the restaurant's challenge of eating a 10-pound meatball over a heaping plate of spaghetti.
3
3
"Give It Up"
Shelley Jensen
Rob Lotterstein
November 21, 2010
103
4.3
"Shake It Up, Chicago!" is holding a dance marathon to raise money for charity and Rocky is quick to sign up to support the local senior center. CeCe, on the other hand, isn't thrilled with the idea of helping unappreciative senior citizens like Mrs. Locassio, but quickly jumps on board when she finds out the winners will also get a spotlight dance on the show. In order to prepare for the marathon, CeCe purchases some energy drinks to give them more pep in their step. When Flynn gets a hold of the sugary concoctions, the girls are up all night with him and have to muster up the energy to compete the next day.
4
4
"Add It Up"
Shelley Jensen
Eileen Conn
November 28, 2010
105
3.8
CeCe faces possible suspension from "Shake It Up, Chicago!" if she doesn't pass Algebra, so Rocky and Deuce find a tutor to help pick up her grades. However, when her tutor, Henry, an 8-year old math prodigy, prefers to play video games with Flynn, Rocky steps in and discovers that CeCe has been hiding a secret – her dyslexia. Meanwhile, Ty goes on a platonic date with Tinka and unexpectedly finds himself having a good time with her.
5
5
"Kick It Up"
Shelley Jensen
Ron Zimmerman
December 5, 2010
107
4.3
After Deuce points out that Rocky and CeCe are joined at the hip like Gunther and Tinka, they decide to start doing some things apart. But when Rocky starts to make new friends and finds a new hobby, CeCe is afraid their friendship is over for good. Meanwhile, Flynn enlists his new friend Henry to join his karate class to help fend off bullies.
6
6
"Age It Up"
Shelley Jensen
Rob Lotterstein
December 9, 2010
108

N/A

When Rocky and CeCe get to dance with teen sensation Justin Starr, CeCe accidentally texts a photo of him kissing his manager to everyone on her contact list, potentially ruining his career. Meanwhile, Ty tries to make Gunther more "hip", after he was rejected by a popular cheerleader.

7
7
"Party It Up"
Shelley Jensen
Jenny Lee
December 12, 2010
106
3.7

CeCe and Rocky sneak out to attend one of Gary's infamous house parties, but are embarrassed to discover he invited them there to work as waitresses. When Rocky overhears Gary introducing his manager, she and CeCe decide to put on a dance performance mid-party in hopes that he'll want to represent them. Meanwhile, Ty and Deuce arrive to babysit Flynn so CeCe and Rocky can sneak out, but then must try to hide from Georgia when she gets off work early.




Note: As of December 23, 2011, this episode has been pulled from the network for re-evaluation after a joke ("I could just eat you up! Well, if I ate.") sparked controversy from former Disney starlet, Demi Lovato.

8
8
"Hook It Up"
Shelley Jensen
Chris Thompson
December 19, 2010
102

N/A

CeCe and Rocky's newfound "cool" status may be jeopardized when their classmates find out that they are just background dancers on "Shake It Up, Chicago!" The girls talk to host Gary Wilde about the situation, but Gary tells them all good dancers must work their way to the top. Deuce, who's capturing the girls' first day on set, overhears Gary Wilde saying that they need to fire two people, and CeCe and Rocky fear it might be them. Meanwhile, Ty mentors Flynn to be more like him.




Note: This episode has some elements that were not present in previous episodes. This episode was originally produced as the second episode of the series, causing these continuity errors.

9
9
"Wild It Up"
Joel Zwick
Chris Thompson
January 9, 2011
110
4.1
Rocky tries to change her image when she reads a blog about how she is a goody-two-shoes and winds up in Vice Principal Winslow's office, facing suspension for defacing the Principal's office. Meanwhile, Deuce and Flynn try to catch a mouse on the loose in the Jones' apartment.
10
10
"Match It Up"
Joel Zwick
Rob Lotterstein
January 23, 2011
111
4.3
CeCe tries to play matchmaker for Deuce, but her plan backfires when he gets back together with his up to no good girlfriend, Savannah. Ty, Rocky, and CeCe scheme up a plan to prove Savannah's only attracted to his money, in order to set him up with Dina, who they feel he is more compatible with. Meanwhile, Flynn helps Henry earn a Coyote Scout camping badge.
11
11
"Show It Up"
Joel Zwick
Eileen Conn
February 20, 2011
112
4.0

Rocky is determined to beat perennial champions, Randy and Candy, at the talent show after Candy wins every single award Rocky was supposed to win. Upon realizing that they will lose against Candy and her fellow cheerleaders, Rocky and CeCe enlist Gunther and Tinka to dance with them in the show, but Candy and Randy recruit them for their team soon after. CeCe does not give up and brings in her secret weapon, Ty. Meanwhile, Flynn helps Deuce prepare to MC the show.

12
12
"Heat It Up"
Katy Garretson
Jon D. Beck & Ron Hart
February 27, 2011
109
3.7

When the heat goes out in Rocky's apartment, CeCe invites Rocky, Ty, and their mother to move in with them. But Rocky and CeCe's mothers' disagreements start to affect and ruin Rocky and CeCe's friendship. There is a science fair at CeCe and Rocky's school and the girls ruin each other's projects on accident. Meanwhile, Ty and Flynn build themselves a man cave to get away from the women of the house.

13
13
"Glitz It Up"
Eric Dean Seaton
Ron Zimmerman
March 6, 2011
113
3.8
Rocky and CeCe choreograph and mentor young contestants in Chicago's Little Cutie Queen Pageant. Meanwhile, Deuce has to win over his crush, Dina's, over-protective father so he can go out with her.
14
14
"Hot Mess It Up"
Eric Dean Seaton
Jon D. Beck & Ron Hart
March 20, 2011
114
3.6
CeCe and Rocky host a video webcast offering advice to teens, but wind up giving bad dating advice to a fellow student who they mistake for Gunther. Now, CeCe and Rocky need to devise a plan to mend the boy's heart. Meanwhile, Ty, Flynn, and Deuce host their own internet show, "Zombie Talk."
15
15
"Reunion It Up"
Sean McNamara
Howard J. Morris
April 10, 2011
116
3.7
CeCe and Rocky get the chance to dance with Ronnie and Angie, two of the original "Shake It Up" dancers for the show's fifteenth anniversary. The former best friends, Angie and Ronnie, are constantly at each other's throats, which makes CeCe and Rocky evaluate their own friendship. Meanwhile, Ty and Deuce help Flynn plan his goldfish's funeral.
16
16
"Sweat It Up"
Joel Zwick
David Tolentino
May 1, 2011
117
3.1
Rocky and CeCe learn a lesson in lying after Rocky tells a lie about being able to hang out with the honor society kids and CeCe fakes a leg injury to get out of gym class. Both ladies are caught when they are seen Salsa dancing on "Shake It Up Chicago!" that same day. Also in the episode, Flynn, Deuce, and Ty realize that dog sitting is more than they can handle.
17
17
"Vatalihootsit It Up"
Eric Dean Seaton
Jenny Lee
June 12, 2011
118
3.3
CeCe and Rocky reluctantly give up their tickets to a Katy Perry concert when they are invited to Gunther and Tinka's home to celebrate Vatalihootsit Day and meet their parents, Kashlack (Bronson Pinchot) and Squitza. CeCe and Rocky are in for a surprise when they find out the holiday is to celebrate your worst enemies. Meanwhile, Ty takes Flynn to his audition for a commercial and Flynn ends up getting the part.
18
18
"Model It Up"
Eric Dean Seaton
Jenny Lee
June 17, 2011
115
4.1
Rocky is offered a modeling contract in New York, but is hesitant to go and leave her friends and family behind. CeCe, Ty, Deuce, and Flynn try to be supportive by pretending they don't care, so she will go and have an unforgettable experience.

Note: This episode aired on a special timeslot due to Disney Channel having "Night of Premieres" on June 17.

19
19
"Twist It Up"
Shelley Jensen
Eileen Conn
July 10, 2011
119
3.7
CeCe and Rocky help Mrs. Garcia throw her daughter, Dina, Deuce's girlfriend, a birthday party. At the party, Ty teaches Deuce to dance to help win over the matriarch, Mrs. Garcia. Meanwhile, Flynn and his friend, Henry, ward off an evil robot.
20
20
"Break It Up"
Shelley Jensen
Jenny Lee
July 24, 2011
121
4.1
CeCe, Rocky, Flynn, Deuce, and Ty head to Lake Whitehead for a week-long summer vacation. CeCe tries to get Rocky to enjoy her summer break, but during a game of truth or dare, Rocky jumps into the lake and winds up in the hospital with an injured foot, leaving the gang wondering if she'll ever be able to dance again. Meanwhile, Gunther and Tinka's family coincidentally rent a house next door and try to help Flynn overcome his fear of the Lake Monster.
21
21
"Throw It Up"
Shelley Jensen
Rob Lotterstein
August 21, 2011
120
3.4
CeCe and Rocky get the opportunity to perform a big spotlight number alongside English dance crew, "The Highlighters". Right before the performance, Host Gary falls ill, leaving CeCe and Rocky in charge of both the show and making sure they don't get sick themselves. Meanwhile, Deuce is left in charge of Flynn and his errands. But when Flynn convinces him to ditch the chores and play hooky, the day takes an unexpected turn.
Soundtrack
Main article: Shake It Up: Break It Down
Good Luck Charlie Crossover
On June 5, 2011, a Good Luck Charlie episode Charlie Shakes It Up! premiered. In this episode, Good Luck Charlie characters Teddy, Charlie, and Amy all go to Chicago to visit their great-aunt Nell; but, when they arrive, they take the wrong car and are mistaken for the Duncan Sisters (two dancers) on Shake It Up, Chicago!. CeCe, Rocky, Deuce, Flynn, and Gary appeared in the crossover. Gunther, Tinka, and Ty did not appear in the crossover. It was counted as a Good Luck Charlie episode and not a Shake It Up episode.
Trivia
Shake It Up was originally called, Dance, Dance, Chicago" then changed to "Shake It Up, Chicago" and, finally, Disney dropped the "Chicago" part.
The pilot was filmed in February 2010.
Shake It Up officially went into production July 2010.
On March 16, 2011, Disney announced that Shake It Up had been renewed for a second season.
Caroline Sunshine (Tinka) is not considered a main character, because she is not featured in the opening sequence, thus making her a recurring character in this season.
Stefanie Scott originally played Tinka in the pilot episode, but was then offered the part of Lexi Reed on A.N.T. Farm.
Start It Up, the pilot episode, attracted 6.2 million viewers and is currently the second highest rated series premiere for a Disney Channel series, only behind Cory in the House's pilot which had 7.1 million viewers when it premiered after the DCOM Jump In! which had 8.2 million viewers.