"
You know what, forget this party I'm going home. [Leaves only to come back] Oh that's right, I am home.
"
Reality Check It Up
Season:
2
Episode:
22
Production code:
226
Broadcast number:
43
Broadcast Information
Original airdate:
June 10, 2012
International airdate:
September 7, 2012 (Germany)


September 7, 2012 (Portugal)
September 7, 2012 (Spain)
September 13, 2012 (Israel)
September 14, 2012 (Italy)
September 14, 2012 (New Zealand)
October 6, 2012 (Czech Republic)
October 6, 2012 (Hungary)
October 21, 2012 (Poland)
October 31, 2012 (France)
November 3, 2012 (Romania)
November 4, 2012 (Japan)
November 16, 2012 (Brasil)
November 22, 2012 (Latin America)

Reality Check It Up is the 22nd episode in season 2 of Shake It Up and the 43rd of the overall series. It first aired on June 10, 2012.
Plot
CeCe and Rocky throw a viewing party to watch "Shake It Up, Chicago's" feature story on a national TV show True Teen Life, but are shocked when the show makes ridiculous claims such as CeCe having a crush on Gunther, Rocky being a major diva and Tinka being the heart and soul of Shake it Up, Chicago. Quickly the viewing party's guests get offended at Rocky and leave one by one.
Featured Songs
Cast
Main Cast
Recurring
Guest Stars
Rosero McCoy as Rosero
Dean Cudworth as Tom
Eclectic Gentlemen as Featured dancers
Charles Wiggins III as Dancer #1
Ashley Grady as Dancer #2
Justin Deanda as Dancer #3
Alex Welch as Sheila
Absent
Gallery
The image gallery for Reality Check It Up may be viewed here.
Videos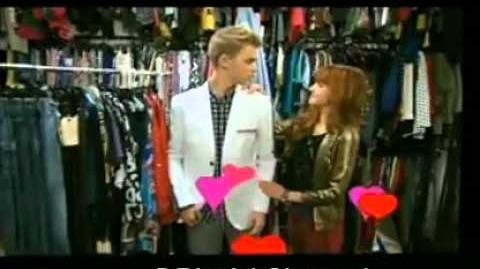 Memorable Quotes
Rocky: A lot of people like to think of Rosero as a choreographer, but I don't.
Rosero: Well next time I'm putting together a finale number I certainly won't be thinking of you as a dancer!
CeCe: You know what forget this party I'm going home! [Leaves only to come back] Oh that's right, I am home.
Flynn: (To Gunther and Tinka) I had no idea you two had it so hard! CeCe why are you so mean to them? Why?
Goofs
When CeCe said she never thought she'd be on a reality show, she should have remembered being on Teen Court earlier in Judge It Up.
Although this episode was filmed after Slumber It Up, True Teen Life showed some of the dance from Slumber It Up. However, the reason for this was Reality Check It Up was filmed after Slumber It Up.
When Gary was leaving it sounded like he said that he acts like a teenager even though he say he doesn't.
Trivia
Only four people left for something that didn't involve Rocky's appearance on the show, CeCe (for a second), Ty, Flynn, and Gunther.
This is the first episode where the characters are in one location (aside from the Shake It Up, Chicago! studio).
This is the first episode that features the background dancers more promintently, with them having speaking lines.
When Cece says that the reality show is shown in all all around the country, in all 50 states, Rocky says, "don't forget about Puerto Rico and American Samoa,"which are 2 of the USA's many territories.
Rosero McCoy is the head choreographer of the show and appears on-screen for the first time.
This episode shows Gunther has feelings for CeCe.
This marks Kent Boyd's third appearance on the show. He previously appeared in Season 1 episode (Kick It Up) as himself, a featured dancer, and in Season 2's Shake It Up, Up & Away as a background dancer. In this episode, he appears as a Shake It Up, Chicago! dancer named Kent.
Alex Welch, who plays Sheila, has also previously appeared on the show with her real-life crew, the Beat Freaks (Split It Up).
Justin Deanda, who played Dancer #3, was featured assisting Rosero McCoy and Claude Racine in the online series, Shake It Up: Break It Down. He has also been featured in a number of Shake It Up episodes, but this one he finally talks.
Ashley Grady, Dancer #2 who arrives with Rosero, is the real-life sister of Christina Grady, the assistant choreographer on the show.
2.8 Million Viewers tuned it.
This is the second episode where Gunther thinks CeCe has a crush on him.
When the show says that Tinka brought the Sunshine to an otherwise cloudy stage, this may have been a refference to Caroline Sunshine's last name (Who plays Tinka).
This is the 3rd episode to have GeCe moments.

Community content is available under
CC-BY-SA
unless otherwise noted.