"
Forever and Always
"

— ReCe's final quote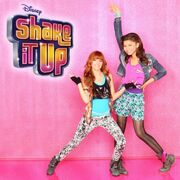 (
R
/ocky and C/
eCe
) is the friendship pairing of
Rocky Blue
and
CeCe Jones
. The two are always hanging out together, and are almost
never
without each other when it comes to being with somebody. They also are seen hugging each other, holding hands, and standing very close to each other a lot. In most episodes, or the majority of the series, ReCe is apparent to most of the viewers. They are always close, or always touching, or laying on each other. The one moment in "
Meatball It Up
", where they nearly kissed (hadn't they opened their eyes), is one moment that will always be a special landmark in the ReCe relationship. While we'll never know if the ship is sure to happen, there are many parts in the show that you can call ReCe moments.
Pairing Names
ReCe - (R/ocky + C/eCe) - Original Name
RoCe - (Ro/cky + Ce/Ce)
Cecky - (Ce/Ce + Ro/cky)
Rocky's Opinion of CeCe
Wild It Up
and
Model It Up.
But nevertheless, each time CeCe has shed a tear or so, Rocky's been there to comfort her ("
Start It Up
", "
Add It Up
").
CeCe runs out and to the "L" when everyone laughed at her stage fright. CeCe cries, but Rocky reassures her that she isn't a loser, but a brave for even getting up there. The next day, Rocky doesn't want to be on the show cause CeCe isn't with her, but CeCe soon forces Rocky to go. Once, there, CeCe is about to leave when she sees that she can't, because Rocky handcuffed them together. Rocky tells her that she'll be right there, dancing with her ("Start It Up").
When she and Rocky are out, she comes back to find her tutor 'broken' because on Flynn. While talking, Henry (The boy genius) lets it slip that CeCe is dyslexic. Rocky is confused by this because CeCe never told her. CeCe runs out the room, Rocky chasing after her. She finds CeCe, crying on the step, and Rocky comes down to her asking her why she didn't tell her she was dyslexic. CeCe replies that she didn't want anyone to know, because people can be mean, and judge you. Rocky hugs CeCe, then tells her that the dyslexia makes her even stronger than she was before, and that she can keep any secret for CeCe. Rocky and CeCe learn new things about one another and know that both can keep a secret for one another ("Add It Up"). 
CeCe's Opinion of Rocky
Deuce complains that Rocky and CeCe are becoming Gunther and Tinka kind-of-close, so CeCe soon becomes convinced that she and Rocky might become Gunther and Tinka, so she tells Rocky that they should start seeing other people, and spending some time away from each other. So, CeCe, who seems a little desperate at first, catches Rocky outside, and notices she's taking Karate. But when she sees the muffin exchange through other girls with Rocky, she feels a little pang of miss, and soon joins Karate to see Rocky. Rocky soon makes CeCe admit that she does miss her and that they are individuals, just, together. ("Kick It Up").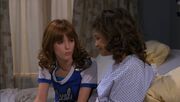 When Rocky breaks her foot, CeCe blames it on herself for giving Rocky the dare. In the middle of the night, when Rocky can't sleep, she finds that CeCe is in her hospital bed, and CeCe ends up comforting Rocky before the sugery in the morning, Rocky afraid that the doctors won't be able to fix her foot and she'll never be able to dance again. She thinks that because she won't be able to dance, CeCe will leave her for another partner, and another best friend. CeCe reassures that she won't leave Rocky for anyone, (because no one else will really put up with her), and that she will always be right there next to her. She also ends up praying for Rocky, (not in direct terms), and wishes that the glass had went in her foot instead of her best friend's, only wanting Rocky to be okay. ("Break It Up ")
When Deuce tells Rocky and CeCe about a recent blog post, it says that Rocky is a goody-two-shoe. Cece tries to comfort her by saying that herself is the sea, wild and free and Rocky is the sand, grounded and always there(Wild It Up)
Similarities
Both love dancing.
Both were on Shake It Up.
Both love fashion
They go to the same school
CeCe comforts Rocky and Rocky comforts CeCe
Friends with the same people (except Logan, though Rocky later leaves him for good.)
Moments
Season One
This is where they were introduced to us as best friends.

CeCe tries to push Rocky into trying out for Shake It Up Chicago.
Rocky and CeCe both danced for change.
When Cece freezes like a wonky deer caught in headlights, Rocky hugs her from behind and dances behind her using her like a puppet while trying to get her to dance.
While Rocky reassures CeCe that she isn't a loser on the train platform, they both hold each other's hands and hug each other.
Rocky and CeCe hug.
Rocky told Gary that she had "the look".
Rocky handcuffs herself to Cece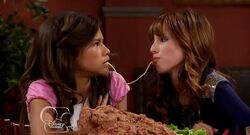 While Cece's mom is telling the girls to go open up bank accounts, Cece and Rocky are suddenly sitting next to each other on the floor and Cece is stroking Rocky's arm for no reason.
Cece and Rocky go to the bank and open up a joint account together like a couple. Later on their banker only calls Cece and assumes that they're together (which they are)
While Cece and Rocky are telling Deuce and Ty about how they're going to take them out to the Olive Pit, they have their arms around each other.
Cece massages Rocky before the waiters at the Olive Pit bring out the 10lb heart attack meatball.
Rocky, despite being a vegetarian gives in and forces herself eats a 10lb meatball for Cece
While CeCe and Rocky are eating spaghetti, they end up slurping on opposite ends of the same noodle ala Lady and The Tramp and there's a moment where they almost kiss.
They kissed (Almost)
They were almost each other's first kiss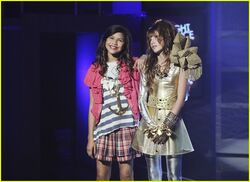 At the retirement home, after Mrs. Loccasio insults Rocky, Cece gets mad and wants to cuss her out. Before Cece can tell her off, Rocky hugs her from behind with an arm around her chest and hand on her mouth before draggin her across the room
After Flynn gets hopped up on energy drinks, Cece and Rocky stay up all night taking care of him. When they finally go to bed, they enter Cece's bedroom together like a couple and get into bed together.
During the dance marathon Rocky finally admits she's upset the old woman doesn't like her. Cece holds Rocky's arm and tells her that she's the best person she knows. At this, Rocky finally smiles and takes Cece's hand.
Right when Cece and Rocky decide to drop out of the dance marathon, they hug each other tightly and get ready to drop to floor together before Duece's cousin's light up wardrobe starts shocking them.
At the end of the marathon when Gary introduces Cece and Rocky for their spotlight dance the camera pans to them to show that they've passed out on top of each other in a 69 position. Cece's leg is straddling Rocky's chest. Rocky holds Cece's leg with both hands while she sleeps. Cece hugs Rocky's thigh and uses it like a pillow, with her arm resting between Rocky's legs.
When Gary Wild is giving the outro to the episode of Shake It Up, Cece pulls Rocky to her side and holds her while smiling at the camera from behind Gary.
When Rocky and Cece realize Henry the College Guy tutor is an 8 year old kid, Rocky has a great time rubbing it in Cece's face.
When Cece storms out after Rocky finds out she's dyslexic, Rocky comforts Cece by telling her she knows everything embarassing about her already. Rocky knows enought about Cece's sleeping habits to know that she still sleeps with a baby blanket.
Rocky holds Cece and rubs her back as she cries into her lap.
Rocky comforts CeCe when she starts to cry.
Rocky and CeCe at the end start laughing and having fun.
Rocky and Cece ridicule Rocky's date at the movies when he tries to put an arm around Rocky and the date ends up leaving. Rocky doesn't seem to mind that her date has left.
Deuce's speech about Rocky and Cece spending too much time together is basically critizing them about the "lesbian urge to merge"
When Deuce gives Rocky and Cece crap about being too close, Cece licks half an Oreo before Rocky finishes it.
Cece only excludes Rocky from her date until after Duece points out that they do everything together.
When Cece tells Rocky that they need time apart, it sounds like a breakup.
Even Flynn see's that Cece is missing Rocky and he flat out tells her "Come on it's been a week, I know you miss Rocky, just call her already".
Cece looks very heartbroken and jealous when she sees Rocky and her new karate girls.
Sensei Ira calls Cece a "rainbow trout" after she joins the class to win Rocky back.
After Henry knocks Cece to the ground during the karate class, Cece tells Rocky that's she' finally listening to herself. Rocky looks happy and excited to hear what Cece has to say, (expecting her to admit that she was wrong and that she wants to spend more time with Rocky again). When what Cece says is that she doesn't like karate, Rocky's face drops and she looks dissapointed.
CeCe and Rocky chew each others food
CeCe and Rocky do a little handshake thing after their performance with Justin Starr.
CeCe tells Rocky in annoyance that she and Justin will never work.
When Justin Starr tells CeCe and Rocky that he's dating his manager and he's actually twenty-four years old, CeCe and Rocky spit-take out of the same bottle.
During the opening jail dance, the warden throws Cece and Rocky into the same jail cell.
When Georgia walks into Cece's room at 7PM Rocky and Cece are preparing for bed together like a couple and Mrs. Jones doesn't seem to find it

too

strange that they're about to go to be together so early in the evening.
Rocky and CeCe chest bump like boys do, and during this Rocky and CeCe's chests touched each other.
CeCe looks annoyed that Candy keeps getting first.
When Rocky gets second, CeCe jumps up and cheers for her.
CeCe laughs and says that she now has a shot at getting second place at something. Rocky then glares at her.
CeCe and Rocky both give Gunther and Tinka weird looks when they singer A Goat for Christmas.
CeCe tries to comfort Rocky by saying that she makes a better best friend than Candy.
When Cece, Rocky and Dina are sitting on their "porch stairs" Cece and Rocky are so close to each other they're touching while Dina sits on the other side of the staircase visible alone.
At the end of the episode, CeCe and Rocky start to Tango with eachother when Deuce chases after Ty.
CeCe slaps Rocky's butt in the dream, stating "Baby got back!"
CeCe and Rocky both get really unhappy when they imaginet what it would be like if they weren't Best Friends Forever (BFF's)
Rocky and CeCe try to get Angie and Ronnie back together, after visioning what it would be like if they ended up like that.
At the beginning of the episode, Flynn comes out and says that he called the cops, and everyone runs away, but CeCe and Rocky run away holding hands.
When Rocky pulls Cece's hood up, she does it sweetly and Cece doesn't seem to look scared until Rocky says she thinks she's look at a mop and pulls her hoodie tight.
Rocky says "On your back Red" to Cece after spraying her with wax and Cece gets on the floor without a word.
Cece says "Mop me baby" to Rocky when Rocky asks if she would rather be fired.
When Rocky says that she's using Cece as a mop, Tinka snides that she "always knew that Cece was a dirty dirty girl"
When Cece is upset that she's the one who's getting them kicked off Shake It Up Rocky she takes Rocky's hand and tells her she's really sorry but Rocky forgives her.
While Gary Wild explains that he was never going to fire Rocky and Cece, the girls both have arms around eachother and Cece's grip is visibly tight.
While Cece spends the entire episode trying to become a model, she is not jealous of or resents Rocky at all when Rocky is chosen to be a model.
When Rocky is offered the modeling contract in New York, Cece is uncharacteristically selfless and does not try to stop Rocky from leaving Chicago
As everyone is bidding Rocky farewell before her flight to New York, Cece mentions that it will be tough to be apart from Rocky but they'll figure things out with video chatting.
While everyone shows that they'll miss Rocky, Cece says that it'll break her heart to have Rocky leave.
When Rocky reveals that she never left, she and Cece hug each other tightly several times.
Ty told deuce that CeCe would never let Rocky leave because CeCe doesn't want to be apart from rocky.
When Rocky asks if CeCe is going to come back in the morning after her surgery, CeCe responds,"Are you kidding me? I'm not leaving, Rocky. I'm going to be here right next to you, all night."
Rocky whispers to CeCe that she can't sleep, and CeCe responds 'Me either' and is in the hospital bed with Rocky, which creeps Rocky out at first, but she gets used to it.
When Rocky asks how long CeCe has been in her bed, CeCe says she's been in it 'Long enough to know that your butt really does hang out of that gown.'
Rocky is scared about numerous things, that the doctors won't be able to fix her foot, that she'll never dance again, but most importantly, that she'll lose CeCe. - "Taking away dancing would be like taking away breathing... And what about us? Dancing together, it's what we do. What would that do to our friendship? Just gonna find another partner?" But CeCe says that no matter what,"I'll be right there next to you. I will always be right there next to you."
At the end of the scene, when CeCe and Rocky hug, CeCe puts her leg over Rocky's.
They both help Gary host the show while he is sick.
---
Season Two
CeCe and Rocky bicker a lot in this episode like a couple, although in the end, CeCe finally admits that she only bosses Rocky around to repay her from when they were little, and they hug it out along with CeCe apologizing again for the situation she drag her into along with Rocky apologizing for being so hard on her and for not seeing her intentions sooner.
Through the episode, the way they sit on the therapist's couch is similar to the way the main couple in Mr. and Mrs. Smith sit during their couple's therapy, they're practically on top of each other in the beginning and start spacing out through the episode until they're on opposite sides before finally reuiniting again.
When Cece says that she doesn't have anything weird about her, Rocky reaches out and rubs her right under her breast and Cece laughs and snorts.
When Andy Burns', The internet critic who gave Shake It Up, Chicago a 'C', is talking, CeCe is holding Rocky close to her.
In the beginning of the episode, when Rocky and CeCe are on their laptops, CeCe has the initials 'R' and 'C' on her laptop.
CeCe's shirt said "Te Amo" which means "I love you", and she was with Rocky, no-one else.
Rocky thinks Cece's idea isn't bad.
At the end of the episode, when CeCe and Rocky hug, CeCe puts her leg up, which is the second time that she's done that to Rocky when she's hugged her.
When CeCe finds out that she has to preform on 'Good Morning, Chicago', at first, she isn't very amused, saying that there's no way she's doing it without Rocky. She compares their relationship as being like,"Peanut butter and jelly, shampoo and conditioner, Scarlett Johansson and Ryan Reynolds." But Rocky reminds her that they aren't connected at the hip, and that she's happy for CeCe, and she'll be cheering her on. (Although, Tinka minutes after brings out her inner jealousy for the entire situation.)
The whole entire time CeCe and Gunther are happily rehearsing their dance, Rocky is begrudgingly watching, giving off all the signs off jealousy: Tight smiles, biting her lip (In annoyance), bouncing her leg.
When Gary offers CeCe and Gunther the spotlight dance, she immediately checks with Rocky to see if Rocky is okay with it. Rocky, again, covers up her jealousy- "Please, please! I am thrilled that you're getting the spotlight dance! Okay, in fact, they should put a spolight on me right now to show everyone how excited I am for you! YouknowcuzI'mexcited, WOO!" She then proceeds to growl, and throw a cup on the ground, for the second time.
Rocky almost agrees to help Tinka sabotage CeCe in order to let Tinka dance with Gunther, but then she quickly catches herself, choosing to have a mature conversation with CeCe instead. At CeCe's house, she admits that she was completely jealous, but CeCe and Rocky end up on the wrong ends of friendship when CeCe's hair is green, and CeCe blames it on Rocky because she was jealous, when it was really Tinka.
Rocky delivers a bunch of balloons to CeCe, as the card read,'I may not be with you on the dancefloor, but I'm always on your side, Love, Rocky.' CeCe 'Awwws' while biting her lower lip, then sighs,"I wish she were here right now. I would give her the biggest hug." Rocky appears from behind the balloons, and they proceed to hug, but with the balloon in the middle of them.
In the end, no one gets to dance, and CeCe and Rocky end up locked in a dressing room together, talking in helium-induced voices. (Courtesy of Gunther and Tinka).
Throughout the enitre episode, Rocky is expressing her utter dislike for Kat, for various reasons; Kissing up to CeCe, trying to replace herself for CeCe, sending CeCe across town so that she could replace CeCe in the 'Tick-Tock Dance'.
When Kat comments on CeCe only knowing 3 states out of the whole United States of America, Rocky quickly defends her (Although, she can't really argue with the statement.)
Whenever Kat kisses up to CeCe, Rocky seemed jealous/annoyed.
They both perform at Klaus' party.
When the Shake It Up, Chicago sign falls, CeCe has her arm looped around Rocky's in fear and she stays like that for a few minutes until Rocky tries to figure out what's happening around the set.
While investigating the inner parts of the Shake It Up, Chicago set, Rocky and CeCe would get frightened by something, and they'd mock-cry and scoot closer to eachother.
When Cece overhears Rocky telling Tinka she has a dance date named Matt Tucker, Cece gets upset because she thought she and Rocky were going to the dance together. Rocky then reassures her that they are going together and explains all Cece needs to know about Matt Tucker is that he's 6'2 and if Rocky wants to wear heels for her first slow dance it's either him or the center for the girl's basketball team, who Rocky states with mild annoyance, "didn't ask me" (implying that she was open to the option).
When Cece and Rocky see each other in their dresses, Cece asks how she looks and Rocky looks at her lovingly and says that she looks very pretty. Cece tells Rocky that she does too and takes her hand. They hand hands while waiting for Tinka to reveal herself and continue holding hands until Tinka asks who's going to crawl under her dress to put her shoes on.
While Rocky has her slow dance with Matt Tucker, Cece dances with herself and her crown around them and Rocky's eyes stay on Cece on the whole time while she's still dancing with Matt Tucker.
Rocky calls CeCe strong while she serving detention.
When CeCe's scene on True Teen Life appears on TV, Rocky gushes,"Aw, look, it's you! You look so cute," and CeCe leans on Rocky and squeaks,"Thank you!" And a few moments after CeCe proceeds to make a fool of herself on TV, Rocky seems embarrassed for her.
CeCes gazes at Rocky when True Teen Life is annoucing who the heart of the show is, As she knows Rocky is a sweetheart and can make anyone smile, and is mortified with Rocky when they say it's Tinka Hessenheffer.
CeCe continuously has her hand on Rocky's knee throughout the episode.
After Kent and Sheila leave after Rocky's "Diva-Comments", Which are false, CeCe comments,"If it's any constell14thation, the crown looks super cute on you,", CeCe meant to say 'Consolation', and Rocky gives her an annoyed look.
While Rocky is agitated over repeatedly being called a diva, CeCe comforts her and lays a hand over Rocky's and smiles. "Rocky, relax. It's just television, they have to entertain the audience." And Rocky grins back and puts her other hand over CeCe's.
When True Teen Life shows the scene where CeCe allegedly likes Gunther (See: GeCe), Rocky makes a sly, but unamused face. And when Gunther flirts,"Who can resist this?" Rocky mock-gags while CeCe yelps,"ME! I can resist- This!"
As CeCe tries to storm out, but quickly returns because she realizes she's storming out her house, she switches places with Rocky, who leans away from Gunther and closer to CeCe.
When Gunther leans over to feed CeCe's a tortilla chip, CeCe's deadpans,"I don't love you," and Gunther shrugs and backs away while Rocky and CeCe continue to disgustingly glare at Gunther.
Although Rocky leaves at the end of the viewing party (leaving Cece with Gunther) she returns to Cece's house after Cece kicks Gunther out.
In between flash backs, Rocky states with digust that she doesn't think Trudy would ever go for Ace.
When Cece and Rocky reconcialiate after Rocky's power trip, Rocky says "And you thought I chose the man," to which Cece replies, "You the man," before they hug each other.
When CeCe tells Rocky about her new pajamas for their slumber party, they are sitting with their legs touching on the bench.
Rocky wants to keep her and Cece's slumber party private and she is very opposed to inviting Tinka to their slumber party.
Rocky gives in to Cece and reluctantly agrees to inviting Tinka but only after Cece begs her aggresively.
Throughout the episode, Cece is very discouraging when Rocky mentions texting Brian Huddleson.
Cece ends her text to Rocky with "XOXO CeCe"
Rocky tries to hold a surprise party for Cece
Rocky comforts CeCe for farting on live Television.
CeCe comforts also Rocky when she sneeze on live Television.
CeCe awkwardly strokes Rocky's arm during the hypnotist session.
While CeCe and Rocky are on the plane, CeCe tries to comfort Rocky by using a barf-bag as a puppet. - "Hello Rocky, your friend, CeCe, is worried about you. Are you okay?", to which responds,"CeCe, I'm fine. I feel like- The higher the plane goes, the more relaxed I feel. I guess the hypnotist really did work. Thanks, CeCe." CeCe puts her hand over Rocky's and responds while smiling,"Hey, what're best friends for?"
When CeCe asks Rocky to read her itinerary to help her fall asleep, she leans her head on Rocky's shoulder.
When Rocky jokes,"Wow, suddenly, I feel toted ridic," CeCe lays a hand on her knee and scoots closer to her.
In order for Rocky to agree to go to the Karaoke Club to impress Mr. Watsonabi, CeCe strokes Rocky's arm again, thus making Rocky forget whatever else plans she had that didn't involve CeCe's plans.
Rocky momentarily gazes at CeCe as she annouces to the Karaoke club,"And we're going to be singing Same Heart, which is a song about two best friends, and if it weren't for my best friend, I probably wouldn't be in Japan right now." CeCe then 'Aw's' and bring Rocky close for a hug.
Both earned Watsonabi's approval to work with him as two stars until they're fired from Shake It Up, Chicago and lost everything provided by Watsonabi after Rocky's comments to Watsonabi.
Both are in a big fight after Rocky learned that Cece messes with her mind and broke up their friendship.
They finally made up with each other after talking with the officers about being in a team.
They once again earned Watsonabi's approval and took their jobs and Watsonabi's provided suite and jet.
They performed Made In Japan at the end of the episode and are celebrated by entire Japan.
They both sing various songs in this minimovie.
---
Season 3
They together entered Shake It Up, Chicago after their first day of school.
They, including everybody else, were in shock that the studio is burnt down and the show is off the air.
The girls discovered Cece's curling iron, believing she burnt down the studio after she left it on.
Rocky took the burnt iron to hopefully keep Cece safe.
They're in relief to learn that it wasn't Cece's iron, but it was Gary's tanning bed.
Rocky and Cece signed up to perform for someone's birthday.
After Cece's funk is over and has no clue who she is, Rocky invited Ty, Deuce, and Flynn to encourage Cece to make her feel better.
Rocky and Cece decided to help the spirit squad for the pep rally.
Cece wanted to act in Beauty and the Beast with Rocky as the two main characters who fall in love.
Rocky tries to find her present in Cece's room.
Cece put Rocky in charge of looking after Flynn while Cece shops for shoes.
Cece and Rocky have to look for Flynn before Cece's mom gets back home.
At the ball pit looking for Flynn, they are in an argument blaming on each other for losing Flynn.
Later, Cece realized it was all her fault for losing her responsibility and apologized to Rocky.
At the end, they together used Ms. Locasio's puppies as puppets for Flynn.
They signed up to work at Bob's Kabob with Logan as a manager.
They felt ridiculous wearing on the uniforms and the hats with kabobs.
Cece made an angry glare at Rocky every time Rocky made fun of Cece being with Logan.
CeCe threatened to quit SIU, Chicago! when she discovered that Rocky didn't get in.
Both help Ms. Burke win over Mr. Zigfield's heart.
Cece believe Rocky still miss dancing to try to get back on SIU, Chicago!.
Rocky might be CeCe's partner when she gets back on SIU, Chicago!
Cece tries to get Rocky back on the show
CeCe decided to give Logan a chance for Rocky's sake.
Rocky showed her loyalty to CeCe by breaking up with Logan.
CeCe and Rocky have not spoken in 5-6 years and they don't get along very well. However, they become friends again at the end of the episode, after realizing that they still make a good team.
They help deliver Dina's baby.
CeCe is really happy to hear that Rocky needs her, saying that it is like music to her years.
They dance together again at the reunion.
At the end, they announce that they will star together in a musical in New York.
Near the end, CeCe decides to give Rocky her money in order to save the pig. This shows that, despite everything, CeCe does care about what Rocky wants and is willing to make sacrifices for her.
Rocky and CeCe decide to throw a joint sweet 16 extravaganza, even though it is two weeks late for CeCe and two weeks early for Rocky.
CeCe encourages Rocky and makes her feel better, telling her that she doesn't need to do a sport in order to get into Harvard.
CeCe says some very sweet words to Rocky, calling her "the most awesome person she has ever met."
When CeCe hurts her head and gets sent to the hospital, Rocky is the most worried out of everyone.
Rocky says that CeCe is like a sister to her.
When she finds out that CeCe doesn't remember her, Rocky is devastated and does everything she can to help her get her memory back.
Rocky becomes angry/jealous when CeCe thinks that Tinka is her best friend.
She tries to remind CeCe of all of their adventures, as well as some hearwarming friendship moments.
When CeCe still doesn't remember her, Rocky starts crying and tells CeCe that she needs her.
CeCe remembers Rocky near the end and tells her that they are "best friends forever" to which Rocky responds with "and always".
They share a heartwarming hug.
Fanon
ReCe Day: November 14th - This is the day that "Meatball It Up" aired, and in this episode, CeCe and Rocky almost kiss.
ReCe Week: July 24th to July 30th - This is the week that "Break It Up" premiered. This episode showed how much CeCe cared for Rocky, despite her egotistical-ways, and was probably the episode that went the most in-depth into their friendship. It showed no matter what the situation, CeCe would be right by Rocky's side.
ReCe Food: Oreos - Rocky and CeCe shared an oreo in the episode,"Kick It Up."
ReCe Color: Sky-Blue - Rocky and CeCe wear alot of different colors, throughout every single episode, but the color that would stand out the most that would match them would be Sky-Blue. In "Camp It Up", we see that CeCe has her and Rocky's initials on bejeweled on the back of the laptop in sky-blue (and pink.)
ReCe Song(s): Boyfriend by Justin Bieber - Although CeCe and Rocky have never mentioned this, Bella and Zendaya have repeatedly said that this is "Their song" and that they jam to it all the time.Same Heart by Bella and Zendaya" and "Contagious Love."
ReCe Animal: Gray Husky Wolf - Rocky and CeCe are very mellow and sweet girls, but at different times, they can both be very frightening and aggresive, much like the wolf.
Rece Boss- Mrs. Sandy, Becasue If it wasn't for their dance teacher when they were 5, they would of never met each other.
Similar ships to Rece
Raven and Chelsea (That's so Raven)
Raven (Rocky) has dark hair and Chelsea (CeCe) has red hair
Raven's (Rocky's) name begins with R and Chelsea's (CeCe's) name begins with C
Chelsea (CeCe) isn't really that smart
Even though Rocky is often compared to Raven and CeCe is often compared to Chelsea, Rocky and CeCe is like the other
Rocky is a vegetarian like Chelsea
CeCe has a younger brother, and is described as selfish and self absorbed like Raven
Fanfiction
The list of Fan Fictions for ReCe may be viewed here.
Gallery
The image gallery for ReCe may be viewed here.
Userboxes
Userboxes for ReCe may be viewed here.
Video Gallery
To know more about Zendella (Zendaya and Bella Thorne's paring) click here.
Show Relationships
Cinka • Cogan • Cy • DeCe • Deucina • Deucynn • Dinka • DiroCe • Flocky • FlyCe • Flynnry • Flyzy • Flyina • GeCe • Gunka • Guntynn • ReCe •ReCether •ReCetherinka•ReCinka • Reuce • Rogan • Ronka • Runther • Ry • Tyece •Tyecether• Tynka • Tynn • Tynther
Cast Relationships
Adaline • Adavisdon • Adella • Adinsley • Carolla • Daviadam • Davishoam • Kella • Kenoline • Rella • Rendaya • Rosholine • Zendella • Zendam • Zendavam • Zendelline •ZenKella• Zenton