Quest Crew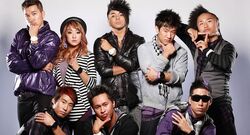 Members
Hokuto "Hok" Konishi
Ryan "Ryanimay" Conferido
Steve "Dope Turtle' Terada
Brian "Hirano" Hirano
Victor "Vic" Kim
Ryan "Feng" Feng
Andy "Rocket Man" Luo
Lydia "Lyddz" Paek
Aris "Sfffeee" Paracuelles
Dominic "D-Trix" Sandoval (former)
Professional Information
Origin:
Los Angeles, California
Style(s):
B-boy, hip-hop
Affiliation(s):
America's Best Dance Crew
So You Think You Dance
Years active:
2007-present
Official website:
questcrew.com
Official Twitter:
@THEQUESTCREW
Quest Crew is an All-Asian dance crew from Los Angeles. They are best known as America's Best Dance Crew season 3 champions. They are the first ABDC champions to come into view in Shake It Up, the second is Poreotix and the third being JabbaWockeeZ. They also appeared in So You Think You Can Dance individually.
They appeared as featured dancers in the episode, Meatball It Up. However, they did not play "Quest Crew" in the episode; they appeared as dancers from Shake It Up, Pittsburgh. They performed to the song We Right Here.
Ryan "Feng" Feng, Andy "Rocket Man" Luo, Lydia "Lyddz" Paek, Aris "Sfffeee" Paracuelles, and Dominic "D-Trix" Sandoval did not appear in the episode, but former member D-Trix has performed with the Shake It Up cast when they performed on Good Morning America. D-Trix has also had an amazing fan base thanks to his popular youtube channel TheDominicShow.