"
I'm nothing without my skinny jeans and don't ever call me a swagamuffin again!
"
Protest It Up
Season:
2
Episode:
20
Production code:
220
Broadcast number:
41
Broadcast Information
Original airdate:
May 20, 2012
International airdate:
July 6, 2012 (Italy)


August 3, 2012 (Germany)
August 20, 2012 (Japan)
August 30, 2012 (Israel)
August 31, 2012 (New Zealand)
September 7, 2012 (Portugal)
September 7, 2012 (Spain)
September 8, 2012 (Czech Republic)
September 8, 2012 (Hungary)
September 12, 2012 (Poland)
September 14, 2012 (Catalonia)
October 6, 2012 (Romania)
October 17, 2012 (France)
November 2, 2012 (Brasil)
November 8, 2012 (Latin America)

Protest It Up is the 20th episode in Season 2 of Shake It Up and the 41st of the overall series. It first aired on May 20, 2012.
Plot
When the school board institutes uniforms for all students, Rocky and CeCe do their best to overturn the ruling. Meanwhile, Gunther and Tinka have time for new hobbies now that they aren't worrying about their clothes.
Featured Songs
Cast
Main Cast
Recurring
Guest Stars
Jonah King Church as Hall Monitor
Jaylen Barron as Melanie
Absent
Gallery
The image gallery for Protest It Up may be viewed here.
Videos
Memorable Quotes
CeCe
: Do you know what this is?
Rocky: A butterfly sticker?
CeCe
: We call it detention ink, cost me four pencils but it was worth it.
CeCe: See you at, the omlet bar (winks).
Deuce
: You can do this, you're a swaggamuffin!
Ty: I'm nothing without my skinny jeans and don't ever call me a swagamuffin again!
Deuce
: I knew that as soon as I said it.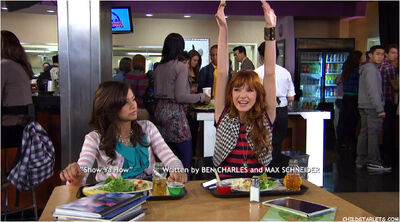 Goofs
When the uniforms are instituted, Gunther and Tinka claim that they have newfound free time because they don't have to wake up early to make clothes anymore. They say that they have enough time to do things like learn a new language or build homes for Habitat for Humanity. But, they only have enough time as everyone else, so it would be nearly impossible for them to do that stuff without losing a substantial amount of sleep and working their bodies into overdrive. The human body can't function without sleep and they actually said that they got eight hours of sleep, making the things they've accomplished nearly impossible. For the language they may have only learned phrases or just listening to remember which only takes a couple of hours.
Gunther is taller than Rocky and his pants were to his ankles, so there must have been pants that were Rocky's size.
Trivia
We see the John Hughes High School cafeteria for the first time.
This is one of the episodes (in this season) that the Shake It Up, Chicago! studio is not seen.
Principal Rabinoff speaks for the first time.
This episode was not liked by real life students who have to wear uniforms because they are jealous of students who don't.
Tinka says her worst fear is that it will comply wear the same pants that CeCe but several times in Shake it up Chicago just wear clothes for costumes.
Community content is available under
CC-BY-SA
unless otherwise noted.