Oui Oui It Up
Season:
3
Episode:
21
Production code:
323
Broadcast number:
70
Written by:
Jenny Lee
Directed by:
Alfonso Ribeiro
Broadcast Information
Original airdate:
August 4, 2013
International airdate:
September 20, 2013 (Canada)
September 26, 2013 (UK)
October 9, 2013 (France)
November 2, 2013 (Romania)
November 3, 2013 (Poland)
November 23, 2013 (Czech Republic)
November 23, 2013 (Hungary)
January 10, 2014 (Denmark)
February 9, 2014 (Japan)
December 18, 2014 (Russia)

Oui Oui It Up is the 21st episode in Season 3 of Shake It Up and the 70th of the overall series. It first aired on August 4, 2013.                                                                       
Plot
CeCe's plans for a posh family vacation in Paris take a wrong turn when she arranges a house swap with a French family and lands herself, Rocky, Flynn and Georgia on a pig farm 500 miles outside Paris. Back in Chicago, Ty has fallen for the Parisian girl Brigitte staying in CeCe's apartment despite Tinka's warnings that the girl is a bit annoying, beginning every sentence with "In France".
Songs
Episode Summary
CeCe and Rocky sit in the couch (CeCe's apartment) planning a trip to Paris and Georgia walk around the apartment speaking like a teenager, much to the girls' annoyment. When asked to go to Paris Georgia turned them down because of the cost. Rocky is quick to settle but CeCe want to get the project through. Later CeCe, Rocky, Flynn and Georgia sit at Crusty's while CeCe come with hidden allusions about France while ordering to Deuce. CeCe check on the internet that a French family is willing to swap houses and Georgia agrees to it. However, they end on a pigfarm 500 miles away from Paris while the French family move into the Chicago apartment. CeCe keep claiming that it is all a mistake, having misread the map. They are all mad at CeCe for being wrong but forget it when they find something they like, Georgia falls for the very muscular caretaker Etienne, Rocky befriends the pig on the farm, and Flynn have a bunch of chickens think he is their mother, while CeCe seems to be the only one who is miserable about their "house swap", but is unable to convince anyone else to go to Paris. Finally Rocky says she needs CeCe's shoeshopping money to help the pig, but they get into a fight that ends with CeCe pushing Rocky into a pool of mud. While trying to help her up CeCe is pulled down by Rocky and they discuss it. Meanwhile, Georgia come and tell she finally want to go to Paris, having found out Etienne was already engaged.
Back in Chicago Ty has welcomed the French family to the apartment, but falls for the French girl Brigitte, and he invites her on a guided tour with him, guided by him. They meet in Chicago where they talk about their different customs. While Brigitte goes changing her phone, Deuce tells Ty that if he hadn't had Dina it'd be competition about her. Tinka comes to tell Ty about what she could do without Rocky and CeCe on Shake It Up Chicago! but is interrupted by Ty saying he is busy. Hanging out with Ty, Deuce and Brigitte Tinka start to notice that the Parisian girl is a bit annoying. Some days later Ty begin to discover that Tinka had been right, however, before he could do anything about it, Brigitte had broken up with him in a letter.
Cast
Main Cast
Recurring
Guest Stars
Trivia
This was the fourth time the gang has taken a trip out of Chicago: the first time in Break It Up, the second time is in Shake It Up, Up & Away, the third time is in Made In Japan. Rocky and CeCe also took a trip outside of Chicago in Boot It Up.
Rocky refers to the pigfarm "house swap" as being "Major Dance Boot Camp"-Part 2. "Major Dance Boot Camp" appeared in the episode Boot It Up of Season 2.
Georgia mentioned Lake Whitehead, being the vacation they took in Break It Up.
If the pig farm is exactly 500 miles from Paris, it is not possible that they are in France. It most likely is not a direct measurement. It is possible that they are on the French island of Corsica, which is about 525 miles from Paris.
Gallery
The image gallery for Oui Oui It Up may be viewed here.
References
Clips and promos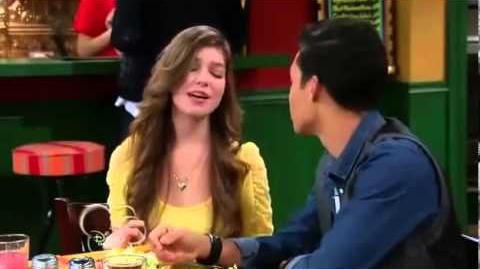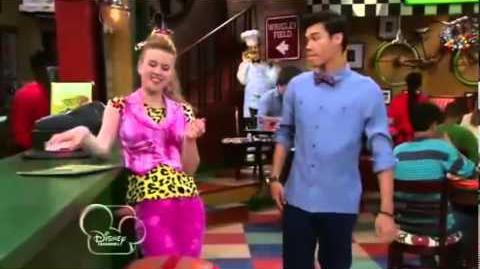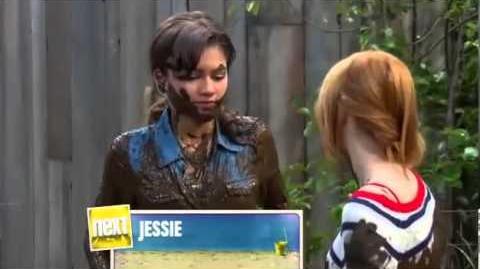 Community content is available under
CC-BY-SA
unless otherwise noted.