My Bitter Sweet 16 It Up
Season:
3
Episode:
22
Production code:
325
Broadcast number:
71
Written by:
Rob Lotterstein
Directed by:
Joel Zwick
Broadcast Information
Original airdate:
August 25, 2013
International airdate:
October 2, 2013 (Romania)
October 16, 2013 (France)
October 25, 2013 (Canada)
December 28, 2013 (Czech Republic)
December 28, 2013 (Hungary)
January 10, 2014 (Denmark)
January 10, 2014 (UK)
February 16, 2014 (Japan)
My Bitter Sweet 16 It Up is the 22nd episode in Season 3 of Shake It Up. It first aired on August 25, 2013.
Plot
Rocky and CeCe decide to throw a joint sweet 16 extravaganza, but they can't get their moms to agree on any of their party plans. Marcie's ideas are a bit outdated and Georgia thinks her daughter's ideas are too outrageous and expensive. But when CeCe discovers an old video of her mom at her own sweet 16 party, she gains an entirely new perspective on her mom.
Episode Summary
CeCe and Rocky find a nice building to celebrate both of their birthdays, having found it as a good idea to move Rocky's two weeks later and CeCe's two weeks earlier, which Marcie find a lot less expensive. However, CeCe have a lot of expensive ideas that Georgia think is a little too much.
At Crusty's Ty is upset that Rocky gets to get a nice Sweet 16 as he did not, but Deuce tells him he's being childish. Meanwhile Georgia deals with Flynn on how to give CeCe a nice birthday gift and promise to give him a gift in return that makes him happy. Back at home, Rocky visits CeCe and explains that her mom has made a frizzy-hair disaster that she has to accept.
At Crusty's Ty tells Tinka and Deuce he wants to throw a party to himself to his 18th birthday, and comes up with silly names, such as Sweet 18.
CeCe does not give up on her ideas and calls different places to get her plans through, but Georgia interrupts and tells her to come back to reality, because it's too expensive. When CeCe keep talking again and arguing and ends up making Georgia angry, and gets grounded until her Sweet 16.
Later Rocky visits again, having found out that Marcie's ideas are actually horrible but doesn't want to hurt her feelings and tell CeCe to be more like that. They find an old DVD containing a video of Georgia's own Sweet 16 which shows that Georgia got a horrible dress from her mother and tells her off, saying she's the worst.
At Crusty's, Flynn asks Tinka, Deuce and Ty what to buy for CeCe's Sweet 16, and Ty comes up with the idea of something with herself in front.
CeCe and Rocky finish watching the video and calls her mother to say something to her, but before she can, a conscious version of young Georgia pops up as she tells CeCe that she deserve to get told that she was also spoiled just like her. However, CeCe not only realizes that telling her mother the spoiled teen she was would't solved anything but also realizes that her mother was who she was as she puts up with her because of her maturity and experience along with the love she has for her. Seeing the error in how she been acting and feeling guilty for her actions, CeCe told her mother that she was right about her behavior as she apologies to her and told her how lucky she is to have her as a mother.
At the party Ty delivers a welcoming speech, much like a host. Also, Rocky tells her mom Marcie that she didn't like her ideas and gets to know that she thought they were horrible too. Tinka gives a special gift made in style of her own country, and everyone begin to dance to a song called Beat of My Drum.
At home, Flynn gives his gift to CeCe, which is a mirror, and CeCe find it to be a very nice thing. In return, Georgia keep her promise, but trick him by saying she gives him the happy smile on CeCe's face. Flynn calls it well played and says he won't give her anything nice for Mother's Day.
Song Featured
Cast
Main Cast
Recurring Characters
Guest Stars
Trivia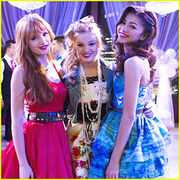 Memorable Quotes
CeCe: We promised people an EXTRAVAGANZA!
Gallery
The image gallery for My Bitter Sweet 16 It Up may be viewed here.
Clips and Promos
References
Showfax.com
Community content is available under
CC-BY-SA
unless otherwise noted.