"
Relax I mean how much food can it really be? (Waitress uncovers meatball) *gasps* Whoa, I'd start eating before that thing eats you
"

–CeCe
Meatball It Up
Season:
1
Episode:
2
Production code:
104
Broadcast number:
2
Broadcast Information
Original airdate:
November 14, 2010
International airdate:
November 19, 2010 (Canada)


January 29, 2011 (Poland)
January 29, 2011 (Romania)
January 29, 2011 (Czech Republic)
January 29, 2011 (Hungary)
February 4, 2011 (Latin America)
February 4, 2011 (Brazil)
February 25, 2011 (Australia)
March 15, 2011 (Netherlands / Flanders)
April 9, 2011 (Hong Kong)
April 15, 2011 (Catalonia)
April 15, 2011 (Spain)
April 23, 2011 (Japan)
April 27, 2011 (France)
May 30, 2011 (Italy)
June 10, 2011 (Germany)
June 25, 2011 (Israel)

Meatball It Up is the 2nd episode from season 1 of Shake It Up and the 2nd of the overall series. It first aired on November 14, 2010.
Overview
CeCe and Rocky get their first pay check and open a checking account. When they treat Ty and Deuce to lunch, they realize that their checking account is over drawn. In order to get their meal for free, they must enter the restaurant challenge and eat a 10-pound meatball. Meanwhile Gunther and Tinka babysit Flynn.
Episode Summary
Rocky and CeCe earn their first paychecks as background dancers on "Shake It Up Chicago." Their rivals, Gunther and Tinka choose to "invest in themselves" by buying "golden shoes and fancy pants." Subsequently, Rocky and CeCe are introduced to the guest dancers of the week, the dancers of Shake It Up Pittsburgh (Quest Crew), who the duo are more than impressed with. Rocky and CeCe go directly to the bank to put their money on debit cards, with CeCe getting her money from the inside of a pink stuffed bear which she has kept over the years. The girls then throw the money all over CeCe's living room as a "Payday party", until CeCe's mother, Georgia, joins in with them. Flynn declares himself as the only sane one in the house, until he unveils cash hidden under his hat.When the girls arrive at the bank, a banker named Phil Stuts is enthusiastic to cater to the first-time customers, being friendly to them and giving them desk calendars, mousepads, and pens. After receiving the debit cards, the girls go shopping at the mall and spend a great deal of their money. That night, they come back home and Rocky's brother Ty, and their friend Deuce, give them a guilt trip because they have not bought anything for them. So the girls agree to treat them to a meal at their favorite restaurant, The Olive Pit. While Rocky, CeCe, Ty, and Deuce are eating at the The Olive Pit, the girls recruit Gunther and Tinka to babysit Flynn. At the restaurant, Rocky and CeCe tell the boys to eat all they want because they have their debit cards. However, in the middle of ordering, Phil Stuts calls CeCe and tells her that they have overdrawn their accounts. In the midst of all this, Ty reveals that he has brought a date, Tasha Brooks (Sophia Taylor Ali). Rocky and CeCe try to get them to order cheap items on the menu, but they have already ordered some of the most expensive items. When their food arrives Ty, Deuce and Tasha notice roaches in the food.In order to pay for the meal, Rocky decides to eat a ten-pound meatball (The "Big Fat Heart Attack"), which if they eat in one hour, everyone's meals would be free. Rocky tries to get out of it by saying she's a vegetarian, but CeCe makes her. The girls eat the meatball as fast as they can, occaisonally stuffing meat into their shoes, purses, and even another kids jacket. Back at the apartment, Tinka and Gunther are on a roll babysitting Flynn, cooking and cleaning, until Georgia comes in and handcuffs them thinking they are intruders. After Flynn tells her what the girls did, she plans to punish them, but does enjoy the twins' cleaning. Rocky eventually finishes the meatball, after Ty and Deuce offer to throw in money before they realize they do not have enough. They run out of The Olive Pit after sighting another roach, which the waitress shoves off. Back at "Shake it Up Chicago", the girls are worn-out from the meatball, and can hardly keep up with the "Shake It Up Pittsburgh" dancers. At the end of the show, the host, Gary Wilde (R. Brandon Johnson) tells the cast that they have ordered food from The Olive Pit, causing CeCe and Rocky to get sick and run out.
Featured Songs
Cast
Main cast
Recurring
Guest stars
Quest Crew as the Dancers from "Shake It Up, Pittsburgh"
Steven Lee Allen as Man
Mylinda Royer as Production Assistant
Daniel R. Conferido as Lee
Transcript
The full episode transcript for Meatball It Up may be viewed here.
Gallery
The image gallery for Meatball It Up may be viewed here.
Videos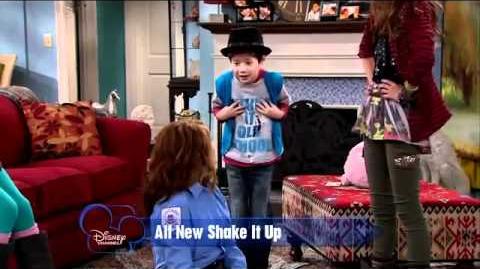 Running Gags
The Hessenheffers
Gunther: "I'm Gunther..."
Tinka: "...and I'm Tinka."
Gunther: "And we are here to sit you, baby."
---
Gunther & Tinka:
"Hello".
Georgia:
"Hello... who the heck are you?!"
Tinka: "I'm Tinka..."
Gunther: "...and I am Gunther, and we are..."
Both: "...the Hessenheffers!"
Gunther: "We were hired to sit on your baby!"
Flynn: "CeCe had them watch me!"
Memorable Quotes
Ms. Jones: I'm so mad at your sister right now, but I'm torn because I really like coming home to clean dishes.
Gunther: It has been an honor to remove the disgusting filth from your shabby home.
Ty: That's a lot of bag and not a lot of lady!
Cece
: Perfect! Um excuse me my friend will have that meatball special
Rocky: What? Why me?
Cece: Because I crawled in the dumpster!
Rocky: Well I'm a vegetarian!
Cece
: Not today you're not.
Cece: Our debi-debi-debit cards are debi-debi-dead.
Cece: Relax I mean how much food can it really be? (Waitress uncovers meatball) *gasps* Whoa, I'd start eating before that thing eats you Rocky: Tell my parents I love them.
Trivia
It is revealed that Rocky is a vegetarian and hates dirtiness. In real life, Zendaya is a vegetarian who hates dirtiness. During filming, Rocky ate a meatball at the Olive Pit; it was a vegetarian meatball for Zendaya.
The restaurant, the "Olive Pit" is a parody of the Italian restaurant "Olive Garden".
This episode was originally called, "She Works Hard for the Money".
It bears a resemblance to the mall from Good Luck Charlie.
Rocky and CeCe 's real names, Raquel and Cecelia, are revealed.
This is the first time another Shake It Up! Studio is mentioned. (Shake It Up! Pittsburg.)
This episode mainly focuses on Rocky Blue.
In some countries it's called "Money It Up."
This is Rocky's & Cece's first time throwing up.
Allusions
CeCe and Rocky nearly recreate the iconic spaghetti scene from 'Lady and The Tramp' until they recoil away from each other.
Goofs
The tour guide said they were shooting for the last 11 years, but in Reunion It Up, Gary says Ronnie and Angie were the CeCe and Rocky 15 years ago. Although they could have used a different stage for 4 years and used the current stage for 11 years.
In Heat It Up, Georgia said she was a natural blonde but in this episode, Georgia's hair was red.
Normally if there is an animal in the food the whole meal is free.
Community content is available under
CC-BY-SA
unless otherwise noted.