Marcie Blue is the mother of Ty Blue and Rocky Blue, and wife of Dr. Curtis Blue. She first appeared in the episode "Heat It Up". She is portrayed by Carla Renata.
Personality
In "Heat It Up", Rocky, Ty, and Mrs. Blue moved in with CeCe and her family. She had a minor fight with police officer Georgia Jones, because of Mrs. Blue's remarks about how she has cleaned up more hair on their floor than in the two hair salons she owns. It was revealed that her husband is always on business trips. He returned in "Doctor It Up" and hid the fact that she bought a new car while he was away. Her deceased mother is named Rose and it is revealed in "Wild It Up" that Rocky missed her funeral due to her desperate need for having perfect attendance at school. Marcie Blue is very sarcastic and funny, but can also be judgmental.
Appearances
Heat It Up: The Blue family stays with the Jones family when the heat is out in their apartment. However, Marcie and Georgia can't get along so Marcie rents a hotel for her family and her.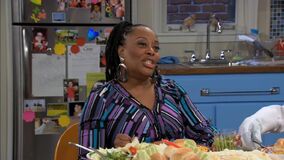 Break It Up: Marcie comes to the hospital to be with Rocky after she injures her foot while on vacation with the Jones family.
Doctor It Up: Curtis Blue returns home and Marcie tries to help her children get their father to see their side. She also tries to keep her new car a secret from him.
Apply It Up: Rocky and CeCe apply to Chicago Fine Arts Academy and Curtis and Marcie have to explain to Rocky that they don't have the money to afford her tuition and that she doesn't qualify for a scholarship since she is from a double income family.
I Do It Up: Marcie becomes an ordained minister online and when Georgia's minister can't make it to the wedding, Marcie offers to be the minister.
My Bitter Sweet 16 It Up: Marcie and Georgia help their daughters prepare their joint Sweet 16 birthday party. Marcie also does Rocky's hair her way and wants her to follow their family's traditions. However, she proves to be more understanding than Rocky thought.
Memorable Quotes
Oh good, I thought he found out I really did buy that new car.
Gallery
The image gallery for Marcie Blue may be viewed here.
Trivia
In Season 1, her hair is braided and tied in a ponytail, but starting in Season 2, her hair is straight and short.
She bought a new car, but she didn't let her husband know.
She has a bright and bubbly personality.
Her mother said that a hot meal is how you show your love.

Community content is available under
CC-BY-SA
unless otherwise noted.