Made in Japan
Season:
2
Episode:
28
Production code:
2100
Broadcast number:
49
Written by:
Rob Lotterstein
Directed by:
Joel Zwick
Broadcast Information
Original airdate:
August 17, 2012
International airdate:
August 17, 2012 (Canada)
September 14, 2012 (UK)


October 25, 2012 (Israel)
October 27, 2012 (Germany)
November 20, 2012 (France)
November 23, 2012 (Spain and Catalonia)
November 23, 2012 (Portugal)
December 22, 2012 (Italy)
January 19, 2013 (Poland)
January 19, 2013 (Czech Republic)
January 19, 2013 (Hungary)
January 19, 2013 (Romania)
January 26, 2013 (Japan)
January 27, 2013 (Brazil)
January 27, 2013 (Latin America)
January 27, 2013 (Russia)

Shake It Up: Made in Japan is a Shake It Up movie/episode event. It serves as the Season 2 finale. A promo for the episode aired during the Disney Channel Original Movie, Let It Shine on June 15, 2012. This is the 49th episode. Sometimes, Made In Japan is stylized as Made in Japan.
Plot
In Japan, at Watanabe Studios, a worker suggests that they should make a video game with a group from Shake It Up. Back in the US, every state's show competed and Shake It Up, Chicago wins. They fly on a private jet to Japan, but CeCe takes Rocky to a hypnotist, Shelly, so Rocky can get over her fear of flying. While Rocky is still hypnotized, CeCe is thanking her while saying now only if she can enjoy herself a little promoting Shelly to ask what she mean which CeCe said well she's my best friend and I love her to death but she has this tendency to be not so excited about fun things I don't know what the technical term for that is a wet blanket right and I just dry that blanket off for this trip. Prompting Shelly with an idea saying why not she still under telling Rocky one more thing your gonna have the most fun you had on this trip to Japan in fact anytime CeCe stroke your arm and said get on board you will follow her lead ,which will also make Rocky a fun and better person. CeCe isn't sure about this idea until Shelly tells her to trust her its fine well if it will help her. Shelly then snaps Rocky out of the trance then CeCe tells her first stop then Rocky tells her first stop which Shelly tells her to test out the trigger word which CeCe does try it out on Rocky making her forget her first stop and Shelly reminds her didn't involve shopping which Rocky replies only for CeCe to look at Shelly who gives her a thumb up and leaving CeCe shock that it works. Rocky, CeCe, Gunther, Tinka, Ty, Flynn, Gary, Georgia are all aboard the plane and Henry goes as well, which he brings his android, Andy. Ty also keeps in contact with Deuce through his tablet, in which Deuce acts like he is actually in Japan. CeCe see if Rocky is ok which Rocky tells her she ok and thanks her for helping her, what are best friend for, then CeCe shows her a song she wrote call Made in Japan and then Rocky show her memory book while Rocky tells about the interest. CeCe thinks about what Shelly said in her mind then tells herself no I don't think is fine. When Rocky heard her, CeCe told her that everything is find as she told her it was nothing and then decided to just to take a nap while she waits for her to be done what's she doing. As everyone arrives in Tokyo, Gunther and Tinka lose their luggage but buy new clothes. Meanwhile CeCe's trying to get Rocky to do fun things her way without using the get on board word and stroke.
The four dancers go to the studios to be put in the game, and Mr. Watanabe's grandchildren make an app for the game before it's released because of Rocky's suggestion to disobey Mr. Watanabe's order to not make it. The grandchildren told them that he'll be at the karaoke club that night which CeCe see an opportunity to show him they can sing only for Rocky to tell she gonna go do something else which she protest as she tells her that it was their chance to make their dream happen. After Rocky tells her that she gonna do what she want and she can't change her mind, CeCe realized that her methods aren't working anymore then remembers the trigger word Shelly gave her and gave in into using it as she stroke her arm to make her forget her plans, and off to the karaoke club they go. When they get there they sing to him which they perform well and get sigh. After he finds out about what is grand kids did, Rocky tries to talk to him, but she makes him feel like he's wrong and then he ends up cancelling the game and rip the contracts for both her and CeCe. Gary makes Mr. Watanabe put the game project back on, but on the circumstance, Rocky and CeCe are fired from Shake It Up Chicago. Later, everyone is kicked out of the suite and has to find their way back home.
That next day, Rocky and CeCe goes back to talk to Mr. Watanabe to give them their jobs back. Rocky tells CeCe if he doesn't its alright it won't be the end of the world only for her to tell her it will be the end of hers because she not smart enough to do anything if she sets her mind to it. CeCe believes danceing is the only thing she has but Rocky tells her not sell herself short that she can be a lot of things but realize she can be a few things then suggested that when they get back home their schedule appointment with the guidance counselor. Despite Rocky somewhat encouragement and suggestion, CeCe tells her that this isn't a joke that she needs to dance as its everything to her and thought it was to her. Hearing this, Rocky began to question herself on the matter. Believing that Rocky was gonna make things worse by going with her, CeCe decides that she gonna go talk to him alone. Before she left, CeCe left her purse with her phone inside. Realizing this and hearing CeCe's phone ringing, Rocky answers on her behalf as Shelly was calling her to see how the suggestions were going. Not realizing that she talking to Rocky herself, Shelly unintentionally revealed to her that CeCe can mess with her head with one of the suggestion. Hearing this, Rocky gets mad and gets the impression that CeCe asked Shelly to do this. After Rocky hangs up her phone, CeCe returns pretty mad as Mr. Wantanabe refuses to see her then she tells her that they need to talk but she thinks it's another lecture, which she not in the mood for. Rocky gets a little more upset when CeCe points how close they were into making their dream happen but now its not when she had to go insult Mr. Wantanabe as she always had to be right and that this time it cost them everything. However, Rocky testifies when CeCe clams this was all her fault then tells her if only I won't get on board. Hearing this, CeCe became shock and a little confused by this then was thrown into a panic when Rocky claims that she herd what she said. Getting defensive, CeCe tries to cover it up by saying that she doesn't know what Rocky is talking about but she tells her Shelly call while she was talking to Mr. Wantanabe. CeCe gets more defensive towards Rocky as she tells her that she doesn't know a Shelly until she reminds her then scolds her for being so selfish and manipulative that she won't let have her own thoughts anymore. Although admitting to crossing a line, CeCe explains to Rocky that it wasn't all her fault this time as she tells her it was Shelly idea and she only used it one time, not counting the test one that she made her use to see if it worked. CeCe even told Rocky that she could have done it way more then that, as her way of telling her that she was against it.
However, Rocky, who lets her anger cloud her judgment, doesn't believe CeCe explanation as she accuses her for lying to her and sees it as one of her excuses. CeCe, who became emotionally hurt, was in shock that Rocky doesn't believe her then she angrily lashes out what she believes is the truth, taking full blame for Shelly. Hearing CeCe say that her intentions were for their friendship and dream, Rocky testifies this claim and believes that she was doing this for herself. After showing CeCe her memory book fill with moments that she put in, Rocky gets more mad because its her book and that there was nothing in the book that is important to her. However, CeCe protests and asked Rocky about what's important to them as their suppose to be partners, friends. After being reminded what a partner is suppose to push you to do your best not cons-tally telling you that your wasting their time, Rocky became convinced that maybe she and CeCe shouldn't be partners, friends. CeCe asked Rocky if she was gonna quit dancing because their in a fight but she tells her no that she is gonna keep dancing as she wouldn't do it with her anymore. Hearing this, CeCe gets confused about what Rocky is saying but she does put it in a way that she might understand as she became the supporting character in the CeCe show instead of sorry in the Rocky show and that she done. After Rocky leaves the building with no regrets what she just said and did, CeCe sheds one tear that their friendship ended just like that then leaves the building heartbroken.
When everyone hears about what happened and knowing that their good together, they tried talking to them to make up but they both refused to due to both of them still being mad at each other. Little does Rocky know, CeCe was more mad at herself for not stopping Shelly for doing that to her. Although, CeCe can now stop wasting her time with friends and partners who don't believe her, indicting that she is glad that her friendship with Rocky ended, as she hid her true feelings with a smile. However, deep down, CeCe was broken-hearted about the hurtful things Rocky said to her and their ending friendship. Meanwhile, Tinka is being deported back to the old country after hitting a security guard accidentally as this leaves Gunther to call both Rocky and CeCe for help. Seeing each other at the Police station, Rocky and CeCe were still at each others throats but they put it aside to help their frenemies. Arriving at the airport, the girls convinced the security guards to send Gunther and Tinka back to the US together by telling them their a team, which helped them realize that they need each other no matter how many mistake one makes. After Gunther and Tinka left, CeCe apologize to Rocky for messing with her head but she didn't apologize back all she said was ya ya ya I love you to, as her way of saying sorry to CeCe for losing her temper and throwing away their friendship.
Wanting to get their jobs back, Rocky and CeCe find Mr. Wantanabe at a theater with his mother where they were able to sneak as performers. When he sees them, Mr. Wantanbe was gonna have them thrown out at first. However, Mr. Wantanbe changed his mind when he sees his mother smile then had a talk with Rocky and CeCe after the show was over. Mr. Wantanbe gives Rocky and CeCe another chance as he will book a performance where everyone in Japan will know who they are. Although she wants to do the performance, CeCe felt that she still had to make amends with Rocky for her actions as she tells Mr. Wantanbe that they have other plans. CeCe told Rocky that's its not to late to fill her memory book of things that are important to her and she even offer to go with her to do want she wants to do as she wants to be the supporting character in her show. Despite finding the gesture to be very sweet and knowing how really sorry CeCe is, Rocky decides to do the performance anyway and they even got Mr. Wantanabe to give them back everything. Meanwhile the app that Watanabe grandchildren uploaded contained a virus that could go global and stop all computers, but Henry, who did not upload the app, attempts to fix it, but can't get past the firewall. They infiltrate Watanabe Global and hack the mainframe, but gets caught by Mr. Watanabe, and Andy gets damaged in the ventilation shaft. In the end, they perform 'Made in Japan'. At the very end, the ending credits come on with Deuce talking through the tablet, realizing that everyone left.
Featured Songs & Dances
Made in Japan (End Song, sung by Bella Thorne & Zendaya)
Total Access (During the video game's motion capture session)
The Same Heart (Sung By, Bella Thorne & Zendaya in the middle of the movie)
Fashion Is My Kryptonite (Played during fashion show when Gunther & Tinka lose their clothes)
Where's the Party/Don't Push Me/Show Ya How(Dave Aude Medley) (Played During Dance Off) (Where's the Party: Miami's part, Don't Push Me: New York's part, and Show Ya How: Chicago's part)
Shake It Up (song) (Played at the beginning when Shake It Up: Chicago wins the dance off)
Calling All The Monsters (Cover Sung by China Anne Mclain) (Ending played in the first scene of the Karaoke Bar, "If you're only Dreaming, Why I Hear you Screaming?" heard)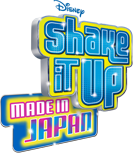 Cast
Main Cast
Recurring
Guest Stars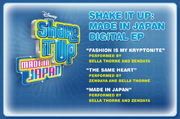 Soundtrack
Main article: Shake It Up: Made in Japan:
Video Gallery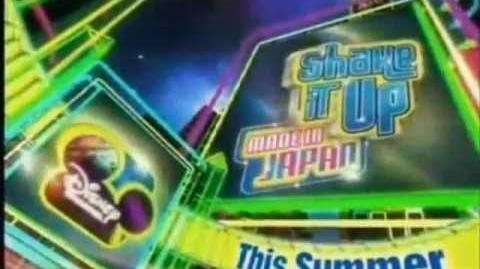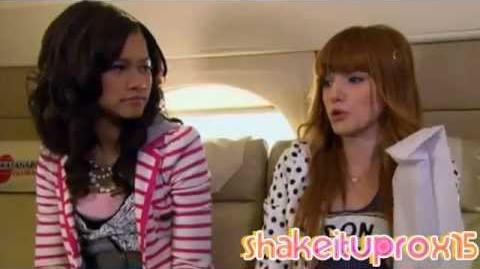 Trivia
A movie was announced at the 2011 Licensing International Expo in June. Which eventually transformed into this special episode.[1]
This special episode marks the last appearances of Kenton Duty and Buddy Handleson as Gunther Hessenheffer and Henry Dillon.
This is the last episode to feature Gunther in a Shake It Up, Chicago dance.
There is an extended version of the Live 2 Dance soundtrack which contains the three new songs that are exclusive to "Made In Japan" and a digital-only EP called: Shake It Up: Made in Japan. Its first single from this EP was released on July 20, 2012.
The studio where Good Luck Charlie is filmed was transformed for this special episode.
It took ten days to film this "mini movie" in February 2012.
A sneak peek of this episode was shown during the premiere of the Disney Channel movie, Let It Shine.
Rocky and CeCe's first singing performance was shown in this episode.
This is the third mentioning of another "Shake It Up" TV studio in The United States (first was in Meatball It Up) (second was in Copy Kat It Up). However, this is the first time they mention more than one studio.(like New York, and Miami), on the screens behind Gary, however, more studios are mentioned.
This is the second episode after Shake It Up, Up & Away that does not end in It Up and the second episode that is longer than 30 minutes.
This is the first episode that does not feature a regular opening sequence like the others.
Ty is seen Facetiming Deuce on an iPad.
During the filming of this episode, a fire burned down the Shake It Up, Chicago! set and that was how the third season's premiere episode got its plot.
This is the second special to feature all cast members.
Disney Channel Japan had a special contest December 2012 to invite Japanese fans to a special screening of the episode before it premiered January 2013 in the country.
This episode was leaked on YouTube on August 13th, 2012  four days before the premiere on Disney Channel.
The episode received approximately 4.5 million viewers on its premiere night.
The virus that was in the Video Game was called the Rocky and CeCe Virus.
Rocky and CeCe were the #1 hated people in Japan before they perform Made In Japan.
This is the second and final Shake It Up full length special.
This is the first special to have more than two parts.
This is the first episode to have the opening sequence at the beginning.
This episode was going to have a sub plot where Ty found his dream girl at the airport and Deuce would split his time with Dina to help him find his dream girl but due to script changes the sub plot was removed.
That 

Hideko said her brother's name, Ichiro, means itchy but it actually means first son.

The scene where the ninja throws the fork into the table, then Cece says, "glad i didn't ask him for knife" is similar line from Austin & Ally (which is also Its A Laugh Productions), in the episode Fanatics & Favors. In the episode Bogues forcefully stabs the fork to the table and says, "Here's your fork, I'll be back with your knife"
Goof
In Made In Japan, when the song goes "Loving cosplay, gotta say Sayonara U.S.A." the voice you hear is Bella's, but in the episode Zendaya is the one "singing" it.
That many people in Japan wouldn't be able to speak English.  Also, on buildings, it would have Japanese writing not so many English.
During the beginning of the episode, Keiko tells Mr. Wantanabe about Shake It Up, Chicago! and she shows him a video on the iPad, but the video is paused. But you can hear music playing from it.
Deuce coudn't go to Japan because only Shake It Up! Chicago dancers and their families can but Henry came with them and he is not related to any dancer on the show.
Allthough Deuce probably couldn't go, but Henry could, because there could've possibly been a limit of people to go.
References