Lock It Up
Season:
3
Episode:
4
Production code:
304
Broadcast number:
53
Broadcast Information
Original airdate:
November 11, 2012
International airdate:
December 14th, 2012 (UK)
February 15, 2013 (Denmark)
March 2, 2013 (Czech Republic)
March 2, 2013 (Hungary)
March 2, 2013 (Romania)
March 9, 2013 (Poland)
March 20, 2013 (France)
March 31, 2013 (Japan)
April 12, 2013 (Spain)
May 24, 2013 (Germany)
June 27, 2013 (Latin America)
December 10, 2014 (Russia)

Lock It Up[1] is the 4th episode in Season 3 of Shake It Up. The episode first aired on November 11, 2012.
Plot
Rocky and CeCe performs at a local hospital inspiring Rocky to volunteer, however, she accidentally gets quarantined in a patient's room with Flynn. Meanwhile, CeCe asks Louis out on a date, not knowing that he is blind. Elsewhere, Deuce gets annoyed that Dina is "invading" his locker.
Episode Summary
After performing at a hospital, Rocky decides to work as a volunteer. When working, she accidentally goes into a room with an ill patient, and is put under quarantine. Eventually, Flynn comes in and gets stuck in there to. After being stuck in the one room for days, they finally get the news that they don't have whatever illness they were suspected to have. Right after they leave, Rocky has to go back in, and then is once again put under quarantine.
Meanwhile, CeCe meets a blind boy named Louis and asks him out. After there date, they meet up again and Louis tells CeCe that he felt like she wasn't that interested in what he had to say, and seemed more focused on herself. So they go out again, and this time CeCe listens to what Louis has to say, and pretends to like everything he likes. He gives her credit on trying to focus more on him, but that they have nothing in common.
Also, Ty warns Deuce about letting Dina keep things in his locker, but Deuce doesn't listen. Eventually, Dina just putting a few things into her boyfriend's locker, turns into her moving into his locker. Deuce tries to make an excuse to get her to move out, by saying that he would be late everyday to open his locker, but instead ends up giving her his combination. Then, he decides to expand the locker so it can fit both of their stuff, but Dina ends up backing out, saying she wasn't ready to move in with him.
Songs
Cast
Main Cast
Recurring
Guest Stars
Absent
Gallery
The image gallery for Lock It Up may be viewed here.
Videos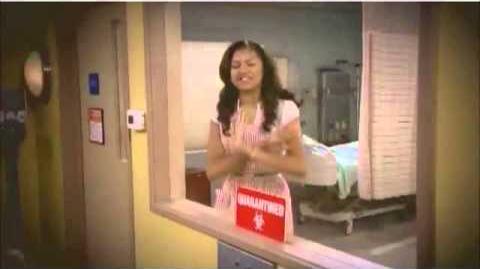 ​Trivia
"Contagious Love" originally aired with vocals performed by Miranda R. Johnson, but in recent rebroadcasts, the performance was edited to remove Johnson's vocals and replace them with Bella Thorne and Zendaya's vocals. The Bella Thorne and Zendaya version can be found on the Shake It Up Season 3 soundtrack, I ♥ Dance.
Although in the show it says Rocky is put in "quarantine," it's actually supposed to be "isolation" because isolation is when a sick person is put in a hospital room by themselves but quarantine is when a healthy person that came in contact with the disease is supposed to be by themselves at home away from others.
References
Community content is available under
CC-BY-SA
unless otherwise noted.