"
You can either have the voice of an angel, or the sound of a cat being stuffed into a blender!
"
Jingle It Up
Season:
2
Episode:
10
Production code:
212
Broadcast number:
31
Broadcast Information
Original airdate:
December 11, 2011
International airdate:
December 16, 2011 (Canada)


December 22, 2011 (Latin America)
December 23, 2011 (Catalonia)
December 23, 2011 (Portugal)
December 23, 2011 (Spain)
January 1, 2012 (Italy)
January 18, 2012 (France)
March 20, 2012 (Germany)
May 18, 2012 (Netherlands / Flanders)
June 21, 2012 (Israel)
December 14, 2012 (Poland)
December 14, 2012 (Romania)
December 15, 2012 (Hungary)
December 15, 2012 (Japan)
December 16, 2012 (Czech Republic)
December 22, 2012 (Brazil)

Jingle It Up is the 10th episode in season 2 of Shake It Up and the 31st of the overall series. It first aired December 11, 2011.
Plot
CeCe does some last minute Christmas shopping for her mom, but buys herself a purse instead. With no money left for her mom's scarf, CeCe gets herself a couple of jobs at the mall to make some extra cash. Meanwhile, Rocky tries to make a young boy's Christmas wish come true and Deuce reluctantly invites Dina to join his family for some Christmas caroling.
Featured Songs & Dances
Cast
Main cast
Recurring
Guest stars
Stuart Pankin as Santa Claus
Heavy Impact Crew as Lakefield Mall dancers
Agina Alvarez, Vida Alvarez, Aaron Gutierrez and Antonio Sol as Martinez Carolers
Absent
Gallery
The image gallery for Jingle It Up may be viewed here.
Videos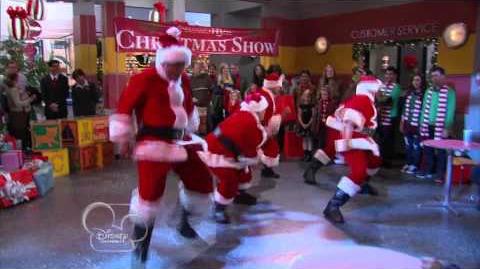 Memorable Quotes
Flynn: You can either have the voice of an angel, or the sound of a cat being stuffed into a blender!
Deuce: What? She had missletoe!
Flynn: That was parsley you Jinglehead! Get it together man!
Trivia