"
I think I reacted the way any normal person would have if they were given, a hook
"

–CeCe
Hook It Up
Season:
1
Episode:
8
Production code:
102
Broadcast number:
8
Broadcast Information
Original airdate:
December 19, 2010
International airdate:
November 19, 2010 (Canada)


March 25, 2011 (Latin America)
March 25, 2011 (Brazil)
April 2, 2011 (Poland)
April 2, 2011 (Romania)
April 9, 2011 (Czech Republic)
April 9, 2011 (Hungary)
April 26, 2011 (Netherlands / Flanders)
May 27, 2011 (Catalonia)
May 27, 2011 (Spain)
June 8, 2011 (France)
June 10, 2011 (Italy)
June 21, 2011 (Germany)
August 6, 2011 (Israel)

Hook It Up is the 8th episode of season 1 of Shake It Up and the 8th of the overall series. It first aired on December 19, 2010.
Episode Summary
CeCe and Rocky are videotaped by Deuce for a school documentary project. He overhears Gary Wilde deciding whether or not to fire two dancers and how he goes by the theory, "Last hired, first fired". Fearing that it could be CeCe and Rocky, he shows them the footage and the two set out to prove to Gary Wilde that they should get as much recognition as the dancers who have been on the show before. Little did they know that, they weren't the last hired and that Gary wouldn't have taken them off of the show. Meanwhile, Ty teaches Flynn how to do some dance steps to impress an older girl, Destiny.
Featured Songs
Cast
Main Cast
Recurring
Guest Stars
Gallery
The image gallery for Hook It Up may be viewed here.
Videos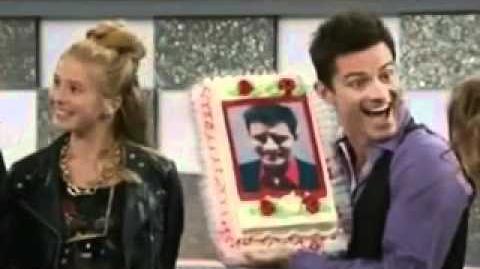 Memorable Quotes
Rocky: Promise me we won't ever go all diva.
CeCe: Not all diva! Maybe just a little tiny bit diva.
Rocky: So, you ready to clean this dirty floor?
CeCe: Show me a sponge, baby. Show me a sponge
Rocky
: So what's the plan?
CeCe: I don't have a plan.
Rocky: Oh come on, you always have a plan.
CeCe
: Well, I do have an idea.
CeCe
: I think I reacted the way any normal person would have if they were given, a hook!
Tinka: Thank you for the hook Gary, we love it!
Gunther: Look I crocheted it a hook cover!
CeCe
: Like I said, any
normal
person.
Tinka: Here pitiful ones, floor wax, fetch. Rocky: Ever feel like they're winning?
CeCe
: I'll take care of this.
Rocky: That's what I'm afraid of.
CeCe: Hi I'm CeCe and this is Rocky and you are?
Eddie: Eddie.
CeCe: And your last name?
Eddie: Quit bothering me.
Rocky
: Oh interesting name.
CeCe
: I knew I'd blow it for us, I always blow it for us don't I Rocky?
Rocky: No, I mean most of the time you're the one that makes things happen.
CeCe: No I don't.
Rocky: Who got us on the show in the first place?
CeCe: That would be me.
Rocky: And who got us kicked off the show?
CeCe: That would be, me.
Rocky
: See you always make things happen.
Continuity
This is the second time Lady Gaga is mentioned in the series, the first being in Start It Up.
Trivia
This episode has some elements that were not present in previous episodes. This episode was originally produced as the second episode of the series, causing these continuity errors.
This episode was originally called "Hooked on a Feeling" from the original script.
At the end of the episode, Ty does the moonwalk, the dance done by the late Michael Jackson, who is one of Roshon Fegan's inspirations.
This was the last episode before Shake It Up New Year.
Goof
Gunther and Tinka were hired after Rocky, but before CeCe. So, CeCe would be fired with either Gunther or Tinka.
Community content is available under
CC-BY-SA
unless otherwise noted.