"
I am Gunther...
...and I am Tinka.
And we are... the Hessenheffers!
"

— Gunther and Tinka
Gunka (Gu/nther and Ti/nka) are fraternal twins. They spend a lot of time with each other and are best friends. Gunther and Tinka have a motto -- Gunther: "I'm Gunther". Tinka: "and I'm Tinka". Both: "And we are the Hessenheffers'. They both have European accents and are often seen wearing unique, sparkly, glittered clothes that match.
Moments
Season 1
They try out for Shake It Up, Chicago together.
In the dance marathon charity, they chose to be dance partners.
Tinka rubs Gunther's head when explaining their hair mousse charity.
Gunther tries his best to motivate and keep Tinka awake during the Dance-athon. He shakes her and even cups her face with his hands.
Tinka was sad that she never went on a date, so Gunther offers to take her on one.
She tells him that she wants a real date with a real boy, then Tinka said it's not like they're going to grow up and get married, to which Gunther becomes visibly sad and surprised.
Gunther paid Rocky's older brother, Ty, to take Tinka out on a date.
However, it can be noted that he did tell Ty not to get all "grabby-handy" on their date.
Gunther (who called himself 'G') said that he calls everybody 'bro', and Tinka hurtfully asks when she become just 'everybody'.
Tinka doesn't look happy when the 'new' Gunther asked Danielle out.
Gunther stands up for Tinka against Danielle.
Tinka knits Gunther a goat and he says that he'll put it with the other ones, indicating that she knits him goats often.
Tinka and Gunther trade lunches.
Tinka invites Gunther to the movies, even though CeCe only invited Tinka.
CeCe and Rocky thought that Gunther was moving back to the old country where he and Tinka are from. Tinka said it tears her heart out and then put the felt heart from Little Tinka and put it on Gunther's shirt.
Tinka seemed happy for Gunther when CeCe asked him to the dance.
---
Season 2
Gunther carries Tinka when he hears the "phantom"
Tinka is very upset that Gunther lost to Ty in ping-pong so she decides to beat Ty at it.
Gunther and Tinka hug after Gunther finds her, CeCe, Rocky and Dina in Crusty's Pizza's freezer.
Gunther is very worried about Tinka when he hears that Tinka is about to be deported.
---
Season 3
Tinka is very upset that Gunther left to the old country.
Fan Fiction
Click here to see the list of fanfictions for Gunka.
Gallery
The image gallery for Gunka may be viewed here.
Trivia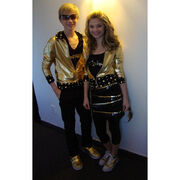 Tinka was originally played by Stefanie Scott in the original unaired pilot episode, before she landed the role of Lexi Reed on A.N.T. Farm.
They have sock puppets called the Little Hessenheffers called Little Gunther and Little Tinka. They have appeared in Hot Mess It Up and Break It Up.
When someone insults just one of them, the other also gets equally insulted.
They design their own matching clothes.
Gunther seems to be the nicer, calmer twin. Unlike Tinka he has socialized with Ty, Deuce, Flynn, CeCe and Rocky (though with Rocky it may have been out of seeking moral support upon Tinka's arrest).
Gunther was very angry when he found the thiefs of his and Tinka's clothes but Tinka was the first to take physical action another indication that Gunther is the calmer twin (Or maybe its just that he's a guy and she's a girl).
When they found the clothing thiefs both pairs started to apparently talk in thier native tongues, Gunther went to miming something and Tinka went to blows.
Show Relationships
Cinka • Cogan • Cy • DeCe • Deucina • Deucynn • Dinka • DiroCe • Flocky • FlyCe • Flynnry • Flyzy • Flyina • GeCe • Gunka • Guntynn • ReCe •ReCether •ReCetherinka•ReCinka • Reuce • Rogan • Ronka • Runther • Ry • Tyece •Tyecether• Tynka • Tynn • Tynther
Cast Relationships
Adaline • Adavisdon • Adella • Adinsley • Carolla • Daviadam • Davishoam • Kella • Kenoline • Rella • Rendaya • Rosholine • Zendella • Zendam • Zendavam • Zendelline •ZenKella• Zenton