Give It Up
Season:
1
Episode:
3
Production code:
103
Broadcast number:
3
Broadcast Information
Original airdate:
November 21, 2010
International airdate:
February 5, 2011 (Poland)


February 5, 2011 (Romania)
February 5, 2011 (Czech Republic)
February 5, 2011 (Hungary)
February 11, 2011 (Latin America)
February 11, 2011 (Brazil)
March 22, 2011 (Netherlands / Flanders)
April 22, 2011 (Catalonia)
April 22, 2011 (Spain)
April 30, 2011 (Japan)
May 4, 2011 (France)
May 31, 2011 (Italy)
June 14, 2011 (Germany)
July 2, 2011 (Israel)

Give It Up is the 3rd episode from season 1 of Shake It Up and the 3rd of the overall series. It first aired on November 21, 2010.
Overview
Rocky and CeCe decided to do a dance-a-thon on Shake It Up! Chicago, so CeCe can get the Spotlight Dance and Rocky can donate money to a retirement home and impress an elderly lady who hates her. CeCe gets energy drinks, because the rules are to keep dancing on the floor without falling down. However, Flynn drinks all of the drinks and becomes energetic so that Rocky and CeCe are too tired from trying to stop Flynn. At the dance-a-thon, they nearly fall asleep but thanks to Deuce, who gave them light-up pants, they win the dance-a-thon. However, they, too, fall asleep in the end.
Episode Summary
CeCe and Rocky go to entertain the elderly at a retirement home, but one of the seniors dislikes Rocky. Rocky tries to get the lady to be nice to her, but it doesn't work. On Shake It Up, Chicago!, all of the dancers pair up with each other to get money for a charity of their choice. The winner will receive $5,000 for their charity and a spotlight dance. CeCe tries to convince Rocky to ingest energy drinks that have more caffeine than three cups of coffee, but Rocky says its like taking steroids for an athlete. Flynn finds and drinks them instead, and the girls get tired trying to calm him down all night. The girls also get electronically light-up clothing from Deuce, who wants them to advertise the clothing for his cousin. CeCe and Rocky then dance on the show, but when Ty gets a mistake of paying twenty bucks to donate to their charity, he tries to stop them from dancing. The girls are then in the final battle against Gunther and Tinka, but the twins fall down as the light-up clothing repeatedly shocks the girls, keeping them awake. Gary then announces that CeCe and Rocky are the last ones standing, but they fall asleep as soon as Gary says they have a spotlight dance. Flynn dances instead, but also falls down in the end.
Featured Songs
Cast
Main cast
Recurring
Guest Stars
Fred Ornstein as Mr. Truman
Transcript
The full episode transcript for Give It Up may be viewed here.
Gallery
The image gallery for Give It Up may be viewed here.
Videos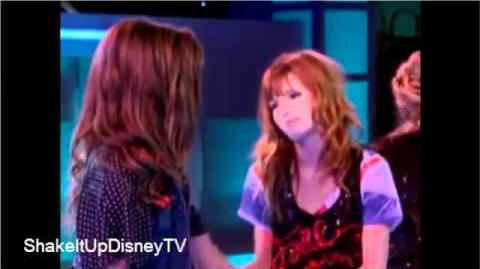 Memorable Quotes
Rocky: You don't find it weird that you were making out with Robert Pattinson right before you came out here and started dancing?
CeCe: Don't worry, I didn't let him bite my neck!
After CeCe's Dream
CeCe: Oh hey Rocky, I was having a dream and you were there, and Gary Wilde was a hot dog, dancing with some squeezy mustard-what do you think that's about?
Rocky: Um, that you shouldn't have eaten four hot dogs last night
CeCe
: Wow, you're good.
Rocky: Come on Mrs. Locassio, everyone seems to be excited about this.
Mrs. Locassio: You think they're excited now? Watch this. Bingo! (everyone claps)
Rocky: That's how it starts. First energy drinks. That leads to harder stuff, next thing you know, you're thrown off the show, you drop out of school, your mom kicks you out, and you're living behind a dumpster! And everyone knows that you can't plug your cell phone into a rat's mouth!
Deuce: Nice couture, huh? FYI, Seraphina told me "couture" means fancy clothes. ...Thought it meant "lady parts".
CeCe
: What happened to all the energy drinks?
Flynn: BANG POW ZOOM!
[Rocky and CeCe exchange glances]
Flynn: You know that part in Good Night Moon where it says goodnight nobody? That part creeps me out, you know what else creeps me out? Tuna, pack in oil pack in water MAKE A DECISION!
CeCe: I'm sure he'll calm down soon
Flynn: You know what else creeps me out? The vowels, I get A E I O and U, but why y? WHY Y?
Rocky
: It is going to be a long night.
CeCe: You guys do know you don't have to keep dancing during the breaks? Gunther: We know, we are just rubbing ourselves in your face!
Trivia
In the original script, this episode was titled "I Could Have Danced All Night". Otherwise, this would have been the first episode not to have "It Up" on its title.
In some countries it's called "Stay Awake It Up."
Allusions
Rocky mentions Robert Pattinson, to which CeCe responds that she didn't let him bite her neck, referring to his infamous movie character, Edward Cullen from Twilight. Alternatively she could also have referred to Cedric Diggory, a Hufflepuff student at Hogwarts in the Harry Potter series, also played by Pattinson.
Ty tells Deuce that his cousin isn't going to be on Project Runway anytime soon, referring to the reality fashion competition show where contestants compete by creating their own clothes.
The title of this episode is also the name of a song, Give It Up, sung on an episode of the Nickelodeon series Victorious 6 days after this episode aired.
Community content is available under
CC-BY-SA
unless otherwise noted.