Future It Up
Season:
3
Episode:
20
Production code:
320
Broadcast number:
69
Broadcast Information
Original airdate:
July 28, 2013
International airdate:
August 2, 2013 (Canada)
August 11, 2013 (Latin America)
September 25, 2013 (UK)
October 4, 2013 (France)
October 16, 2013 (Portugal)
November 1, 2013 (Denmark)
December 7, 2013 (Poland)
December 7, 2013 (Czech Republic)
December 7, 2013 (Hungary)
December 21, 2013 (Japan)

Future It Up is the 20th episode in Season 3 of Shake It Up. It first aired on July 28th, 2013.                                                                     
Plot
It's 22 years in the future and the groups' 20th high school reunion is just a day away. Dina and Deuce are happily married and expecting another baby, and while Rocky and CeCe have successful careers, they fell out of touch years ago. Dina wants them to dance together at the party for old times' sake, but they can't seem to agree on anything. Meanwhile, Ty and Tinka realize they may have missed out on something special in high school — each other.[1]
Episode Summary
It's twenty two years into the future, and the reunion of the Class of 2015. Ty works for Flynn, Deuce and Dina are happily married with 7 sons and another baby on the way, and CeCe and Rocky are both sucessful performers with multiple awards for their performances, but along the way they fell out of touch, and have not even spoken to each other in  5-6 years prior the reunion. They state that with their careers, husbands, and kids, they don't have time for being best friends anymore, but still are friends, however, they are a bit hostile towards each other, comparing how many awards they had won, but no one know why. Dina asks them to perform a dance routine for the reunion, but they can't agree on a routine, and end getting into an argument and refusing to attend the reunion at all. Meanwhile, Ty is trying to couple up with Tinka, both unmarried and single, but can't because he is being overworked by Flynn, who runs a sucessful video game company, and keeps calling him. Rocky is revealed to be married to "Mark" (unknown) and CeCe is also married with a son who has an strong resemblance to Flynn named L.J. Deuce calls Rocky and CeCe on the night of the reunion, using an app on his phone to make his voice sound like Dinas, saying that "she" has gone into labor at the reunion and Deuce is nowhere to be found. They both rush over, but end up finding out that Dina isn't in labor after all. Then, as Dina is trying to convince Rocky and CeCe to stay and perform, she really goes into labor. They rush her out of the gym, and into another room, where Rocky and CeCe help deliver the baby. Dina gives birth to a baby girl, the first out of 8 kids. After, CeCe and Rocky realize they still make a good team and make up. Ty finally stands up to Flynn and tells him that he's taking sometime off, and he and Tinka start dating. CeCe and Rocky decide to perform, along with Ty and Tinka the last dance they ever did on Shake it Up Chicago. Next, Rocky and CeCe announce they had just spoken to their agents and will be both staring in a musical together in New York in several months. L.J shows up, and tells CeCe that his dad is here. Logan enters, revealing that he is her husband, they got married, and their son L.J's name stands for Logan Junior.
Future
The following will list the future of the characters.
CeCe and Rocky will become sucessful, but lose touch.
Deuce and Dina get married and have 8 kids (7 boys and 1 girl)
Flynn owns a company called Flynndustries.
Ty works for Flynn, a mean boss, who has him working all the time, causing him to have no personal life.
Tinka runs a successful fashion line.
Gunther never comes back after Fire It Up.
Ty and Tinka realize they have feelings for each other and agree to get married.
CeCe and Logan got married and have a son.
Rocky is married and has a child.
Song Featured
Cast
Main Cast
Recurring
Memorable Quotes
Rocky: Well neither am I! Have a good life!
CeCe: Already have!

L.J:
Why do you insist on being so childish?
CeCe: I do not!
L.J: Do too!
CeCe: Do not!
L.J: Do too!

CeCe:
DO NOT DO NOT DO NOT!
Trivia
Rocky and CeCe say to Deuce "your mustache finally came in" which could be a reference to "Opposites Attract It Up " when Deuce was growing a mustache.
Ty working for Flynn in a video game company is a nod to the episode "Shrink It Up", where Ty worked under Flynn at a Toy Company in a similar manner.  
This episode was part of Disney Channel's 'Flash Forward Weekend'.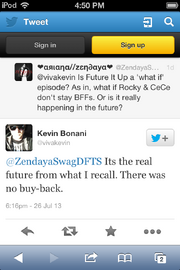 Some fans have said that this episode shows what would happen if everyone lost touch, and that this episode didn't show what will really happen in the future. But it has been since confirmed that this episode was canon, and it is the real future[2], and everything that happened will actually happen. Explained in the picture to the right.
This episode shows three married couples, and at the end, one engaged couple.
This is the first episode of Shake It Up that is entirely in the future.
This is the first episode of Shake It Up that shows main characters that are married and have kids.
This is the first time Davis Cleveland doesn't appear as his character Flynn.
This is the first time we've heard of Gary Wilde since Ty It Up.
This is the second episode that shows scenes from the future, first being Reunion It Up.
This is the second episode where a cast member doesn't play their character, first being "Rock and Roll It Up".
This is the second episode with a reunion, first being Reunion It Up.
This is widely believed to be the final appearance of Leo Howard as Logan Hunter.
This episode reveals the future careers of all the main characters.
This episode reveals that CeCe and Rocky did not keep the promise that they made in Reunion It Up to stay BFF's forever. 
This episode shows that three shippings on the show are the end game of the series. (Deucina, Cogan, and Tynka)
This episode was on demand and then uploaded to YouTube days before it aired so many fans saw the episode early.
This episode reveals that Ty is the only character that doesn't follow his dream (becoming a rapper).
In this episode, Deuce is the owner of Crusty's, though in Doctor It Up, He mentions that his father wanted him to be in the family business.This shows that Deuce didn't do what his dad wanted.
It was revealed that in the future, Justin Bieber becomes president, and tried to make a dance based economy. 
When Tinka says yes to Ty's proposal, Caroline Sunshine (who plays Tinka) accidentally broke out of her accent, click link to view: http://www.youtube.com/watch?v=gMSH2-g4OmY (start at 1:13 until 1:16). But then again, this is very difficult to hear.
In the future people have a calender in their minds, as shown by CeCe. This was turned to be a mocking insult to her by Rocky.
It is shown that the future cell phones are much bigger than the current day cell phones. However they do more stuff than those today do.

Rocky is the only one in the episode who's spouse and child are not seen.
It is shown that Deuce still sells merchandise out of his jacket.
There are some fans, mainly Runther shippers, who believe that since Rocky's husband Mark is a spy, Mark may not be his real name. They believe that it is really Gunther in disguise. This so far hasn't been proven true, though is possible since we haven't heard Gunther mentioned in the episode, and there isn't, and never has been a character on the show named Mark. But, the series ended with only the knowledge of Rocky's spouse being named Mark, that they have a child, and Gunther never being mentioned.
Flynn does not appear at all in this episode.
This episode aired 3 days after the announcement that Shake it Up was not renewed, making it the first episode to air after the show's cancellation.
It is revealed that in the future, airplanes are much faster, so a flight from Australia to Chicago would only take an hour.
The characters were fit with adult like clothes and hairstyles so that they resemble their future adult selves.
CeCe still acts like her 16-year old self 22 years into the future, despite accepting her mom growing out of her phase in My Bitter Sweet 16 It Up.
Indirectly, this episode introduces Dove Cameron (through her singing Future Sounds Like Us), who later became star of the hit Disney Channel Show, Liv and Maddie.  
The Broadway musical that Cece starred in is called "Dogs". "Dogs" is a parody of the popular Broadway musical "Cats" written by Andrew Lloyd Webber.
Goofs
It remains unknown why Ty was at the reunion because he is supposed to be in the class of 2014 and it's the reunion for the class of 2015, although it's possible that he was held back putting him with the class of 2015.
Dina revealed that Justin Bieber becomes president in the future. But the law states that the president of the United States must be an American Citizen. Justin Bieber was born in Canada. Though, since it is the future, the law could have been changed.
Gallery
The image gallery for Future It Up may be viewed here.
References
Clips & promos
Community content is available under
CC-BY-SA
unless otherwise noted.