Funk It Up
Season:
3
Episode:
2
Production code:
302
Broadcast number:
51
Broadcast Information
Original airdate:
October 28, 2012
International airdate:
November 30, 2012 (UK)
January 25, 2013 (Norway)
February 1, 2013 (Denmark)
February 16, 2013 (Poland)
February 16, 2013 (Czech Republic)
February 16, 2013 (Hungary)
February 16, 2013 (Romania)
February 22, 2013 (Spain)
March 6, 2013 (France)
March 15, 2013 (Netherlands)
March 17, 2013 (Japan)
May 22, 2013 (Germany)
June 13, 2013 (Latin America)
December 9, 2014 (Russia)

Funk It Up[1] is the 2nd episode in Season 3 of Shake It Up. It first aired on October 28, 2012.
Plot
CeCe is in a funk without "Shake it Up, Chicago!", but after Rocky books them a gig dancing at a Bar Mitzvah, CeCe gets inspired by one of the speeches and decides she has been too focused on dancing. Meanwhile, Deuce draws a mustache on Ty's face with a permanent marker and Flynn asks Jeremy to be a guest speaker at his school instead of his mom. [2]
Episode Summary
Ever since Shake It Up Chicago burnt down, CeCe has been in a funk. It is only shortly relieved when her and Rocky dance at a party. After hearing a speech at the party, CeCe decides to discover her spiritual side, but takes it a bit to far. At the party, a boy named Howie hits on Rocky, and is constantly trying to win her over through out the episode. CeCe ends up looking terrible for her school picture, and ends failing to be spiritual. Her friends all say what they admirer about her, and help her find out who she really is. Also, Howie gets over Rocky when he finds out that she is a vegetarian.
Meanwhile, Deuce plays a joke on Ty by drawing a mustache on his face, unaware that he used permanent marker. Ty is furious at Deuce since the mustache won't come off, and the next day was school picture day. Unable to wash it off, Ty instead gets even with Deuce by drawing a unibrow on face for his school picture.
Also, Flynn asked Jeremy to come to his class for career day at school, making Georgia green with envy. She interrupts class during Jeremy's presentation, and accidentally knocks over a box with a spider inside. Later she apologizes to Flynn and tells him that she was jealous, and was sorry. Flynn explains that he asked Jeremy because he knew she liked him, and thought that it would make her happy.
Featured songs
Cast
Main Cast
Recurring
Guest Stars
Aaron Refvem as Jason
Adam Karelin as Howie
Robert Koch as Photographer
Absent
Gallery
The image gallery for Funk It Up may be viewed here.
Videos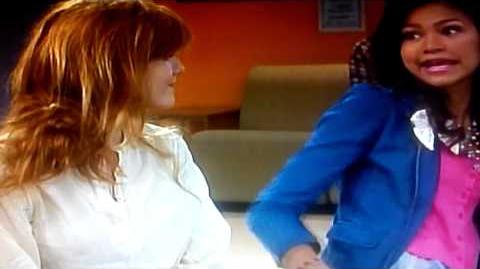 Trivia
"Get'cha Head In The Game" is a cover of a High School Musical song.
This is the first Season 3 episode that Tinka is absent.
CeCe had a poster in her locker that said "Hang in there, baby". This could be a reference to the Good Luck Charlie theme song.
References
Community content is available under
CC-BY-SA
unless otherwise noted.