"
I'LL GET IT, MOM!
"

–Flynn's catchphrase

Flynn Jones is a main character and a recurrent deuteragonist/tritagonist in the TV series, Shake It Up. He is the youngest character of them all on the show at 9-11 years old. He is the son of Georgia Jones and J.J. Jones and the younger brother of CeCe Jones. He lives in an apartment with his mom and sister in the suite below the Blue family, Apartment 3B. He is often babysat by some of his friends; Ty Blue, Deuce Martinez, and sometimes Gunther Hessenheffer (along with Tinka Hessenheffer). He is often seen with his best friend Henry Dillon. He attends an elementary school in Chicago, Illinois. His parents are divorced and his father lives in California
Flynn is portrayed by Davis Cleveland.
Personality
Flynn may look cute and little like any young boy, but he is wise beyond his years and knows how to take advantage of any situation. Flynn is described as precocious, has a great sense of adventure, is mature for his age, and is very mischievous. He has a lot of interesting hobbies which include video games, karate, robots, and magic tricks. He also enjoys bacon for breakfast and energy drinks. Whenever the doorbell rings, he (along with his sister CeCe) has a tendency to yell before opening the door ("I'll get it, mom!") He is a very mischievous kid who gets scared watching horror movies. When no one is around, he likes to run around in his underwear and pretend he's a cowboy, as seen in "Kick It Up". In "Heat It Up", it is revealed that Flynn was promised by his dad that they would take a road trip but he bailed out on him which in turn made Flynn mad, and even more upset when his mom promised a road trip but canceled when conflicts of interest with Rocky's mom came up. Flynn also has had a few pets including a goldfish (Mr. Goldberg) that Deuce accidentally killed, and a baby tarantula that was killed by Ty. Even though it is shown that he is sly and greedy, he does have a soft spot and can be rather kind. It is revealed that he has a teddy bear named Mr. Wubby. (Twist It Up)
Relationships With Other Characters
CeCe is Flynn's older sister. She often babysits him while their mother is at work, where she cooks for him (including bacon, his favorite, and One-Minute Breakfasts), puts him to bed, and tries to keep him out of trouble. Although their relationship is usually shown to be made up of bickering and typical sibling rivalry, CeCe was the first to comfort him about their failed roadtrip in "Heat It Up". The two of them understand their parent's divorce situation and together even had to explain it to Rocky in "Parent Trap It Up". In Weird It Up, Flynn was upset when Cece kept forgetting to pick him up from school. Later she said that she does care about him and sometimes she forgets that he needs help from his sister. They still have a good relationship. (See: FlyCe)
Rocky Blue (All Seasons: Good Friend)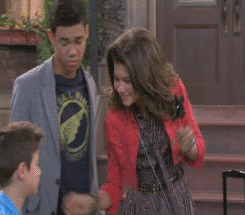 Flynn has known Rocky for a long time since she is his older sister's best friend. Therefore he thinks of her as another older sister. He loves her and missed her almost immediately after she "left" in the limousine to the airport in the episode "Model It Up". It was thanks to her advice that he decided to take off on an adventure, tagging along in his sister's suitcase while they were en route to Alabama, then Los Angeles in "Shake It Up, Up & Away". Rocky helps CeCe babysit Flynn in episodes throughout the seasons. (See: Flocky)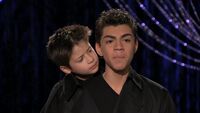 Flynn and Deuce are close friends, with Deuce babysitting him several times throughout the series. They often get into crazy situations such as chasing a loose mouse in "Wild It Up" and holding a funeral for Flynn's goldfish that Deuce accidentally killed in "Reunion It Up". In "Throw It Up", Flynn tricked Deuce into blowing off the errands set by Flynn's mom, Ms. Jones and going to a baseball game instead, getting them both grounded. Deuce is easily influenced by Flynn to go off-track due to Flynn's charm and sneaky personality. Deuce has a similar personality so they easily work well together, though Flynn is seen usually out-smarting Deuce, such as trapping Deuce to a chair in chains in "Show It Up". Flynn also helped Deuce MC the talent show at JHHS, pretending to be Deuce's second head. In Loyal It Up, Flynn and Deuce try to make spongy cakes after they are discontinued. (See: Deucynn)
Ty Blue (All Seasons: Close Friend)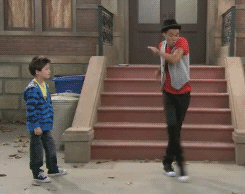 Flynn and Ty are good friends and neighbors and Ty babysits Flynn almost all the time. He is like a big brother to Flynn and he has taught him many things like how to whistle, dance, and flirt throughout the series. He taught Flynn how to talk to girls, in-particular Destiny, in "Hook It Up" .Flynn was jealous when Ty was paying a girl more attention than him in "Egg It Up", going as far as firing him and hiring Gunther instead. Flynn has also helped Ty, especially when it comes to his aspiring rap career. They get into interesting situations and adventures together, such as working for a toy company as toy testers ("Shrink It Up") and auditioning for a commercial ("Vatalihootsit It Up"). In My Fair Librarian It Up, Ty is worried that Flynn likes Logan better than him. Ty is usually heard calling Flynn "Little Man." (See: Tynn)
Henry Dillon (Season 1 & 2: Best Friend)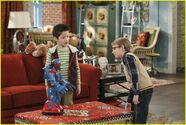 Henry and Flynn are best friends and pretty much the complete opposite of each other; Flynn being outgoing, while Henry keeps to himself. The two met in "Add It Up" after Henry was assigned to tutor CeCe in math. Flynn introduced him to normal boy things like video games. The two often get into interesting situations together. They go to karate class together ("Kick It Up") to help Henry get over being hit by a girl. Flynn helps Henry to prepare for a camping trip in "Match It Up". In "Twist It Up", they both play with an evil robot that comes to life and in "Apply It Up", Henry informs Flynn of a meteor that is heading towards earth, and they call NASA to try and prevent it. In "Judge It Up", Henry tries to teach Flynn how to ride a bike, but in the end just creates a bike that automatically drives itself, making Flynn think that he actually knew how. (See: Flynnry)
Gunther was introduced to Flynn when he babysat him with Tinka in "Meatball It Up". Flynn takes advantage of the fact that they come from a foreign country, making up many things babysitters do in America. He watched him again, when they were left behind by everyone else while Rocky was rushed to the hospital ("Break It Up") and in "Egg It Up" when Flynn fired Ty as his babysitter. They appear to get along well while Gunther takes over as his babysitter, dressing up like rock stars and performing together. Gunther and Ty worked together to get back at Flynn for using both of them in the same episode. (See: Guntynn)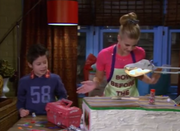 Flynn and Tinka have only interacted a few times. She and Gunther babysit him for the first time in "Meatball It Up", where Flynn calls her "Tinkle". They then babysit him again in "Break It Up" where they play a few games while the rest of the group is at the hospital following Rocky's foot injury. Tinka made a "Little Flynn" sock puppet, much to his delight, but Gunther scared him away with the Lake Monster sock puppet and when he ran away she laughed. In "Oh Brother It Up", Tinka helps Flynn bake a cake for Jeremy Hunter's birthday. In Love and War It Up, Flynn and Tinka (Along with Deuce) form an air guitar band.
Logan Hunter (Season 3: Close Friend)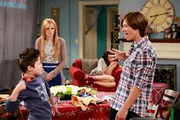 Flynn and Logan first meet in the episode Oh Brother It Up. Flynn likes him because Logan makes a great impression towards him. They seem to share similar personalities and they love teasing CeCe. (See: Fogan)
Episode Appearances
Future It Up
Although Flynn does not make an appearance in this episode, he is talked about as the President of a successful video games company and Ty's boss.
Trivia
Quotes
Gallery
The image gallery for Flynn Jones may be viewed here.
Userboxes
Userboxes for Flynn Jones may be viewed here.