!

This article is for the brother-sister relationship only.
Please remember to use article sections in a civil way.

 !
FlyCe (Fly/nn and Ce/Ce) is the sibling relationship between CeCe Jones and Flynn Jones.
Possible Names
Cynn - C/eCe and Fl/ynn
FeCe - F/lynn and C/ece
Cenn - Ce/ce and Fly/nn
FleCe - Fl/ynn and Ce/Ce
CeCynn CeC/e and Fl/ynn
Moments
Season 1
Flynn wants CeCe to make him bacon.
Flynn told CeCe about what happened to him in 3rd grade.
CeCe and Rocky give Flynn "1-minute breakfast" (much to his dislike).
CeCe has to stay up all night with Flynn, after he drinks one of the energy drinks she brought home.
When CeCe and Rocky are taking a break from each other, CeCe spends a little time with Flynn.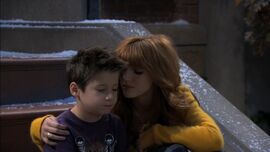 CeCe and Rocky took Flynn to the park.
CeCe comforts Flynn.
She puts her arm around his shoulders and gives him a small hug.
She also kisses his cheek.
CeCe mentions getting ice cream when Flynn had his tonsils out.
Flynn videotapes for CeCe and Rocky's webcast.
CeCe is offended when Flynn calls Rocky "my favorite sister."
Flynn says "No offense" so that he doesn't hurt her feelings.
When Flynn says "This is like losing my favorite sister," CeCe says "What?"in a very suprised way.
CeCe made breakfast for both Flynn and herself because their mother was sick.
CeCe didn't have to make Flynn breakfast, she chose to.
---
Season 2
Cece asked Flynn to sit on her suitcase to close it.
Flynn snuck inside Cece's suitcase.
Both looked at the smallest ball at the bus station.
Both flew onboard the plane.
Flynn and Cece took their dad to Crusty's to have lunch.
CeCe ask Flynn to talk to Rocky about the relationship between their mom and dad.
Flynn and CeCe ( and Rocky ) invited their mom and dad to assist their dad's proposal to their mom.
Both talked to Rocky about their dad's girlfriend. Cathy.
Flynn wants CeCe to care about him.
CeCe thinks Flynn is more capable than anyone she knows.
CeCe apologizes to Flynn for not being there for him.
Flynn persuades CeCe to make up with Rocky after their big fight.
CeCe's rooting for Flynn to stop the virus.
CeCe replaced Flynn with Henry's robot, Andy, to plug in the flash drive through the fan in the vent because Flynn's afraid of losing his arm though the fan.
---
Season 3
Flynn was suspicious of what CeCe was talking about with Georgia.
Flynn tells CeCe that she's loud and annoying but got him through one or two thunderstorms.
Flynn tells CeCe that he loves her but tells her not to tell anyone.
CeCe thought Flynn was at home watching cartoons, not knowing that he was in the hospital with Rocky.
CeCe tells Flynn not to get used to the hot tub.
CeCe asks Flynn what day it is and he tells her it's Christmas Eve.
CeCe asks Georgia if she can watch Flynn while she's away.
CeCe panics when Flynn goes missing.
CeCe (and Rocky) go to Crusty's to see if Flynn is there.
CeCe (and Rocky) search for Flynn in the ball pit.
CeCe kisses Flynn on the cheek when she finds him at home.
Flynn tells Georgia that CeCe is super responsible before CeCe tells the truth about what happened.
CeCe (along with Rocky) puts on a puppet show for Flynn using Mrs. Locassio's puppies.
CeCe seemed jealous that Flynn and Logan were getting along.
CeCe asks Flynn if he finished her favourite cereal.
Flynn tells CeCe that his blood type is marshmellow positive.
CeCe did't like that Flynn posted a video of her dancing at the mall on the internet.
Flynn (along with Logan) watches CeCe's performance as a dancing zit at the mall.
Flynn helps CeCe get Georgia's wedding dress back.
Flynn distracts the owner of the dry cleaners while CeCe searches for Georgia's wedding dress.
CeCe and Flynn switch bodies.
Gallery