"
Big picture; Shake It Up Chicago has burnt down!
"
Fire It Up
Season:
3
Episode:
1
Production code:
301
Broadcast number:
50
Broadcast Information
Original airdate:
October 14, 2012
International airdate:
November 23, 2012 (UK)
January 25, 2013 (Scandinavia)
February 16, 2013 (CEE)
February 22, 2013 (Spain)
February 27, 2013 (France)
March 8, 2013 (Netherlands)
March 16, 2013 (Japan)
May 21, 2013 (Germany)
June 6, 2013 (Latin America)

Fire It Up is the season 3 premiere episode of Shake It Up and the 50th episode overall. It first aired on October 14, 2012.
Plot
A fire starts on the Shake It Up, Chicago! set and CeCe believes she may have caused it. Meanwhile, Deuce decides to get Gary a job at Crusty's, when he feels bad about Gary losing his job after the fire.
Episode Summary
The girls come back from Japan, to discover that Shake It Up, Chicago! has burnt down. Because of this the show is in hiatus. CeCe notices that she left her hair straightener plugged in, and that she burnt down the studio. Jeremy Hunter is the investigator of the fire and tries to figure out who caused it. Flynn is also getting suspicious when he finds out that Rocky and CeCe are hiding something. Rocky steals the burnt hair dryer from the crime scene, saying that she'll wait until after the investigation, and then throw it in the lake, in order to keep CeCe from going to jail. When Jeremy comes over to catch up with his investigation, CeCe introduces him to her mom, and they instantly take interest in each other. Flynn is also helping Jeremy with the investigation, and also hints him towards a picture of the hair dryer. CeCe eventually tells her mom about it, and she decides not to tell Jeremy, since they don't know for sure that it was her. Also, through out the episode, Tinka has been acting nice to CeCe and Rocky, making the girls wonder why. She eventually tells them that Gunther moved back to the old country and that she has been acting nice to them because now that he's gone, she has nobody to spend time with. The girls tell her that their friendship can't be won over, it has to be earned. Then Flynn comes over to get the girls to the studio where him and Jeremy were about to reveal what caused the fire. But before they could, CeCe takes the blame and reveals that her curling iron was left plugged in. But both Rocky and Tinka try to take the fall for her. It was revealed that the fire wasn't caused by the curling iron but by Gary's tanning bed. Rocky and CeCe thank Tinka for standing up for them, and say that she earned their friendship.
While all of that was going on, Gary couldn't host the show anymore. So Ty convinces Deuce to give Gary a job at Crusty's. When he hires him, he becomes very bad at most of his given orders, so he is given the job as the host, but takes it like his job as a tv show host. He even has a dance crew perform at the pizzeria, saying that they were already booked for Shake It Up, Chicago!, and he didn't want to disappoint them. By that point, Deuce has no choice but to fire Gary. He feels bad about it for awhile, but later finds out that Ty got Gary to say the school's morning announcements.
Featured Songs
Cast
Main Cast
Recurring
Guest Stars
The Electrolytes as themselves
Memorable Quotes
CeCe:
Hey something about me is different in here.
Rocky: CeCe. Big picture; Shake It Up, Chicago has burn down!

CeCe:
Yeah! Obviously I can see that now!
Gallery
The image gallery for Fire It Up may be viewed here.
Videos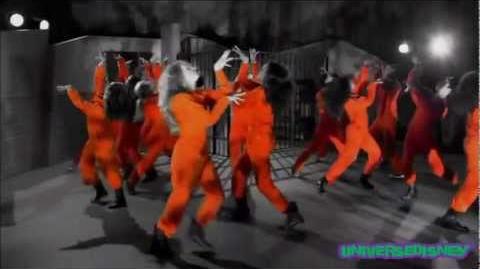 Trivia
Bella Thorne stated on Twitter that she is growing out her bangs for the new season, so this is the first episode in which CeCe does not have her signature bangs.[1] Bella hinted to a fan that the show (probably the writers or producers) had told her to outgrow them.[2] Then she clarified the statement to a fan.[3]
This is the first episode not to feature Kenton Duty as a main cast member.
In this episode, it is shown that several of the cast members are performing the zombie dance featured in Michael Jackson's "Thriller" music video. This scene most likely parodies the Thriller viral video in which inmates from Cebu Provincial Detention and Rehabilitation Center in the Phillipines performed the zombie dance from the music video.
In this episode, Tinka explains the reason for Gunther's absence.
As of this episode, the theme song is slightly shortened.
This is the third time that "Calling All The Monsters" has appeared (albeit without the lyrics).
It is odd that Tinka suggests a slumber party, because in Slumber It Up, she dislikes them though she could just be pretending.
Off-camera, there was a real fire to the Shake It Up stage while filming Shake It Up: Made in Japan and that's how the episode got its plot.
CeCe saying that they might end up dancing to Micheal Jackson in jail, this may be a reference to Nickeodeon's Victorious: Locked Up.
CeCe said that she used her curler before she left for Japan. However, in the special, her hair was straight.
The episode received 3.9 million viewers on its premiere night.
This is the last episode with Gary Wilde until Loyal It Up. However, he is mentioned on occasion.
Community content is available under
CC-BY-SA
unless otherwise noted.