"
Class! When is Science like a Chinese soup? When it's an egg drop, huh huh? Now can anyone tell me what I just demonstrated?
"

–Mr. Polk
Egg It Up
Season:
2
Episode:
14
Production code:
209
Broadcast number:
35
Broadcast Information
Original airdate:
February 26, 2012
International airdate:
February 24, 2012 (Germany)


April 11, 2012 (France)
April 20, 2012 (Italy)
May 22, 2012 (Brazil)
June 2, 2012 (Romania)
June 8, 2012 (Portugal)
June 9, 2012 (New Zealand)
June 15, 2012 (Netherlands / Flanders)
June 15, 2012 (Catalonia)
June 30, 2012 (Czech Republic)
July 14, 2012 (Hungary)
July 19, 2012 (Israel)
August 6, 2012 (Japan)
August 19, 2012 (Poland)

Egg It Up is the 14th episode in season 2 of Shake It Up and the 35th of the overall series. It first aired on February 26, 2012.
Plot
When girls' science teacher, Mr. Polk, pair up the girls for a science project, Rocky asks Mr. Polk for a new partner. When he refuses to change her partner, she goes behind CeCe's back to find a new partner because Rocky is afraid that CeCe's lack of enthusiasm will lower her grade. CeCe later finds out that she's working with someone else and is furious with Rocky. Rocky tries to make it up to her by offering to do the whole project by herself and put CeCe's name on it, but CeCe automatically declines and rather have them do their own separate projects by themselves. Later, Rocky visits CeCe to offer help on her project. This makes CeCe even more furious by stating that Rocky underestimates CeCe when it comes to school. The next day, Rocky still doesn't believe CeCe's project will work, and when both of their projects are tested, Rocky's egg broke while CeCe's didn't break at all. Rocky then apologizes to CeCe and shows her that some discoveries happen by accident.
Subplot
Meanwhile, Flynn is mad at Ty for ignoring him at Crusty's, so he fires Ty and replaces him with Gunther. Gunther and Ty then compete to see who is the better babysitter for Flynn. When they both find out that Flynn tricked them to do his essay, they write his essay with false information to get back at him.
Featured Songs & Dances
Cast
Main Cast
Recurring
Guest Stars
Absent
Gallery
The image gallery for Egg It Up may be viewed here.
Video Gallery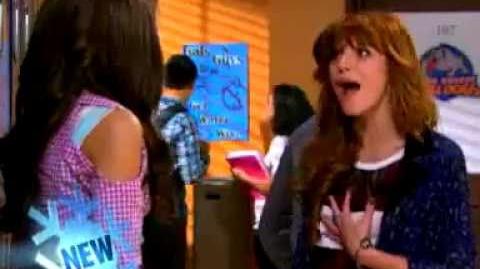 Memorable Quotes
Mr Polk:
Class! When is a science like a Chinese soup? When it's an egg drop, huh huh? Now can anyone tell me what I just demonstrated?
CeCe: Um you demonstrated that eggs are fragile?
Mr Polk: Wrong, I demonstrated that eggs are fragile.
Rocky: Um Mr Polk CeCe just said that.
Mr Polk:
She did? well colour me surprised
Gunther (To Ty): You're right, clearly, we have been bamboozled.
Ty: Well maybe it's time for the bamboozled to do a little bamboozling back to the bamboozler to see if the bamboozler likes getting bamboozled!
Flynn: When I told Gunther about the game he said (Gunther joins in) Why play rock legends when you can dress like rock legends while enjoying a nutritous yet scrumptious after school snack?
Trivia
Goof
Community content is available under
CC-BY-SA
unless otherwise noted.