Dinka is the pairing of Tinka Hessenheffer and Deuce Martinez (D/euce and T/inka). This is unlikely but is surprisingly popular with Runther and Cy fans.
Deuce's Opinion of Tinka
Freaky. Though they are hardly in scenes together it's unknown what he really thinks about her. He would also rather kiss her than CeCe and Rocky, but, this was just because he didn't want to answer the question at hand.
Tinka's Opinion of Deuce
She may think he's creepy and weird, because she found it annoying when he said he'd rather kiss her than CeCe and Rocky. It is shown in Love & War It Up that Tinka refuses to give Deuce a high five.
Dinka Moments
When Tinka was about to leave, she rubbed Deuce's hair and said, "You could use a little help, ah."
Deuce didn't push Tinka's hands off when she touched his head.
When Deuce said Rocky and CeCe they were getting freaky Gunther and Tinka freaky meaning he thought Tinka was freaky.
Tinka said Rocky and CeCe were her worst enemies but Deuce wasn't. Meaning she doesn't hate Deuce.
When Ty asked Deuce which one of these girls would he want to kiss during a truth or dare game he said, "Duh Tinka." This means that he may like Tinka.
Tinka had a disgusted look on her face when Deuce said he'd want to kiss her.
Tinka said she was offended yet relieved and nausous.
Tinka didn't want to be left alone with Deuce because she thinks he'll make a move on her.
---
It was Tinka's idea to be nice to Deuce.

Tinka flosses Deuce's teeth.
Deuce says she looks good, but then starts stuttering.
Deuce's locker is next to Tinka's.
Deuce was upset when Dina already sold Tinka the betwinkler.
Deuce was also upset when Tinka told him to not call her
Deuce told Tinka that she was beautiful.
Deuce liked her dress.
---
Season 3
Deuce told Dina to be nice to Tinka when she pushed her out of her seat.
Deuce asked Dina to invite Tinka over to share a drink with them.
Deuce tells Dina that at the end of their date Tinka will slap him too if he tries to kiss her. Meaning Deuce might try to kiss Tinka.
Deuce wants Tinka to be the lead singer in his and Flynn's air band.
Deuce enjoys Tinka's audition.
Deuce tries to get a high-five from Tinka.
When Tinka turns down every high five from him, his is very upset.
Unlike Flynn, Deuce understands and enjoys Tinka's air accordion.
Deuce knows how to get Flynn and Tinka to get along.
Deuce calls Tinka as "Tinka baybee".
Gallery
The image gallery for Dinka may be viewed here.
External Links
To read more, click
here
.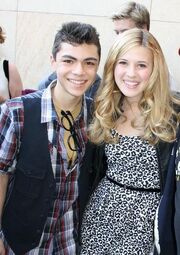 Show Relationships
Cinka • Cogan • Cy • DeCe • Deucina • Deucynn • Dinka • DiroCe • Flocky • FlyCe • Flynnry • Flyzy • Flyina • GeCe • Gunka • Guntynn • ReCe •ReCether •ReCetherinka•ReCinka • Reuce • Rogan • Ronka • Runther • Ry • Tyece •Tyecether• Tynka • Tynn • Tynther
Cast Relationships
Adaline • Adavisdon • Adella • Adinsley • Carolla • Daviadam • Davishoam • Kella • Kenoline • Rella • Rendaya • Rosholine • Zendella • Zendam • Zendavam • Zendelline •ZenKella• Zenton