"
Nutty nutty nut ball wakadoo of the week?
"
Copy Kat It Up
Season:
2
Episode:
13
Production code:
219
Broadcast number:
34
Broadcast Information
Original airdate:
February 19, 2012
International airdate:
April 9, 2012 (Australia)


April 11, 2011 (Germany)
April 27, 2012 (Italy)
May 15, 2012 (Latin America)
May 17, 2012 (Brazil)
May 18, 2012 (Portugal)
May 18, 2012 (Catalonia)
May 18, 2012 (Spain)
June 8, 2012 (Netherlands / Flanders)
June 16, 2012 (Hungary)
July 12, 2012 (Israel)
July 14, 2012 (Poland)
July 14, 2012 (Romana)
July 14, 2012 (Czech Republic)
September 5, 2012 (France)

Copy Kat It Up (originally known as All About Evie It Up) is the 13th episode in season 2 of Shake It Up and the 34th of the overall series. It first aired on February 19, 2012.
Plot
Rocky and CeCe are eating at Crusty's Pizza not knowing that the girl staring at them from across the restaurant is their biggest fan, a girl named Kat. When they come into CeCe place, she silently begs them to let her stay so she can watch them practice their dancing. But soon enough, after a "mishap" on stage, Kat starts to copy CeCe's appearance and secretly plots to take her place on "Shake It Up, Chicago," CeCe and Rocky must find a way to show Kat's true colors. In the end, Kat is called to be on "Shake It Up, New York," but it turns out that CeCe sent Kat a fake email using "Shake It Up, New York's" account. Meanwhile, Flynn acts as Ty's recording agent when dealing with a big time record producer, whom Flynn recently became friends with his son.
Featured Songs & Dances
Memorable Quotes
CeCe
: Kat is a big-
Rocky: Nutty nutty nut ball wakadoo of the week?
CeCe
: I was going to say copy cat but I like yours better.
Flynn: You drive a hard bargain Mr Gold. Hear that Ty? I got you lunch.
Cast
Main cast
Recurring
Guest Stars
Kerris Dorsey as Kat
Jay Thomas as Dave Gold
Leah Batman as Girl
ICONic Boyz as featured dancers
Absent
Gallery
The image gallery for Copy Kat It Up may be viewed here.
Videos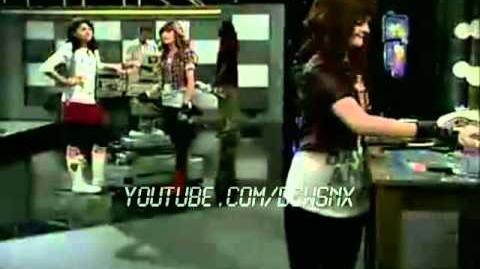 Trivia
The episode was formerly named "All About Evie It Up", in reference to the 1950s movie, "All About Eve."
The character of Kat was initially called 'Evie.'
This is the second mentioning of another "Shake It Up" TV studio in The United States (first was in Meatball It Up being Shake It Up! Pittsburg.)
The name of the shoelace song is "Lace It Up," which may be a reference to the show's title.
Kat wears the same waistcoat as CeCe does in Start It Up.
In Australia and New Zealand, Copy Kat It Up Premiered as part of Disney Channel's "Easter Eggstravaganza" Promotion.
Rocky and CeCe finally dance the spotlight dance.
In the ending credits, Kerris Dorsey (who starred as Kat) was said to be "as Evie", probably a  forgotten mistake by the producers and casting directors making this episode.
Competitive dancers and internet stars Sophia Lucia and Autumn Miller, along with 8 Flavahz member and competitive dancer Charlize Glass, guest starred in this episode as backup dancers for MC Flynn in the "Lace It Up!" music video.
Goofs
Kerris Dorsey is still credited as 'Evie' at the end of the episode.[1]
In 'Lace it Up', (the shoelace rap), Flynn is captioned as DJ Flynn. Later in the song, the lyrics are 'and that's how MC Flynn ties his shoes'.
It is never explained how Kat knew where CeCe lived. However, she possibly followed them home or researched her.
Community content is available under
CC-BY-SA
unless otherwise noted.