Cinka (C/eCe and T/inka) is the friendship/conflict pairing of CeCe Jones and Tinka Hessenheffer. They are classified as frenemies, often competing against each other while they appear as dancers on Shake It Up! Chicago together. They both attend John Hughes High School.
Cinka Moments
Season One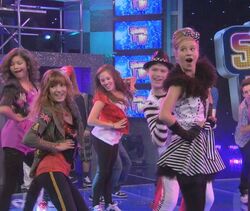 Tinka comes up to CeCe.
Tinka shows off the Shake It Up!, Chicago flyer to CeCe (and Rocky).
CeCe is the one that realizes that maybe she and Rocky are more like Gunther and Tinka, just as Deuce said.
CeCe and Tinka end up going to the movies together after CeCe fails to find anyone else to hang out with.
CeCe calls Tinka her "frenemy", pointing out that the first part means "friends", while Tinka points out that the second part means "enemies".
They both pretend to have a good time while at the movies.
CeCe seemed confused when Gunther showed up, and Tinka proceeded to make her think twice about not spending time with Rocky.
CeCe admitted that she learned something from the twins.
Tinka offers her "weenie-corn" (popcorn and cocktail weenies).
CeCe calls her "Tink".
After being urged by Gunther, Tinka comes up to CeCe and compliments her on her dress (which was supposed to be Tinka's), and said it was time for them to move past their petty disagreements since they were going to be "sisters".
When complimenting Rocky and CeCe, Tinka says she admires the way CeCe's personality lights up a room even without sparkles.
Tinka begs CeCe to not leave her alone with Deuce at the campfire.
CeCe and Tinka were checking Gunther and Ty out when they swap outfits.
---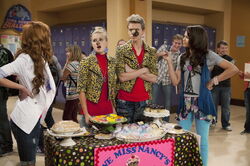 Season Two
When Rocky begins to say that despite the twins being so mean, CeCe is smiling and looking at Tinka and finishes off saying that they're actually nice, caring good friends and puts her hand on her shoulder.
After Rocky shoved a cupcake in Gunther and Tinka's face, CeCe tasted frosting off her face.
Tinka gives CeCe the money to Miss Nancy's Fancy Dance Academy.
CeCe didn't believe Tinka would sabotage her, and doubted her best friend Rocky instead.
CeCe invited Tinka to her sleepover because CeCe felt bad that Tinka never had one.
CeCe respected that Tinka's good at science.
Tinka said it can't be any more embarrassing than how Rocky looks, and even more now she's has that mask on. That means she thinks CeCe's prettier.
CeCe helps Tinka (and Gunther) from being deported back to the old country.
---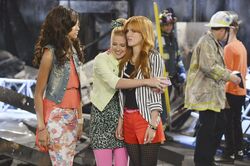 Season Three
Tinka comforts CeCe and reassures her that Shake It Up, Chicago! will be rebuilt and hugs her.
Tinka was hugged by CeCe (and Rocky).
CeCe (and Rocky) accepts Tinka's friendship.
CeCe and Tinka both helped Rocky to stop dancing.
CeCe and Tinka were both worried about the audition; CeCe was worried about freezing again, while Tinka wondered who she was supposed to dance with.
CeCe and Tinka (along with Rocky) rent a purse they like.
Tinka had a gift for CeCe (and Rocky) at the Sweet 16 party.
CeCe and Tinka (along with Rocky) were asked by Gary to audition for 'Dance Factor'.
Quotes
Tinka: I have to say, CeCe, I am very surprised you invited me to the 3-dimensional motion picture spectacular.
CeCe: Why? I've always wanted to hang out with you.
Tinka: But I don't like you. And I've always hope you do not like me.
CeCe: Come on Tinka, we tease each other but that's what we do. We're frenemies. And the first part of frenemies is friend.
Tinka: Yes, and second part is enemies.
---
CeCe:
Let me ask you a question. Do you ever worry that if you spend too much time together that you're not individuals?
Tinka: We are individuals. We're just individuals together.
---
CeCe:
Can't believe I'm about to say it, but I think I just learned something from you.
---
Tinka:
Weenie-corn?
CeCe:
No thanks, Tink. Actually, I have to go talk to a friend... about being a friend.
Tinka: You have strong hands, good grip; the goats like that. You'll be the most popular goat-milker in the village. Aside from me, of course.
CeCe: Okay, woah. No milking, no goats, no sister, no wedding, no way!
Tinka: And CeCe, I admire the way your personality lights up a room... even without sparkles.
Gallery
The image gallery for Cinka may be viewed here.
Show Relationships
Cinka • Cogan • Cy • DeCe • Deucina • Deucynn • Dinka • DiroCe • Flocky • FlyCe • Flynnry • Flyzy • Flyina • GeCe • Gunka • Guntynn • ReCe •ReCether •ReCetherinka•ReCinka • Reuce • Rogan • Ronka • Runther • Ry • Tyece •Tyecether• Tynka • Tynn • Tynther
Cast Relationships
Adaline • Adavisdon • Adella • Adinsley • Carolla • Daviadam • Davishoam • Kella • Kenoline • Rella • Rendaya • Rosholine • Zendella • Zendam • Zendavam • Zendelline •ZenKella• Zenton