Chris Thompson
Biographical Information
Gender:
Male
Date of birth:
1952
Age:
59
Nationality:
American
Hometown:
Detroit, Michigan
Professional Information
Occupation(s):
Writer, producer, director
Years active:
1977-2015
Chris Thompson (born 1952 - June 26, 2015) was an American television writer, producer and director. Thompson is the creator and executive producer of the Disney Channel's new dance-driven sitcom Shake It Up!. Since 1977, he has written and produced for the television series Laverne & Shirley and The Larry Sanders Show. He has also created, written and produced Bosom Buddies, The Naked Truth, Action, Ladies Man and the Disney Channel original series, Shake It Up!, as well as writing the feature films Jumpin' Jack Flash and Back to the Beach.
Biography
Thompson began his career at the age of 23, when he was approached by a producer who was impressed by his improv performance at the Off The Wall theater in Los Angeles. Thompson thought this was his big acting break, but it was really the start of his prolific writing and producing career (the producer offered him an apprentice writing position on the series Sirota's Court). Soon after, he was introduced to producer, Garry Marshall, and worked as a writer on Blansky's Beauties starring Nancy Walker and Scott Baio, followed by Laverne and Shirley, where he worked as a writer, and later as an executive producer, for seven years. Thompson went on to create the buddy comedy Bosom Buddies for Paramount Studios. His other writing and producing credits include The Naked Truth, Action, Ladies Man,The Larry Sanders Show, House Rules, Hard Knocks and over 30 pilots for various networks and studios. His feature film writing credits include Jumpin' Jack Flash, and Back to the Beach.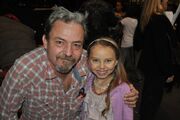 Personal life
Thompson was born in Detroit, Michigan and raised in Los Angeles. He currently lives in Los Angeles with his wife, Curran, his dog, Roscoe and his cat, Ichi.
Thompson died in actor Tim Curry's home on June 26, 2015 in Toluca Lake, Los Angeles after a long illness.
Community content is available under
CC-BY-SA
unless otherwise noted.