Cecelia Vida "CeCe" Jones[1] is one of the two main protagonists of Shake It Up. She dances on the local Chicago teen dance show, Shake It Up, Chicago!. She is the only daughter of Georgia Jones and J.J. Jones and the only older sister of Flynn Jones. She is best friends with Rocky Blue. She lives in Apartment 3B with her mother and her brother in the suite below the Blue family. Her parents are divorced and her father lives in Florida. She attends John Hughes High School in Chicago, Illinois. Her dreams are to become a famous celebrity, and she wants Rocky to become famous too.
CeCe is portrayed by Bella Thorne and by Skylar Keesee as Little CeCe (Child form) (in Shrink It Up and Judge It Up). 
Background
Before the Show
Cecelia was born to J.J. Jones and Georgia Jones on Saturday October 8, 1997 in Mrs. Taylor's Workplace which was Georgia's former job (from 1997-2009) and is located in Rage Street, Chicago, Illinois.
Personality
CeCe is a fashionable, unique, friendly, adventurous, upbeat, brutally honest, bright, bad girl, sassy, sometimes selfish, lazy, yet somewhat ditzy, totally naive, spoiled and shallow young girl. She is described as a daring wild child who is uncontrollable, funky, and fun on her school's blog (Wild It Up). She's street-smart rather than book-smart, unlike her best friend Rocky. Initially, she performs poorly in school because of dyslexia, but also because of her behavior as a trouble-maker. She is a minor antagonist on the show. She is sometimes always have to have her way. However, she gradually improves academically as the series progresses. CeCe is fearless and outgoing as she is always constantly getting into trouble, even dragging Rocky into these situations. CeCe may have a bad girl image but she does have feelings which get hurt real easily when her friends or family underestimate her abilities in school or other things. But what hurts CeCe feelings even more is when everyone around her won't listen to her or believe her when she explains her intentions or tells them the truth, shown with her big fight with Rocky in Japan when she got so mad at her that she didn't listen to her side of the story. CeCe does have her moments in good judgement, shown when she was against the suggestion the hypnotist gave Rocky to help her be fun and a better person even trying to have Rocky do something fun her way. CeCe does care about her friends and family, she just as a unique way of showing sometimes, as she does do nice things for them sometimes. There have been times that CeCe doesn't see through her mistakes until someone points it out to her but she is very good at making things right to everyone she cares about. Despite initially failing her audition due to stage fright, thanks to Rocky she eventually earned a spot as a background dancer on Shake It Up, Chicago! . CeCe loves being famous, but what she loves most about fame is sharing it with her best friend, Rocky Blue.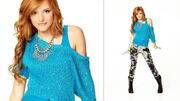 Change Of Personality And Appearance Over Time And The Course Of The Series
CeCe is introduced as a very determined young girl with big dreams of becoming a famous dancer. She doesn't care about school and gets a lot of detention. She always fights for what she wants and pushes Rocky to do the same. She is known as a troublemaker and is shown to be quite selfish, but her heart is always in the right place. CeCe also had a trend for wearing hats in this season.
CeCe is ditzier, but she is also shown to be a little maturer and more hardworking. She is still quite selfish, but not as much as before. It also becomes obvious how much she cares about Rocky. Her dreams are even bigger than they used to be. She wants to become a famous dancer, a popstar, a movie star, and a singing toothbrush. She also wants to share all of this with Rocky, which is why she pushes her to do crazy things all the time.
CeCe is a little more caring and doesn't seem as selfish as she used to be. She starts to see that things aren't always going to go her way and she tries to accept this. She seems to care about her friends and family's happiness more and fame isn't the most important thing to her anymore. Her smart side is also shown as she improves academically. She is much more supportive and seems to have become a better friend to Rocky.
CeCe was excited for the opportunity to audition for Shake It Up, Chicago!, but she had to convince her less confident best friend, Rocky, to audition with her. Surprisingly, Rocky had an easy time at the audition and was one of the teen dancers chosen to be on the show. However, CeCe was overcome by her stage fright and ran away before completing her audition. CeCe was devastated by what had happened and Rocky tried to talk her into trying again, but CeCe just couldn't. Rocky didn't want to be on the show without CeCe, so she handcuffed CeCe to her wrist and forced her to dance with her. Although the stunt got them in trouble, CeCe was hired and they both became dancers on the show (Start It Up). Since then, CeCe has been wanting the spotlight dance (Give It Up). She and Rocky were given the spotlight dance, but Tinka sabotaged them and took the spotlight dance instead (Throw It Up).  
In the second season, CeCe and Gunther were given a spotlight dance as well as a spot on Good Morning, Chicago. However, Gunther and Tinka ended up locking CeCe and Rocky in CeCe's dressing room and CeCe was unable to participate in the Good Morning, Chicago routine. It is unknown whether she and Gunther actually were featured in the spotlight dance, as it was not shown. During the season two finale, Rocky and CeCe are part of the winning Shake It Up, Chicago! dance team that will be featured in the new Japanese dance video game, Shake It Up. While they are in Japan, Rocky speaks out against Mr. Watsonabi and gets both CeCe and herself kicked off the Shake It Up project and Shake It Up, Chicago!. Rocky and CeCe dance their way back onto the dance video game and Shake It Up, Chicago! when they perform for Mr. Watsonabi's mother. (Shake It Up, Made It Japan)
During season three, CeCe must find other options than Shake It Up, Chicago! to dance as the Shake It Up, Chicago! studio has burned down (Fire It Up). Although CeCe keeps herself busy by dancing at parties and with the spirit squad, she does miss dancing on Shake It Up, Chicago! (Spirit It Up and Funk It Up). CeCe even takes a job at the mall as a dancing zit (Quit It Up). When the Shake It Up, Chicago! studio is rebuilt, it is under new management and all the dancers must be rehired. CeCe is extremely nervous about her audition due to what happened the first time she auditioned, but she is one of the first dancers hired (Ty It Up). Although Rocky tries to pretend that she isn't bothered by this, CeCe sees through her act and continues to help her earn her spot back. Rocky eventually gets back on the show and she and CeCe are able to continue dancing together on Shake It Up, Chicago! (Forward & Back It Up). The thing that CeCe loves most is dancing on the show to live her biggest dream.
Relationships With Other Characters
Rocky Blue (All Seasons: Best Friend)
Rocky is CeCe's best friend and dance partner on Shake It Up, Chicago!. While they both harbor a love of dancing, they have opposite personalities: Rocky is a good student with a perfect attendance record who likes to stay away from trouble, while CeCe is wild and usually has Rocky do her homework. It was revealed (Shrink It Up) that they met in dance class when they were in five years old, where CeCe was close to quitting until Rocky convinced her to stay and they've been best friends ever since. CeCe always tells Rocky everything that is going on with her life. Rocky is usually seen entering the Jones' apartment by climbing through the window via the fire escape (along with greeting her with "Hey, hey, hey!"). CeCe is usually the one who gets Rocky into interesting adventures and situations. They also take each other's side no matter what. Cece always wants to help Rocky come out of her shell. Rocky always believes that CeCe thinks only about herself but she was proven wrong as CeCe does a lot of nice things for Rocky. When they have their fights their sometimes right and wrong at the same time. (See: ReCe)
Flynn is CeCe's brother. She often babysits him while their mother is at work. She sometimes cooks for him, puts him to bed, and tries to keep him out of trouble. Although their relationship is usually shown to be made up of bickering and typical sibling rivalry, CeCe was the first to comfort him about their failed roadtrip (Heat It Up). The two of them understand their parents' divorce situation and together even had to explain it to Rocky (Parent Trap It Up). At times Flynn feels ignored by CeCe, but they worked it out (Weird It Up). Also, Flynn has admitted that he loves CeCe (Funk It Up) to make her feel better. Although sometimes Flynn makes fun of Cece and humiliates her (Quit It Up, Cece loves Flynn as much as Flynn loves her.  (See: FlyCe)
CeCe and her mother often have disagreements, but they still have a loving relationship. Cece's mom isn't always fond of what her daughter does but she's always there for her, even though she sometimes is as stubborn as her. Her mother was just like her growing up. When Rocky went through a rebellious phase in Wild it up, Cece became just like her when Rocky threw a party. (Fire it up, as she didn't want to tell Jeremy about who could've done it, to keep him as her boyfriend)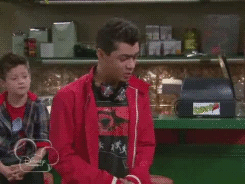 Deuce is one of CeCe and Rocky's close friends. They both attend JHHS, where he was the first person to give CeCe and Rocky the flyer containing information on auditions for the dance show, Shake It Up, Chicago!. CeCe is constantly making fun of Deuce. When CeCe is trying to match him up with Dina, Deuce thinks CeCe wants to be more than friends with him and after being "rejected" by Deuce, CeCe wonders what he doesn't like about her (Match It Up). She used her match-making skills to set him up with his current girlfriend, Dina. Deuce and CeCe didn't hang out much in Season 2, but it seems like Deuce still hangs out with CeCe and Rocky and is still very close to them. Deuce was one of the people who helped CeCe get out of her funk (Funk It Up). (See: DeCe)
Ty Blue (All Seasons: Close Friend)
Ty is a close friend of CeCe's, since Ty is her best friend's brother. They both attend JHHS and have several things in common such as a love for dancing. She often involves him in her plans, such as making it seem like they didn't care if Rocky left to model in New York (Model It Up), where they also hugged (with Deuce and Flynn) when they thought Rocky was actually leaving. When she and Rocky needed his help in the talent show to defeat Candy Cho and the Bulldogs cheerleading squad, CeCe grabs Ty's leg and begs him for help (Show It Up). CeCe, along with Rocky, takes Ty and Deuce to the Olive Pit (Meatball It Up). Although Ty doesn't pay much attention to CeCe (or Rocky) when they need his help, he's still there for them when they need it and always got his back, no matter what. (Match It Up), (Show It Up), and (Vatalihootsit It Up). (See: Cy)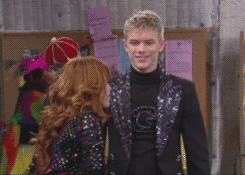 Gunther is a "frenemy" of CeCe's, fellow dancer on Shake It Up, Chicago!, and schoolmate at JHHS. The two don't often get along and like to throw insults at each other, but when alone they seem at ease. Rocky told CeCe to ask him to the school dance when they thought that he was about to move back to the "old country" because of her (Hot Mess It Up). At the end of the dance, she decided she couldn't go out with him anymore and didn't care if he moved back to the "old country", saying, "I'll buy his plane ticket MYSELF." But she never got a chance to break up with him, because he overheard her. Though he acted very sweet to her throughout their relationship, in the end, they broke up. They can be friends at times, as seen when CeCe had been working with Gunther (off-screen) as her modelling coach (Model It Up). They are selected by Gary Wilde to be guest dancers on Good Morning, Chicago and get the spotlight dance (Split It Up). True Teen Life announces that CeCe is in love with Gunther, causing CeCe to act disgusted and claim that she wasn't in love with him, but Gunther jokingly flirted with her. They go to a funeral of Gunther's mailman together, and later on in the episode, he shows up at CeCe's birthday party (Surprise It Up). See: GeCe)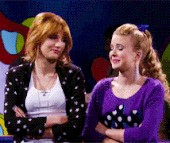 Tinka Hessenheffer (Seasons 1 & 2: Frenemy; Season 3: Friend)
Tinka is a former frenemy of CeCe's, fellow dancer on Shake It Up, Chicago! and schoolmate at JHHS. Tinka, along with Gunther, often argue with CeCe and Rocky backstage on Shake It Up, Chicago!. Tinka takes every opportunity to make fun of or insult CeCe, such as mocking CeCe about her freezing on the Shake It Up, Chicago! stage (Start It Up). They can be civil and friendly towards each other (Kick It Up), as seen when CeCe invites Tinka to the movies. In "Break It Up", The two were seen sitting together and Tinka asked CeCe not to leave her alone with Deuce. They shared other friendly moments in "Auction It Up" and "Judge It Up" when Tinka gave money to CeCe and Rocky after the twins realized they were in the wrong. In "Fire It Up", the first episode in season 3, Tinka and CeCe become friends. They are spending more time together, such as when Tinka helped CeCe with her plans to get Rocky back on Shake It Up, Chicago! or as they had to learn the dance at Switch it up. (See: Cinka)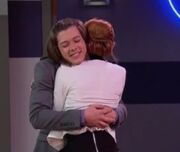 Logan Hunter (Season 3: Enemy; Future: Husband)
They first met in "Oh Brother It Up" then they start arguing after Logan fired CeCe at Bob's Kebobs for being late for work and other things. Realizing they are going to be brother and sister after CeCe's mom and Logan's dad are going to be married, they started trying to get along, but with no success. Since they are no longer going to be related, they must try to get along for Rocky's sake because Logan likes Rocky and CeCe is Rocky's best friend. It is shown in Future It Up that CeCe and Logan get married and have a son. (see: Cogan)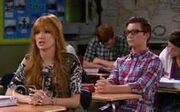 James (Season 3: Ex-Boyfriend)
They first met in class when CeCe was moved to honors classes in Brain It Up. James asked CeCe to go out with him in Opposites Attract It Up. They started going out with each other, but asked their friends for help, so that they could be more appealing to each other. But in Psych It Up, James dumped CeCe and she was upset because she wanted to be the dumper not the dumpee. (see: JaCe)
Appearances
CeCe and Rocky, being the main protagonists, are the only two main characters to appear in every episode.
Future It Up
CeCe is portrayed as a successful performer, having won a Tony for a role she originated in the musical, Dogs. She is also involved in a solo music career and has fallen out of touch with Rocky after some disagreements involving their accomplishments. She's a mother to L.J., who's remarkably like Flynn, and is married to Logan.
Nicknames
Trivia
Memorable Quotes
Gallery
The image gallery for CeCe Jones may be viewed here.
Userboxes
Userboxes for CeCe Jones may be viewed here.
Videos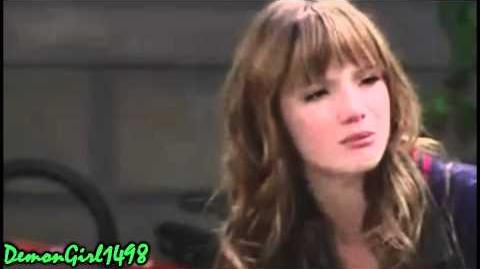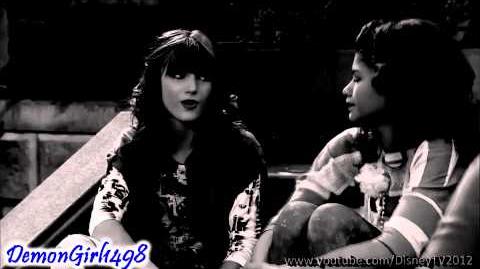 References