Beat Freaks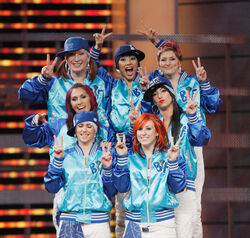 Members
Alison "Al*Star" Faulk
Teresa "Ragdoll" Espinosa
Lindsey "LindseyB OUTTHERE" Blaufarb
Jules "Lady Jules" Urich
Keeley "LockN' Key" Kaukimoce
Rino Nakasone Razalan
Marie "Maryss from Paris" Courchinoux
Alex "BGirl Shorty" Welch
Bonita "Bgirl Bonita" Lovett
Professional Information
Origin:
Los Angeles, California
Style(s):
B-girls, hip-hop
Affiliation(s):
America's Best Dance Crew
Years active:
2003-present
Official website:
thebeatfreaks.com
Beat Freaks is an all-girls break-dance crew that appeared in the episode Split It Up as featured dancers, dancing to the song Edge Of The Mirror. Each of the crew's nine members had achieved individual success dancing before the creation of the group in 2003. The Beat Freaks were featured on season three of America's Best Dance Crew and finished the show as runners-up. BGirl Shorty (credited as Alex Welch) had a guest role on the episode Reality Check It Up as Sheila, a Shake It Up, Chicago! dancer.
Biography
In 2003, the seven original members came together. five of which had previously worked together in another group called the "Groovaloos." The crew now consists of nine women: Alison "Al*Star" Faulk, Teresa Espinosa, LindseyB "OUTTHERE", Lady Jules, Keeley "LockN' Key", Rino Nakasone, Maryss from Paris, BGirl Shorty, and BGirl Bonita, with Bonita being the newest addition. With the exception of Rino and Maryss they were all born and raised in the United States; Rino was born in Okinawa, Japan and Maryss was born in Paris. Each of the crew members have appeared in music videos , films, and tours with world-renowned artists that include: Pink, Britney Spears, Madonna, Janet Jackson, Miley Cyrus, Chris Brown, The Jonas Brothers and Avril Lavigne. As individual dancers, they have made appearances on: "You Got Served", "Step Up 2: The Streets", "Stick It", "Prom Night", "Go For It!", "Camp Rock 2: The Final Jam", and "B-Girl", which stars Lady Jules as the main character. In 2008, the crew was featured in the highly publicized dance battle YouTube videos with Miley Cyrus, dancing beside Miley. They also had an appearance in Justin Bieber's music video for "Somebody To Love". In 2010 they were voted Best Female Dance Crew at the World of Dance Awards.
Community content is available under
CC-BY-SA
unless otherwise noted.