"
Okay he seems calm, he's doing some arts and crafts, although I'm still not convinced that giving him scissors was a good idea.
"
Auction It Up
Season:
2
Episode:
8
Production code:
211
Broadcast number:
29
Broadcast Information
Original airdate:
November 20, 2011
International airdate:
February 3, 2012 (New Zealand)


February 7, 2012 (Brazil)
February 7, 2012 (Latin America)
February 15, 2012 (France)
February 27, 2012 (Germany)
March 11, 2012 (Italy)
March 31, 2012 (Hungary)
April 7, 2012 (Romania)
April 9, 2012 (Czech Republic)
April 15, 2012 (Japan)
April 27, 2012 (Catalonia)
May 4, 2012 (Netherlands / Flanders)
May 26, 2012 (Poland)
June 7, 2012 (Israel)

Auction It Up is the 8th episode in season 2 of Shake It Up and the 29th of the overall series. It first aired on November 20, 2011.
Plot
CeCe and Rocky set up a fundraiser through "Shake It Up, Chicago!" to help save their former dance teacher, Ms. Nancy's (played by Marissa Jaret Winokur), dance studio. Meanwhile, Deuce and Ty enter a competition to win a new phone.
Episode Summary
CeCe and Rocky meet up with Miss Nancy, a dance teacher who owned a dance school, Miss Nancy's Fancy Dance Academy, which they attended during their early childhood. After discovering that the academy was shutting down because of a loan, Rocky and CeCe host a bake sale in order to pay Miss Nancy's loan. The sale proves not to be as successful as anticipated.
Meanwhile, after Deuce repeatedly bangs Ty's cell phone on a table, they enter a competition to win a new phone. Eventually, Deuce has to pee and Ty teases him for fun by making water sounds to torture him. Ty and Deuce win in the end but since family members of Shake It Up, Chicago employees can't compete, Deuce ends up with the new phone.

Rocky and CeCe auction an afternoon with them on Shake It Up, Chicago again in order to pay Miss Nancy's loan. Gunther and Tinka bid on Rocky and CeCe and win an afternoon with them. Instead of actually spending the afternoon with them, the Hessenheffers have Rocky and CeCe babysit their cousin, Klaus. He seemed friendly at first, but then began causing problems and wrecking the house.
Featured Songs & Dances
Cast
Main cast
Recurring
Guest stars
Absent
Gallery
The image gallery for Auction It Up may be viewed here.
Videos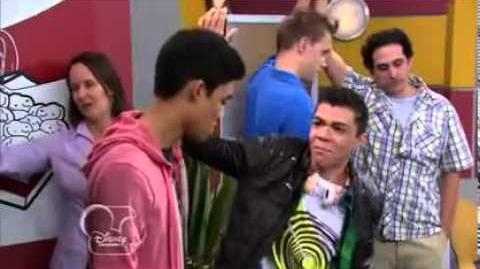 Memorable Quotes
Deuce: Would you relax? Everyone knows the new Yo Phones are practically indestructable [Bangs it on the table] Okay now it's broken.
Gunther: We're back! Beyonce was great!
Tinka: But your seats were so far away, she looked like a dust bunny in a big wig.
Rocky
: Okay he seems calm, he's doing some arts and crafts, although I'm still not convinced that giving him scissors was a good idea.
CeCe
: Oh I didn't give him the scissors, his tongue shot out of his mouth and grabbed them off the kitchen counter!
Nancy: You girls were the best itsy bitsy spiders I ever had, especially you Cece, you were the itsiest bitsiest CeCe: I still am.
Goofs
Trivia
Allusions

Community content is available under
CC-BY-SA
unless otherwise noted.