"
Rocky, have some self respect, he is just a multi platinum award winning superstar teen sensation that came out of nowhere when he posted his videos on the world wide web, it's not as if Horace the Juggler is coming.
"
Age It Up
Season:
1
Episode:
6
Production code:
108
Broadcast number:
6
Broadcast Information
Original airdate:
December 9, 2010
International airdate:
March 11, 2011 (Latin America)


March 11, 2011 (Brazil)
April 12, 2011 (Netherlands / Flanders)
April 16, 2011 (Poland)
April 16, 2011 (Czech Republic)
April 16, 2011 (Hungary)
April 17, 2011 (Romania)
May 13, 2011 (Catalonia)
May 13, 2011 (Spain)
May 22, 2011 (Japan)
May 25, 2011 (France)
June 17, 2011 (Germany)
June 17, 2011 (Italy)
July 23, 2011 (Israel)

Age It Up is the 6th episode from season 1 of Shake It Up, and the 6th of the overall series. It first aired on December 9, 2010.
Overview
When Rocky and CeCe get to dance with teen sensation, Justin Starr, CeCe accidentally texts a photo of him kissing his manager to everyone on her contact list. The girls realize that this could ruin his career. Then, they surprisingly find out he is 24-years-old and that his manager is his wife. Meanwhile, Ty tries to make Gunther more "hip" after being rejected by a popular cheerleader.
Summary
When CeCe and Rocky get to dance with teen sensation Justin Starr, they go to his apartment and rehearse. As Rocky and CeCe are leaving, Rocky stops and wants to take a picture of her wearing Justin Starr's hat. As CeCe takes the picture, she notices that she accidentally took a picture of Justin kissing his manager. Then Justin sings his song "Not Too Young". When he's done singing, CeCe and Rocky confront him, saying they saw him kissing his manager, but Justin couldn't hear them with his earpiece on. Later at school, CeCe tried to send the picture to her mom, thinking she might have a solution, but accidentally sent it to all her contacts on her phone, which could ruin his career. Later, they go apologize to Justin, but instead of being mad at them, he thanked them. He revealed to Rocky and CeCe that he's not really 16, he's 24. His management decided it would be best so that he would appeal more to girls Rocky and CeCe's age. He explains that he kissed his manager because in actuality, she's also his wife. Rocky laughs it off and claims she knew this all along. The girls both leave with CeCe taking the fruit basket as they depart.
Featured Songs
Cast
Main Cast
Recurring
Guest stars
Absent
Transcript
The full episode transcript for Age It Up may be viewed here.
Gallery
The image gallery for Age It Up may be viewed here.
Videos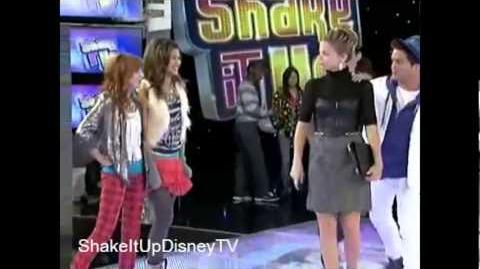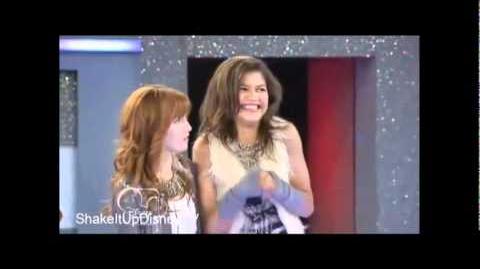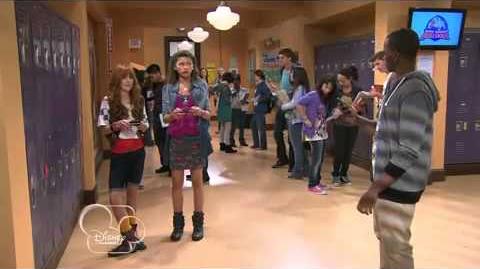 Memorable Quotes
Tinka: Rocky, have some self respect, he is just a multi platinum award winning superstar teen sensation that came out of nowhere when he posted his videos on the world wide web, it's not as if Horace the Juggler is coming.
Rocky:
Oh I know! We can rescue Justin and he can live under my bed until we escape to a deserted Island where we'll live happily ever after, in my treehouse castle.
CeCe: I may not come up with great plans, but I know that one's a stinker. I'm just going to email this picture to my mum and ask her what we should do.
Rocky: Uh CeCe you made a mistake you sent it to me not your mum.
CeCe: No I didn't, I sent it to (Everyone's phones go off)...everyone on my contact list.
Rocky: Seriously? Do you ever come up with a good plan?
CeCe
: No.
Gunther: Why would Danielle not be digging on me? Ty: Dude, I'm gonna put this in the nicest way possible, you're a freak.
Gunther
: So where are the sparkles?
Ty: There aren't any sparkles.
Gunther: Okay so I add sparkles, so glad I brought my betwinkler!
Ty: Dude, give me the betwinkler
Gunther: No I can't, I love my betwinkler (Ty grabs it) No!
Ty: No sparkles, no twinkles, no sequins and no glitter.
Gunther
: But that only leaves feathers!
Gunther
: What's shaking ladies? You doing a'ight?
Ty: I think he's got it!
Gunther: Yes I got it! I speak like the dudes who enjoy coolness!
Ty
: And, he lost it again.
Gunther
: So can I betwinkle your pants?
Ty: Yeah, if you want me to betwinkle your head
Gunther
: That would hurt.
Trivia
Community content is available under
CC-BY-SA
unless otherwise noted.