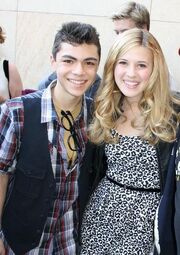 Adaline (Ada/m and Caro/line) is the real life pairing of Adam Irigoyen and Caroline Sunshine, who are very close friends.
Twitter Moments
adamirigoyen: I beat @4CastisSunshine in laser tagging twice!!! And I beat her brother in.......something else hahahaha

4CastisSunshine: @adamirigoyen hahaha I will have my revenge!! ;) I can't say the same for johnny hahaha
adamirigoyen: @4CastisSunshine Never!!! Hahaha for the both of you!! hahaha
4CastisSunshine: @adamirigoyen haha you and @jakeirigoyen01 only won because red team has #tigerblood lol
adamirigoyen: @4CastisSunshine Now your speaking the truth here!! hahah

adamirigoyen: Who is the BEST???? Well apparently @4CastisSunshine is "THE BEST" ;) hahaaha
4CastisSunshine: true friend ------> @adamirigoyen
4CastisSunshine: on my way to the shedd aquarium in Chi-town with @adamirigoyen + the fambams! I ♥ you already Chicago!

adamirigoyen: Today was my first day in Chicago and I totally loved it!! Having a great time with the fam and @4CastisSunshine!! Can't wait for tomorrow!!
Gallery
The image gallery for Adaline may be viewed here.
Show Relationships
Cinka • Cogan • Cy • DeCe • Deucina • Deucynn • Dinka • DiroCe • Flocky • FlyCe • Flynnry • Flyzy • Flyina • GeCe • Gunka • Guntynn • ReCe •ReCether •ReCetherinka•ReCinka • Reuce • Rogan • Ronka • Runther • Ry • Tyece •Tyecether• Tynka • Tynn • Tynther
Cast Relationships
Adaline • Adavisdon • Adella • Adinsley • Carolla • Daviadam • Davishoam • Kella • Kenoline • Rella • Rendaya • Rosholine • Zendella • Zendam • Zendavam • Zendelline •ZenKella• Zenton
Community content is available under
CC-BY-SA
unless otherwise noted.